Meet Nabeel Khan, the world's youngest established Sarangi player, composer and a singer-songwriter born on September 2nd, 1999.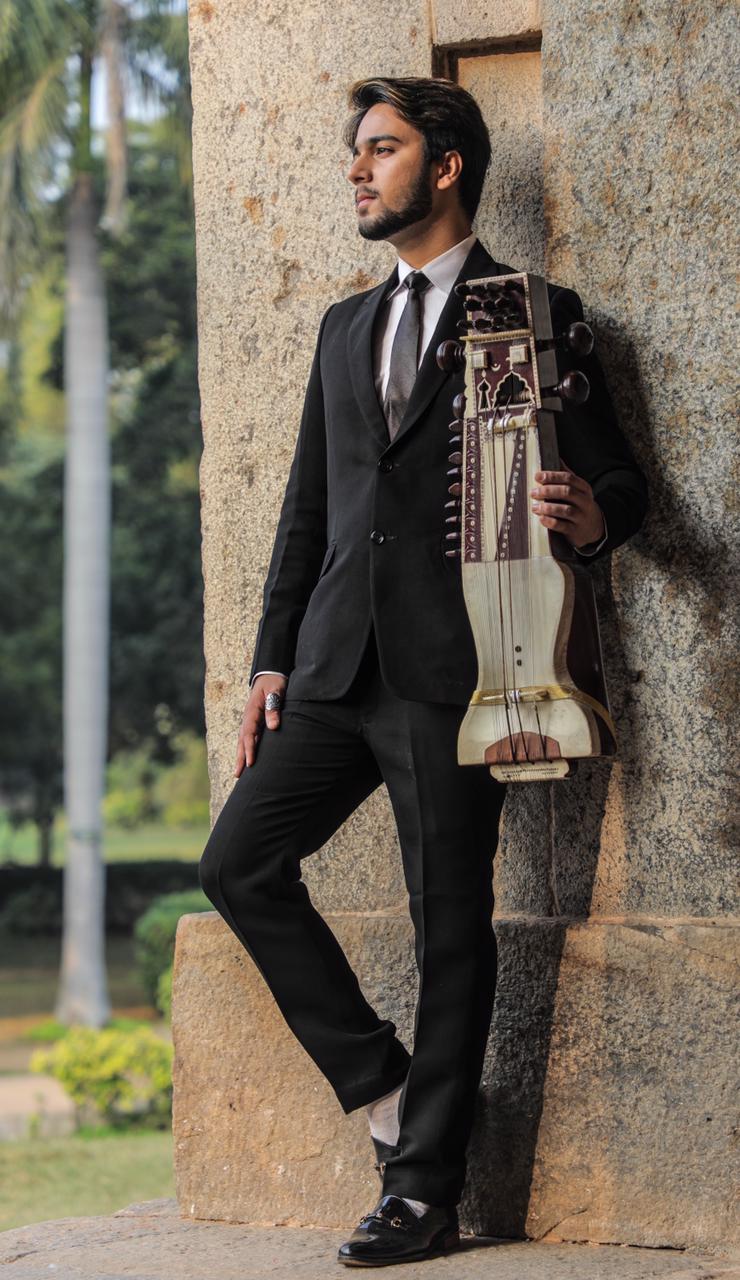 Nabeel Khan is the world's youngest established Sarangi player, composer and a singer-songwriter. He is the eight generation of Sarangi artists in his family and is the grandson of the legend of Sarangi Padma Bhushan awardee, Ustad Sabri Khan Saheb Nabeel Khan belongs to the much-revered Moradabad Sainia Gharana of Sarangi players.
He completed his elementary and high school education from Universal Public School, New Delhi. Alongside education soon he was initiated into the rare art of the instrument Sarangi. Growing up in a family of great Sarangi players, he grasped the techniques of Sarangi very swiftly under the tutelage of his grandfather and soon emerged as a Sarangi prodigy. After the demise of his grandfather, he continued his musical training under the aegis of his father Ustad Nasir Khan and uncle Ustad Kamal Sabri. He has been playing Sarangi from the tender age of seven. Consistent training right from childhood resulted in Nabeel Khan becoming the world's youngest Sarangi player under the guidance of his grandfather. He also gained knowledge in Indian Classical vocals. His father Ustad Nasir Khan, another big name in the field of Sarangi artists also chiseled the Sarangi player out of Nabeel Khan by providing necessary training at home since childhood with warm guidance. Nabeel Khan gave his first stage performance in Little Theatre Group, New Delhi when he was just eight years old. Nabeel Khan gave his first international performance in Oslo Mela Festival of Norway, under the guidance of his teacher and uncle Ustad Kamal Sabri in 2015.
Nabeel Khan bagged many laurels in state music competitions for school and college. During school years his highlight performance places were NCPA Mumbai, Ravindra Bharti Auditorium and Nobel Peace Centre in Oslo. The 2019 International music tour undertaken by the artist included countries like Denmark, Germany, Italy, France, Holland, Sweden , Dubai , UAE, Abu Dhabi and Switzerland .
He has also collaborated with many international dancers and tabla artists from countries like Romania, Italy, Japan and Russia.
Nabeel has gained immense popularity through his musical brilliance and young personality artistic appeal. He has released many original Indian classical tracks abroad too. For continuing the legacy of the rare Indian classical instrument Sarangi, Nabeel has often been recognized as one of the most influential people from young slice of musician population in India and abroad.
He continues to take the art of Sarangi and the beauty of Indian classical music across the globe by doing frequent Indian classical-Western fusion workshops and collaborates with musicians across the globe to further the beauty of Hindustani classical music. He visions a world where everybody is accustomed with the importance of Indian classical music. In expanding the rhetoric of the instrument Sarangi, Nabeel through his YouTube channel and proactive social media presence influences today's generation by doing innovative fusion song videos and music concerts. He has been invited several times on All India Radio to vocalize his thoughts about the need to preserve Indian classical music, which he finds most soothing and a wonderful thing to devote life to. Over the years through the all-round efforts of Sarangi Cultural Academy, Nabeel Khan has been successfully able to inculcate passion for Indian classical music in the hearts of very many people across the planet.
The debut original song 'Jaanejaan' of Nabeel Khan was a huge success and the creative use of Indian classical music through Sarangi with western instruments won huge plaudits. This set an example for aspiring young musicians to enthusiastically blend Indian classical music with fusion styles of music.
Latest release from Nabeel Khan, "Jazbaat Dil Ke Aise" released by Bullman Record label was a tremendous success and got many accolades for the beautifully crafted lyrics along with music. Like always people loved the subtle element of Sarangi along with melodious vocals.