Marwan Boulghalegh, An Amazing Artist Behind the Lens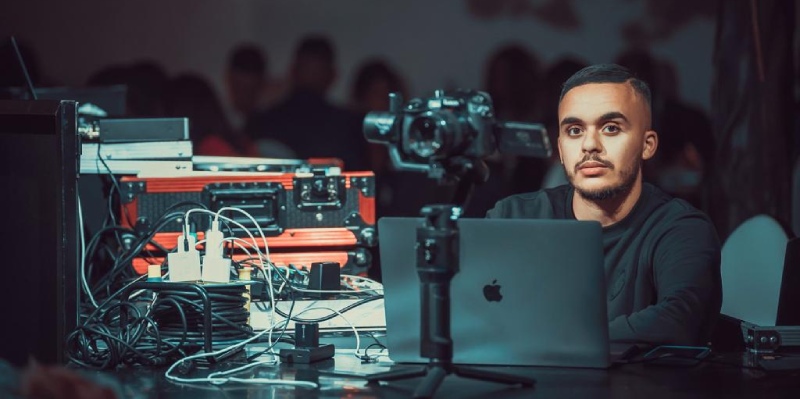 The Instagram page 'Marwan Video' has a grid full of happy smiling faces of newlywed couples gleaming with sunshine. Hardly any pictures of Marwan Boulghalegh can be found in it. And that's how it is. The person behind the camera has those magical eyes and blessed fingers to see the right moment and click it. They always love being behind the camera. Marwan Boulghalegh is not different.
Marwan Boulghalegh is a self-taught Cameraman however his work looks like he has qualified professional courses in photography and videography. There's a professional touch in his works which shows his talent. He has a unique style which makes his works stand out in his domain.
The 'Clip Style' he uses in the videos is very charming and the dynamic edits that he uses give a special aura to the videos. Snapping the right moments, reeling the beautiful events and editing them in even more surreal ways is exquisite and he owns the skills for it.
Starting from scratch, now Marwan Boulghalegh owns a brand very famous in France- Marwan Video. A lot of couples approach him for capturing their big day because his videos made justice to him earning people's trust. His videos had gone viral over platforms like TikTok, Snapchat, Instagram etc. that people knew him.
He had also photographed many artists more than a hundred in number perhaps. His spectrum of works is not just restricted to covering matrimonial but artists and rap work too. His initial works were urban shooting and those videos were of good quality and had some uniqueness that earned him a lot of fame. Later he communicated with a few rappers which again opened more doors of possibilities to explore more in working with cameras.
The connection with the rappers who were quite famous gave him better exposure. He put in enough effort that the bond he developed with rappers came out in a career covering new kinds of videos. This gave impetus to growth in his professional life. It was after Urban Videos and Rap collabs, he stepped into artist portraits and videos. And finally full-fledged into wedding photography.
Marwan Boulghalegh's pictures need no captions. The pictures themselves speak stories and narrate the emotions, and every little nuance of emotions is palpable in his clicks which only highly talented and blessed photographers can do. Marwan can do it.
And he is an example for all photography enthusiasts out there. You don't necessarily need professional degrees to do it. But your passion is your qualification and polishing your skills is your exam. Do it, show it to the world and explore more and more. You will earn the trust of people and they come to you to capture their special moments, their smiles, their frowns, their love and themselves.
When Determination met Passion, that made the journey through inspiration and reached the Destination. That's how one can describe the life of Marwan Boulghalegh. However, he is still going forward beyond horizons. Marwan has set no limits to his passion and dreams. He has his favourite thing always with him to capture the moments ahead.