Low Fees with CHB Deposits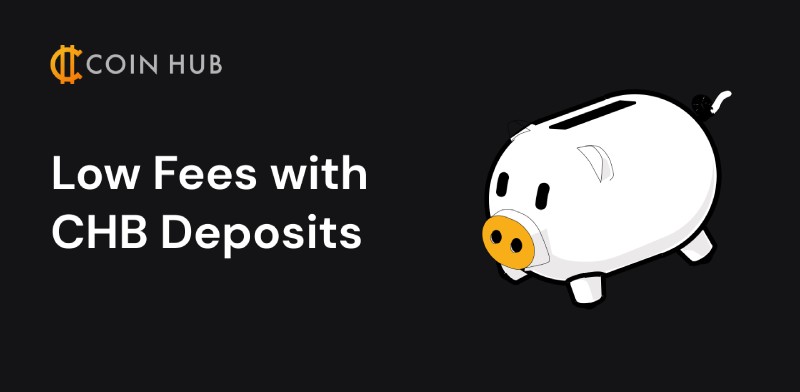 What is CoinHub?
CoinHub, a leading cryptocurrency trading platform, offers a world of opportunities for crypto enthusiasts. It's a user-friendly space for trading Bitcoin, altcoins, and its native utility and staking token, CHB. CHB plays a vital role within the CoinHub ecosystem, serving as a transaction fee for CHB deposits.
Exceptional Performance CoinHub is distinguished by its cutting-edge technology, boasting one of the world's fastest matching engines, capable of processing an impressive 1,500,000 transactions per second. This exceptional speed and reliability provide users with a competitive edge in the fast-moving crypto market.
Security as a Top Priority Security is of utmost importance at CoinHub. While the cryptocurrency realm offers abundant trading opportunities, concerns about security have hindered its widespread acceptance as an investment. CoinHub addresses this by prioritizing the creation of a secure trading platform, instilling confidence in users.
Personalized Trading CoinHub is dedicated to offering a versatile platform suitable for both experienced traders and beginners. A notable feature is the modular dashboard, allowing complete customization. Traders can personalize their interfaces to display the most relevant information, streamlining the trading process for users of all levels of experience.
CoinHub serves as your central hub for cryptocurrency trading, combining top-tier performance, robust security measures, and a user-friendly experience.
The COINHUB platform is dedicated to adhering to the highest standards of Know Your Customer (KYC) and Anti-Money Laundering (AML) regulations in all the markets where it operates. These measures are in place to facilitate client due diligence, actively monitor and report any suspicious transactions, and effectively prevent the funding of illegal or terrorist activities.
Investing in CHB – your key to crypto future
Tiered Membership System: COINHUB introduces a tiered membership system designed to cater to the diverse needs of its user base. This system classifies users into "Standard" and "Premium" levels, with daily adjustments based on their CHB holdings. Choosing to invest in COINHUB means gaining access to exclusive benefits as a "Premium" member. These advantages include significant reductions in fees, enhanced referral bonuses, the ability to influence token listings through voting, and early access to new features and trading products.
CHB Issuance and Trade Mining: With the launch of the COINHUB exchange, a new phase begins for CHB known as "Trade Mining." During this period, users engaged in eligible transactions within the COINHUB platform receive CHB rewards equal to 80% of the transaction fees, calculated based on the current market price of CHB. It's important to note that transactions using CHB to pay trading fees are not eligible for trade mining. However, they do enjoy reduced trading fees, providing an added incentive for users to participate.
Referral Bonus: CHB serves as an invaluable asset for reducing trading fees, particularly when it comes to paying fees in CHB. An appealing aspect of the COINHUB ecosystem is the referral bonus program, which rewards users for bringing new participants into the platform. The magnitude of these bonuses is linked to the user's membership tier, offering greater incentives for those with higher CHB holdings.
Investing in COINHUB provides a unique opportunity to benefit from a multifaceted ecosystem that combines trading benefits, incentives for loyalty, and rewards for community participation. Whether you're a seasoned trader or new to the cryptocurrency world, COINHUB offers features and benefits to suit your investment strategy.
What project wants to change?
COINHUB aspires to drive transformative change in the cryptocurrency industry by actively engaging with governments across the globe to influence and implement regulations that prioritize the safety of investors and foster the growth and development of the cryptocurrency sector. The platform remains vigilant, proactively addressing potential disruptions and enhancing security measures to ensure the stability and security of its operations.
Join to CoinHub
---
Company Details
Organization: CoinHub
Contact Person: Marya Johnson
Website: https://thecoinhub.io/
Email: support@thecoinbub.io
City: Dubai
Country: United Arab Emirates