Look With Love: An Anthem of Love, Lament, and Hope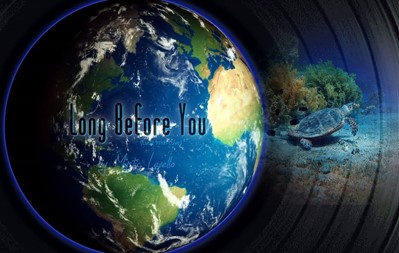 From rising temperatures to disappearing ice sheets, vanishing biodiversity to languishing coral reefs, the bad news and politically charged dialogue surrounding the environment often feels overwhelming. Perhaps this is why even the most ardent of climate activists sometimes lose sight of the reason they are fighting; the earth's beauty and dignity. The gently exuberant song "Long Before You (Look With Love)" by Mystic Levello seeks to bring the focus back to the earth itself, reflecting on the many ways the earth has blessed its inhabitants.
"Long before you long before Adam met Eve
she was around, planting the world with her seeds
she gave us the land, the beaches… the sandy seas
giving us life, a place in the sun to breathe"
Poetically invoking visions of a pre-man utopia in which the earth bestowed gifts of food and shelter, the first verse of the song causes listeners to consider the earth's generous provision. How marvelous that many of the earth's qualities associated with beauty also provide nutrients and a hospitable environment for life.
The next portion of the song laments mankind's ill-treatment of the earth. Drawing attention to specific travesties and issues, it creates feelings of disappointment and grief in listeners.
"Next thing you know, we're tearing away at her trees
leaving the waste buried where nobody sees
sooner or later there won't be a forest or stream
and soon after that you'll know that we've lost everything"
Considering that the American Association for the Advancement of Science concluded that 97% of scientists agree that climate change has been caused by humans, those who are burdened with the weight of man's offenses towards the earth must face the facts and understand the gravity of the climate situation. Part of healing involves processing grief and trauma, so in order to move forward with solving the climate crisis, humans must understand the travesties which they have inflicted upon the earth and even consider the fact that some of the damage may be irreversible.
Before all hope is lost, though, the song concludes by reminding listeners that with teamwork, cooperation, education, and love, humankind may slowly be able to repair the damage and reconcile once again with the earth.
"Now that you know the truth and how it should be
be true to yourself and encourage the rest to see
for each of us plays a part… or nobody's free
so give what you can, cause it's all that you take when you leave"
This lovely song ends with a message of hope for the future, reminding listeners that everyone can do their part to care for the earth and bring about change. Overall, Mystic Levello's "Long Before You (Look With Love)" acts as a hymn of thankfulness toward the earth, lamenting man's ill-treatment of its gifts, but ending ultimately with a hopeful reminder to keep working toward a brighter future.

Article by E.W. Walsh