LIVNSENSE AND SOYNET LAUNCHES JOINT GTM PARTNERSHIP TO ACCELERATE AI-VISION BASED TECHNOLOGY FOR MANUFACTURING INDUSTRY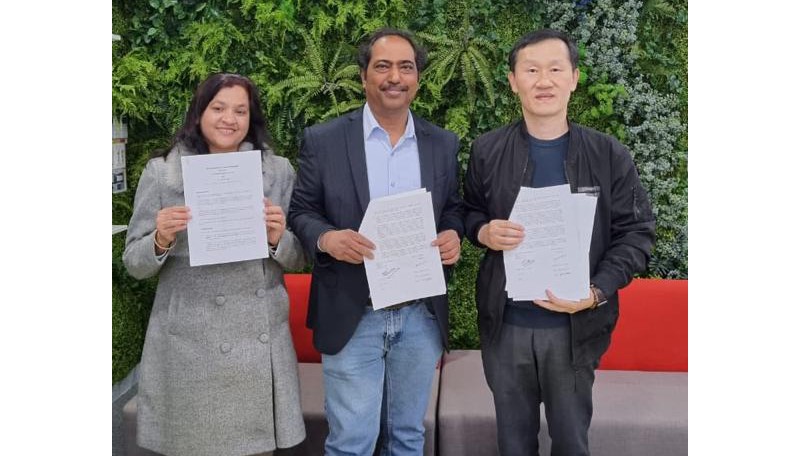 JANUARY 1, 2023 – LivNSense™ with its key focus on Safety and Sustainability driven by its flagship platform, GreenOps™ is pleased to announce it's strategic Joint Go To Market partnership with SOYNET Co Ltd (Korea) for working together in addressing the needs of manufacturing industry in South Korea and Global Markets. LivNSense has been raising the bar for ESG through our Award-Winning AI Platform – GreenOps, thereby creating Safer and Sustainable workplaces. The partnership accelerates the application of optimized AI-Vision based technology to address the challenges of the Manufacturing industry. The innovation leverages Edge-AI, Digital Twins and Machine Vision technologies to jointly work towards transforming manufacturing industry into a Safe and Sustainable environment.
Avnish Kumar, CEO of LivNSense, stated, "We are very excited to partner with SOYNET, to enable comprehensive AI-Vision technology of Future offerings for Manufacturing industry, The product is distributededge and cloud-based Computer Vision/AI solution to improve the visibility, safety and sustainability in hazardous as well as normal environments.​ It is a Realtime vision-based solution which can be extended to advance analytics and AI model based with self-learning automated approach. Soynet will also optimize our product to reduce the Carbon Footprint and improve the overall Carbon Offset for the use cases offered by GreenOps. It is already production deployed with a leading manufacturing company in North America and India and expanding to users in South Korea now.
Jung Woo Park, COO SOYNET stated, "We have always envisioned helping and creating an ecosystem that can leverage SoyNet's potential to deploy real-time AI. So much research goes into learning; however, when the AI models are deployed, they do not perform fast enough and consume a huge amount of memory. We want to help SMBs and Enterprises to accelerate their AI models and save huge GPU costs. Our partnership with LivNsense will bring better products for different industries and give them cost optimization up to 3 times for cloud deployment. We are thrilled to have LivNsense on board to help broaden this ecosystem in Asia, USA and global markets."
About LivNSense Technologies Pvt. Ltd.
LivNSense™ is an Industrial Green-AI venture out of India with global presence across USA & APAC and in strategic collaboration with leading IoT ecosystem partners. LivNSense focuses on innovation with 'safety first' approach with key objective to make production environment safer and sustainable with Profit Maximization approach that can be economically viable (maximizing profitability with a key focus on Industrial Resources Efficiency and GHG carbon reduction) through its flagship digital twin's platform, GreenOps™ Our Mission is to Impact 100+ Mega Tons of GHG Emissions across the industries we serve. The product is already deployed in North America and India markets across 10+ Fortune 500 customers, delivering up to 10% of GHG Intensity reductions and RoI of 20-25% in Year1.
To learn more visit https://www.livnsense.com
About SOYNET
SOYNET, established in South Korea in 2018, is a software-based inference accelerator developer. Our proprietary solution, SoyNet, provides model optimization for deep learning. We have also introduced Model Market, the first-ever marketplace for SoyNet-optimized models. These deep learning models are, on average, 6 times faster and consume around 3 times less memory than public frameworks like TensorFlow, Pytorch and TensorRT. With the help of NVIDIA's SDK, SoyNet ensures the optimized models consume significantly less GPU memory so that you can run multiple models on a lower end GPU. SoyNet's optimized models are provided in a bin folder/Docker file that can be quickly executed and deployed on cloud, on premises or on edge devices. Using the 5-step API process, the optimized models are easily integrated with C++, Java or Python applications.
To learn more visit SOYNET
Main Focus Area of this Joint Partnership
Accelerate with AI-VISION Based Technology for Manufacturing Industry
Reduce Carbon Emission for future ready of Industry
Optimize Product with Zero Carbon Footprint to enable Net Zero