Italian Celebrity US-based Aurora Rosselli hailed as the most controversial female photographer of the decade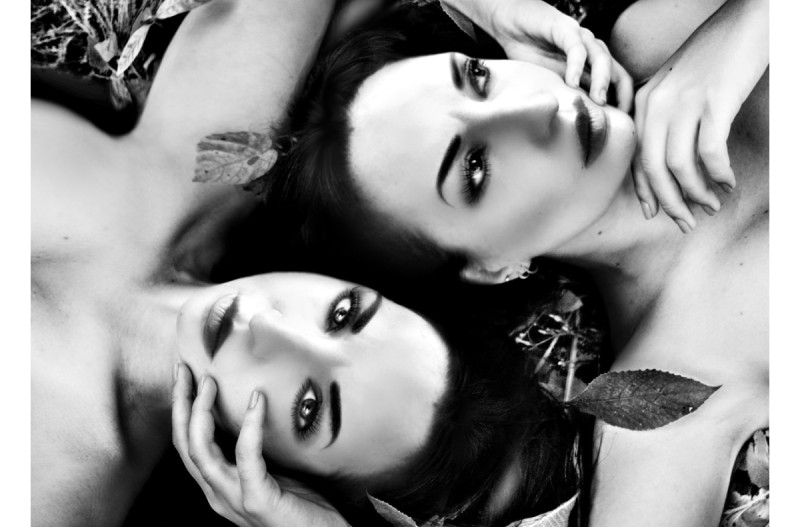 Known for the dramatic lighting and the unconventional cuts of her self-portraits, Rosselli's work is obsessive and subversive, incorporating themes of persistently yet subtle sensuality into the narratives of her images.
Controversial scenarios, water, bold lighting, and striking compositions came to form her signature look, and in November 2021, Aurora Rosselli got awarded the Mediterranean Collection 2021.
"Through the past years, I've accomplished a lot, and I've been so blessed, especially with the love and support from everyone around me, but when something comes from home, it hits me differently!"
These were the words with which, through social networks, Aurora Rosselli announces the awarding of the "Sicilian Woman Award 2022" and "Being Sicilian Award 2023", awarded last June and delivered by Antonio Omero, for her artistic skills. After her digital exhibit at the Louvre in Paris, she's described as a "widely imitated glamour photographer with provocative, erotically charged black-and-white photos."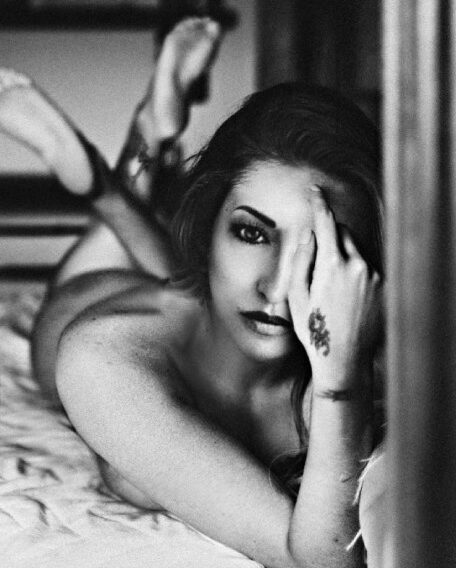 I was starstruck before I set eyes on her. When I did – at Mastro's in Beverly Hills, always accompanied by her two children Asha and Illir – she did not disappoint. An insider we met alongside Aurora told us that the world-exclusive gallery Getty would proudly present the first significant permanent collection of this celebrated artist and photographer. All her body of work will be available on Getty Images. Alongside her rarest and most iconic large-format photographs, the gallery will also offer an exclusive and unpublished body of work available in new formats and editions, thereby revealing a lesser-known, more spontaneous, and personal side of the artist's oeuvre.
From the photographic exhibition Acherontia, of the Med Photo Fest, to "Mnemosyne," launched in Sicily, together with tens of millions, she gained the admiration of the art world and the recognition of the entertainment world.
"There are many prejudices related to women," – says Aurora Rosselli, referring to those women who in her photos are portrayed naked, tangled body to body in an empathic embrace. And to these, silenced by a misogynistic society, she gives voice, hands, and freedom to be. The woman-mother, bride-lover, who recalls the ancient cult of the goddesses, the Mother-Earth who renews herself, renews life. This is the Rossellian woman.
A woman who, by temperament and sagacity, resembles so much those Sicilian women to whom the artist is proud to belong.
At our meeting, Aurora was highly opinionated and loudly declamatory. She's very well known for her responses to partners that can be perverse, and she is often the dissenting opinion. Her eye sees everything, and her memory for trends changes through the years is scalpel-sharp. There's never, ever, a dull moment with her. Yes, she is a comprehensive knowledge of Photography history and social media. Yes, her generosity is unparalleled. Yes, she is fiercely loyal. But there's something more that's keeping all of us so happily enthralled and we cannot get enough of this ever-changing chameleonic woman. Her magic is in her singularity; she doesn't look like anyone else. Her appearance in the front row fashion shows or on the red carpet always seems remarkable; she doesn't sound like anyone else, she isn't brash, but she is also never restrained or quiet. It's merely her physicality; it's her point of view; it's fascinating to see her at work. Her every entrance is an event, and when she leaves, she takes the oxygen with her.
Little do we know about her private life. For the past few years, we've witnessed Rosselli going from spending time with the most iconic fashion designers – ex-fiancé Stefano Gabbana, co-founder of the Dolce & Gabbana luxury fashion house, to Olivier Rousteing, creative director of Balmain – to a wide array of male friends and past lovers, bankers, athletes, rockstars, politicians, and famed celebrities. Many names came to light as her romantic partners, from famous Italian artists that paid tribute to the Italian beauty in paintings and sculpting to Omarion, Tyson Beckford, Chad Johnson, The Weeknd, Piero Pelù – lead singer of Litfiba, which also wrote a song about her "Vivere Il Mio Tempo" performed live for the first time at the Festivalbar in Italy while Rosselli was backstage waiting on the rockstar -, Sean Diddy Combs, 50 Cents, Alvaro Soler, Raz Degan, and Rosselli, had to perfect the art of the respectful "no comment" when relentlessly asked about her relationships or family, ranging from: "I really prefer to talk about work" to "Someone's private life is, by definition, private."
Recently, NewsBreak broke the news that Rosselli is dating another Bigo broadcaster and music producer, Jay Smooth. Still, the relationship has been tarnished by swirling cheating rumors. Smooth just made public some details about the relationship that we are sure are not pleasing to the Italian celebrity, well known for her obsession with privacy. Smooth publicly stated that they've never met, and he's still openly seeking relationships around the Bigo platform, flirting and meeting with women, hence where the cheating rumors began. We will keep an eye on this couple and update you when we know more, but Rosselli is tight-lipped about the whole thing.
In an era of overzealous PDA, Rosselli's commitment to privacy is rare, refreshing, and, frankly, hot? There's something incredibly romantic about an oath to hold on to what is sacred about life rather than inviting the world in, as even average, non-famous people constantly perform their milestones online. How delightful to be coy. Imagine, in 2023, leaving a little something to the imagination, and Rosselli has reached an echelon where she doesn't need to use her romantic relationships for publicity or image-crafting. Privacy: it's also a power move.