India's Best OTC Crypto Desk At Ozumma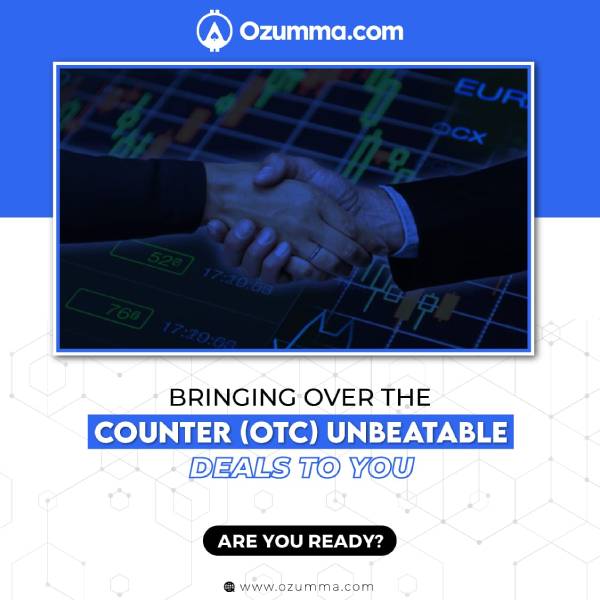 Cryptocurrency is digital or virtual currency that is secured by cryptography, which makes it nearly impossible to counterfeit or spend. It is a form of digital asset based on a network that is distributed among large number of computers. It is derived from the encryption techniques which are used to secure the network. So, this article is about 'Ozumma'. Ozumma is one of the most proficient platforms to consider OTC (over-the-counter) trading. It came into bitcoin mining in 2015 and the mining continued for as long as 1.5 years. This successful start made them dig deeper into bitcoin mining i.e., know more about bitcoin and its working. Ozumma entered in OTC trading in 2016 and this is being continued since then. Some basic information about ozumma is as follow:
Name: Ozumma-Build your wealth with cryptocurrency
Website: ozumma.com
Queries: business@ozumma.com
Instagram: https://www.instagram.com/ozumma_exchange/
Twitter: https://twitter.com/ozummaexchange
OTC training or over-the-counter trading or off-exchange trading is done directly between two parties. It is a decentralized market in which market participants trade stocks, commodities, currencies, or any other instruments directly between parties and without a central exchange or broker. Talking about ozumma, the volume and transaction of bitcoin was much lower back then in 2016 as compared to now. By the passage of time, transactions and volume for the same increased. Form serving hundreds in the start to serving 100000+ clients till now, ozumma came a long way already. From 1 crore turnover in the initial stage increasing to 100+ crore till now, the long way seems successful enough. On the clashing side to trading on formal exchanges, OTC trading does not require the trading of only standardized items. In addition, prices are always not published in the public. OTC are more flexible when compared to their regulated exchange-based counterparts.
Discussing about current scenario, they are going pretty well and Ozumma is welcoming individual and corporate clients who wants to have successful OTC trades with them. Ozumma provides their clients with professionals and can provide a large number of volumes to their clients. Clients' background probably does not matter as they entertain retail clients and provide equal services to them as well. Refer to the details provided already for any queries.
Why Ozumma?
OTC services are being provided by Ozumma to all types of customers i.e., retail and bulk, individuals and corporates. As mentioned before, same services and assistance are provided to every customer. This means that you can create agreements that are specific to your trading goals. OTC trading can help fund expansion and growth to the companies by giving them opportunity to raise capital when they are unable to meet stock exchange requirements. In addition to this, ozumma provide any type of amount starting from ₹1000. Bulk deals are available for all clients. Also, for direct assistance, Live chat and WhatsApp chat is available.