Independent Congress Awards 2023: Anna Stukkert, Thomas Misse and Marc Estel, Princess Bonaparte, Alina Kremss, Dr. h.c. Sergej V. Tschernjawskij on the red carpet at the Cannes event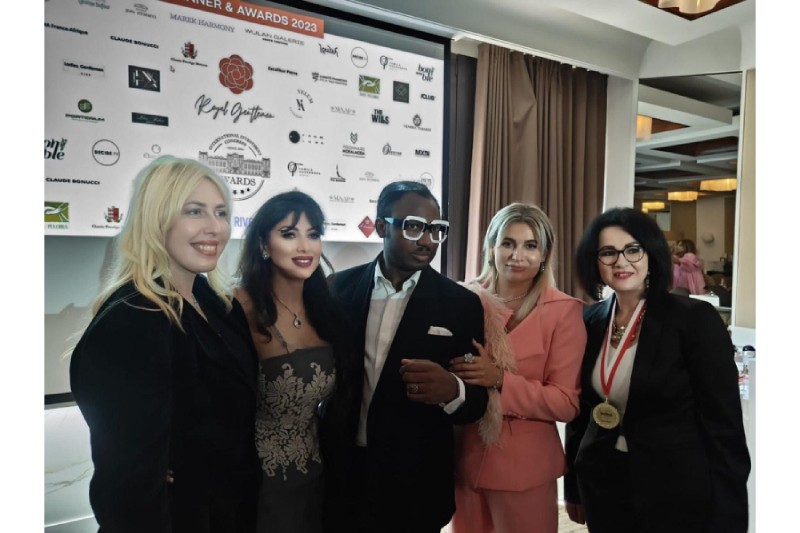 Annual, XI International Investment Congress AWARDS & Royal Gentlemen Club 2023
On 26 th of May 2023, the Independent Congress Awards took place at the Cannes in France. At the annual event, independent of the Investment and Fashion industry year 2023 are honored by the members of the Congress Awards.
These are the most spectacular presentations at the Independent Investment Congress Awards 2023:
Congress AWARDS Person – Princesse Anh Letizia Bonaparte.
Opening remarks from the organizer Anna Stukkert, @anna_stukkert_ president Investment Congress, Mr. Thomas Misse @royalgentelmenofficial, Alina Kremss, Dr. h.c. Sergej V. Tschernjawskij- Chairman of the Forum for Integration CSU Germany (governmental party)
This year, in 2023, Investment Congress expanded the Awards to France and Monaco, and nominated very prestigious people to attend.
The special guest to receive an executive award of honor in Cannes 2023 was the "BEST INVESTMENT PRODUCTS" – Congress AWARDS 2023 – Mikhail Romanenko.
Mr. Romanenko – Founder of Danvel LTD and Eterninty Business Limited. President of Danvel Group. Entrepreneur and investor. Philanthropist. Co-Founder of the Danvel Group corporation Mikhail Romanenko with a fortune of $1.5 billion
Persona of the Year Congress AWARDS 2023 – Mykola Udianskyi. A Visionary IT and Tech Entrepreneur. The President of the EHOLD group. With 10 offices spanning nine countries, EHOLD employs over 500 individuals who serve a user base exceeding 10 million across an impressive project portfolio.
ICLUB Congress partner – is an international network of angel investors. The club closes 2–4 deals per month, attracting approximately $1 million in investment. ICLUB is an international network of angel investors.
Anfisa Anikushina
Anfisa Anikushina is the Investment Director at Skyrora Ventures, investor within the New Space sector, Partner at ICLUB Monaco.@anfisaanikush
The MXBI project is a unique financial product developed by professionals at Danish financial services company Scandinavian Capital Association, Danish marketing company 247 and Co. and UK company Imperial Insurance Blockers. The MXBI Client Brokerage Programme provides unconditional return on investment capital and protection against exchange rate risks.
Anna Tutova – is the co-producer of the groundbreaking documentary film, "Decentralized – No Matter What," Anna brings together an extraordinary lineup of industry titans.
Anna Tutova is shaping the narrative of the digital revolution, propelling us into a future where decentralization reigns supreme.
Sensationnel Step into the future of fashion with Porterium's unique hybrid online shopping hub – a blending model between the traditional fashion shopping marketplace and the implementation of metaverse to embark on an extraordinary immersive shopping experience for international independent designers.
Porterium founder Liliya Tippetts, Monaco based entrepreneur, is dedicated to create an acceleration platform for designers by connecting them directly with meaningful industry contacts, with influencers and celebrities ambassador like Victoria Silvestedt, Sasha Ray, Gessica Kayane (GKAY), Lana Scolaro, Audrey Bouette Tiger, Rymooshka, Allison Soro, Anna Stukkert among few to create an exclusive network for Porterium-brands, thus creating a powerful eco-system for the new fashion market niche.
@liliyatippetts @_porterium
JUDY GREEN, the fashion brand founded by Tatiana Savritskaya, is proud to announce the release of their latest collection of elegant white blouses, jackets, and trousers. Inspired by the timeless style of Coco Chanel, JUDY GREEN's new collection is perfect for boss ladies who want to make a statement in the business world. The participants of different prestige FASHION WEEKS such as MBFW, Milan Fashion week and others. @judy- green.official
Regina Salpagarova is a writer , model , and producer based in Milano Italy and Hong Kong. After many years as a model she started her first steps in the film industry.
Shifteh Maryan is an Austrian visual jewelry artist. She creates extravagant and luxury style art pieces which were presented at Miss Earth Austria, Miss Universe Middle East, by various luxury exhibitions in the USA. She is famous for her jewelry at Vienna Balls and other international events. She selects the most exclusive stones and all her pieces are handmade mostly.
In September 2023, Investment Congress Awards was set to expand to the Saint-Jean-Cap-Ferrat.
08.09.2023 Villa Ephrussi de Rothschild the Saint-Jean-Cap-Ferrat Rochay High Society & International Investment Congress 2023 France. Press conference, Gala dinner, awarding the winners of the nominations.
Kevin Rochay and Rochay Group: Pioneering Ethical Investments and Philanthropy
In 1996, Mr. Kevin Rochay founded Rochay Group with a vision to create a sustainable world that upholds environmental values, respects human rights, and utilizes ethical resources. With an unwavering commitment, Mr. Rochay invested 99% of his net worth over six years into ethical production, enduring significant challenges along the way. Eventually, his perseverance paid off when his company struck a major gold vein in Tanzania, estimated to be worth a staggering $4.3 billion. Owning 80% of the gold mines, Mr. Kevin Rochay's estimated net worth now stands at $3.4 billion.
Mariya Spartalis received an Award as 20223 Financial Influencer.
Partner Event Dmitry Konoval – founder & CEO of Aurous Finance -Gold industry Sudan for investment: two places sites for gold mining in Port Sudan and Adbar.
At present, 65,000 tons of ore have already been mined to the surface for $13 million.
Alina Kremss who is a communications partner at a joint venture of Fortune 500 company at the Chamber of Commerce of Ukraine and interpreter of the president of Ukraine Leonyd Kravchuk (1992).
Company ALNY – AWARDS Digital category – Congress AWARDS 2023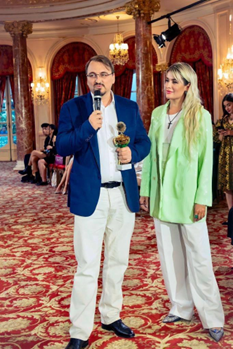 ALNY's Vakhtang Sophromadze / the founder & CEO ALNY Vakhtang Sophromadze. The range of preferences for ALNY
The marketplace in the ALNY Free Economic Zone charges a 2% commission (all market- places charge manufacturers with commissions ranging from 20% to 80%).
ALNY Metaverse – structural program, charity, tourism, playing field, marketplace all on one platform and inside the game world.
Natalia Kolieva – Director Luxury Brands of International Company Mulk
Fab Furnish is the premium multi-brand furniture division of REKHI GROUP OF Companies Harpreet Singh Rekhi is the Founder Chairman of Fab Furnishing & Chairman of REKHI GROUP OF Companies.
Back in Paris, Anna Stukkert will launch a new edition of Paris
International Investment Congress for Investments in Fashion Industry.
Program: Tiffanys Fashion week PARIS Show & International Investment Congress Awards 2023 France
29.09.2023 VIP yacht party Welcome Cocktail Paris, 30.09.2023 Hotel Le Meurice Paris
www.congress-realty.com/en
info@congress-realty.com