Immaculate experience and desire to educate about the negotiation skills, Dr Varun Gupta crafted his first book amid the nationwide lockdown.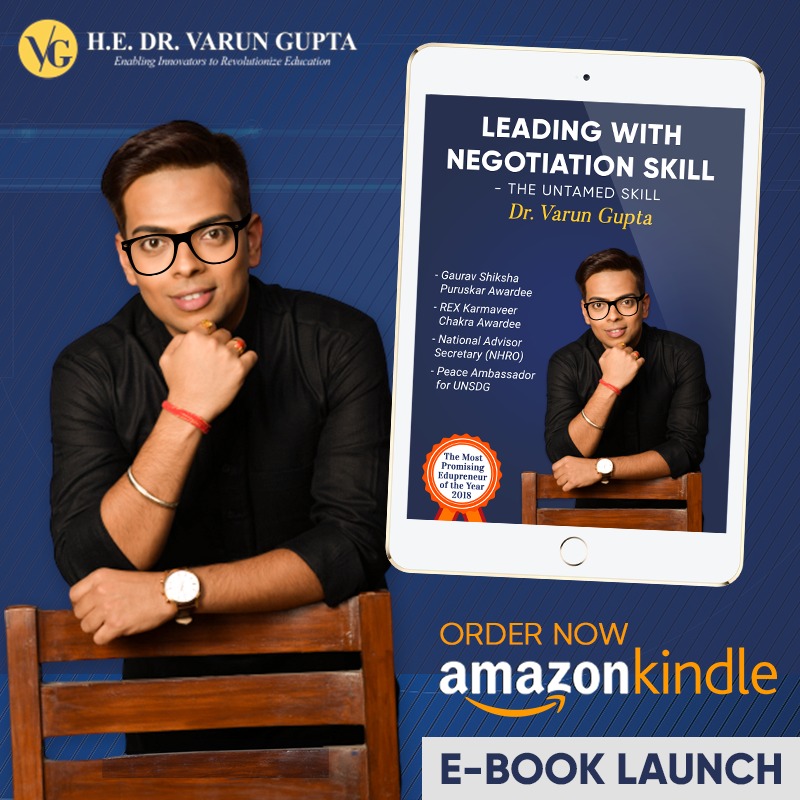 Dr Varun Gupta's "Leading with Negotiation Skill – The Untamed Skill" has been published by Amazon Kindle and is available on Amazon.
The pandemic has led to the closure of many businesses, as the governments around the world, imposed lockdown to safeguard its population. In India, too, a nationwide lockdown was announced, to combat the coronavirus pandemic. Some people utilized this free time and creatively helped & educated entrepreneurs to stand back on their feet. Among them is an educationist, who penned a book during the lockdown, to educate businesses on honing the negotiation skills, he is Dr Varun Gupta.
Dr Varun Gupta is a debutant author of the book 'Leading with Negotiation Skill – The Untamed Skill', which comprises an up-to-date pedagogy of what is negotiation, its types, and the impact it has on the profitability of the business. Dr Varun Gupta is an educationist along with being a peace ambassador for UNSDA (United Nations Sustainable Development Group). He has worked with many companies and institutions and lent his astute consultancy to them. He believes that an entrepreneur can scale his/her business to the next level if he has the negotiation prowess.
In his book, he has laid out different types of negotiation skills, which are very helpful to those dealing with international liaisons, international business, and consultations. It is also beneficial for new business people, who have just begun their start-up, in addition to the aspiring entrepreneurs. It makes you understand the art of negotiating by illustrating photos and infographics, giving a new perspective of dealing, and becoming terrific at it.
Dr Varun Gupta's immaculate experience and research on negotiation have also made him influence some international negotiation styles, which irrespective of the language barrier, facilitates businessmen crack a positive deal, globally. He believes that good negotiators are those who are prepared both mentally and emotionally. Not only does he educate about the same, but also prepares businessmen to ace deals internationally. The book also urges to harp on the acting skills, and sharpen them to crack a favorable deal.
Even in dire times, Dr Varun Gupta's passion and dedication helped him write a book of 105 pages, which was published by Amazon Kindle. The book is priced at INR 330 and is available on Amazon. Dr Varun Gupta's tenacity and desire to educate entrepreneurs, by boosting their negotiation skills, even during a pandemic, has garnered him worldwide praise and recognition.