Igor Shesterkin gets the first NHL shutout, Rangers' 3-0 win over Devils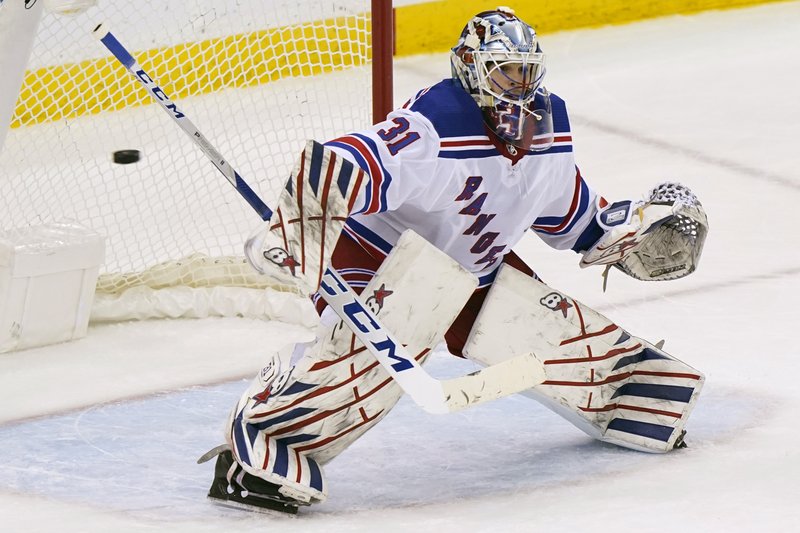 The Rangers took care of business Tuesday night in Newark, and if that is deciphered as accursing the Blueshirts with faint praise, you were unable to be all the more wrong. Maybe, that is a compliment. The portrait of each victory doesn't need to hang in the Louver to be validated.
The result was a 3-0 triumph for the Rangers over an undermanned Devils group that didn't go down at all effectively and was obstructed consistently when it made a difference by Igor Shesterkin, who recorded the main shutout of his 34-start NHL career and was gracious at the time.
"It obviously means a lot and I want to thank all the players who played in front of me and blocked shots all game, especially in the end when it was so meaningful to me," Shesterkin said through an interpreter. "They did it for me and I am so thankful."
Shesterkin, who has been humming since the third seven day stretch of the period several bumpy weeks to begin the year, didn't face a heavy workload, yet met people's high expectations when tried. Also, tried he was, while the Rangers had the option to score only once through a rather mundane first two periods of work.
There was a key save money on Jesper Bratt, alone in front on a centering feed only 22 seconds into the match; another on a Jack Hughes deflection with 7:45 remaining in the first period; another on a Hughes rebound during the first minute of the second period with the Devils on the power play; one on a Wood breakaway 4:15 into the second period; another on a Michael McLeod rebound late before Shesterkin stoned the winger again on a two-on-one minutes later. There were a modest bunch more in the third.
"Igor has been great. He was obviously unbelievable last year as well and we know what kind of goalie he is," said Mika Zibanejad, who beat Mackenzie Blackwood with a wrist shot up top on a breakaway at 7:02 of the first period for the goal that stood up and stood alone until Artemi Panarin got one at 7:50 of the third. "I feel like he gives us a chance to win games and every night he comes up with big saves at the right time."
The first period was really totally open. The subsequent period was a slog, unquestionably for the Blueshirts, who cobbled together an amount of four shots and whose total offensive-zone time probably amounted to less than 45 seconds. Get it in, permit them to come out. That is the manner in which it went.
"For the first time all year I didn't go in between periods," said coach David Quinn, whose team is 5-1-2 in its last eight games and 10-4-3 since March 13. "[Jacob] Trouba took over, and maybe that's our new recipe, between periods — me stay out of the locker room.
"But I just thought we really made a commitment to playing winning hockey in the third period, respected the game and respected our opponent."
Trouba was brilliant in a game-high 22:40 on the ice, just as off it, raising his game as he did in the end of the week set against the Islanders. The Blueshirts played with conviction in the third period. They controlled the puck and the beat and had the option to build up some superiority over a stripped-down Devils team that needed weapons, yet not initiative. Lou Grant loathes get up and go.
The Rangers' arrangement has gotten more flexible with the expansion of Vitali Kravtsov, who played a large portion of the night with fourth-line mates Brett Howden and Kevin Rooney, yet in addition took a few turns up with the Zibanejad and Ryan Strome units. Kravtsov is by all accounts a speedy charge impetus even as he keeps on looking for his first NHL goal.
Panarin's goal, torn from the left circle out of the shadows close to side of the net, was the 161st of his NHL vocation, his 45th wearing the Blueshirt and his 138th point in 100 games since coming to New York as a free agent throughout the late spring of 2019. That objective supported Panarin above Mark Messier for the most focuses by a major part in his initial 100 games as a Ranger.
"I knew I played my 100th game but I actually didn't know about the points or think about the points," Panarin said. "I always try to play 100-percent and I'm very thankful for my partners who helped me get to this point, and I'm not happy 100 percent."
Not happy 100 percent?
"You can't be happy 100 percent of the time," he explained. "Maybe I'm happy 99 percent, but you always have to keep in mind that perfection is never there. Until you win the Stanley Cup, it's not there."