How Youtubers can improve videos organic reach – New Strategies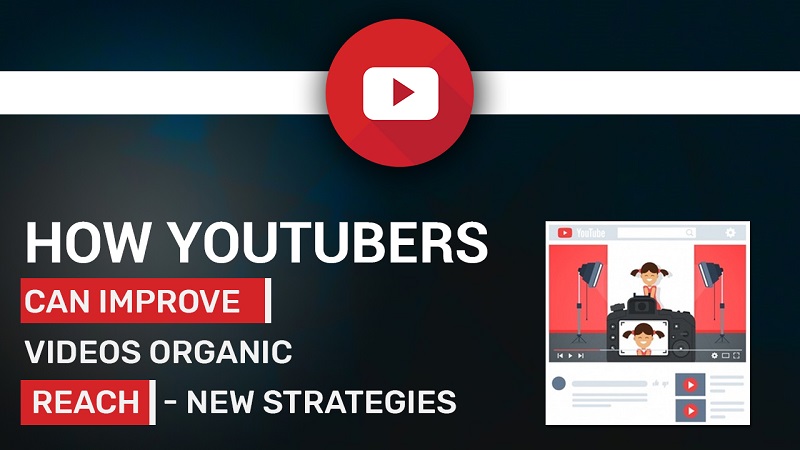 Being a successful YouTuber is a dream job for so many people out there. With the monthly users and the number of videos being watched every day increasing at an exponential rate, every YouTuber wants to spread their wings, flex out and maximize their videos organic reach in terms of views, watch hours and of course increase organic Youtube subscribers. With increasing reach of YouTube in the regional and remote areas, this represents as another opportunity for YouTube content creators to expand their audience. According to Mr. Washib Khan, founder of realsubscribers.com, with a little determination, every YouTuber can become a huge YouTube star.
So, today we decided to help you out in this process.
Build your Channel Reputation – To begin with, always aim to become the pioneer in your category. A pioneer knows what their audience wants to watch by analyzing them via behavior analysis. By doing so, you give a reason to your viewers to come back to your channel every time you publish a video. Moving forward, always strive for professionalism while optimizing your channel page. Design a creative channel icon, it could be a high-resolution head shot or the logo of your company. Next thing to lay stress upon is your channel art, it acts like the back cover for your channel. It provides you with another opportunity to rebrand your channel. According to Mr. Khan, YouTube is the next big fish to catch and fry for the brands, as it presents itself as a great opportunity to reach new potential consumers.
Keyword Research – Keywords are the words or phrases that your potential audience is using to search to watch videos similar to yours. These keywords are your key to reaching your target audience, they make your videos more discoverable on YouTube. To find the right keywords for your video, utilize the suggest feature of the YouTube search engine as well as the Google AdWords Keywords Planner. Another tool that will come in handy in this process is Google Trends. It tells you about the competition on any particular keyword in a region and also lets you compare the competition on two or more keywords.
Leverage the power of social media – Today every social media platform has its own, huge user base. According to Mr. Khan, this presents itself as another opportunity for YouTube creators to expand their audience. By promoting your YouTube channel on platforms such as Instagram, Facebook, Tumblr, Pinterest etc. you can divert users from these platforms to your YouTube channel. This is known as cross platform promotion. Another way to improve organic reach is through e-mail newsletters and LinkedIn groups. This way you get targeted views only.
Optimization using Keywords – Once you trace the correct keywords, use them to gain more viewership. Optimize your video title, description and tags using these powerful keywords. Your video title is the first thing a viewer see, it should be such that it compels the viewer to click on your video, it advisable to use your main keyword once in your title. Your video description box is another opportunity for you to inform your viewer what the video is about, naturally use a few keywords in it as well, keeping in mind to avoid keyword stuffing. Now comes the turn to discuss video tags. Video tags help YouTube better understand what your video is about. Use short-tail keywords and its variants as you video tags.
Using a Custom-made Thumbnail – A thumbnail is the picture that appears adjacent to you video title in the search engine or the suggested videos box in YouTube. Video title and thumbnails are the first thing a potential viewer sees; hence, it definitely has to be highly compelling. If you design your thumbnail, instead of using the YouTube generated thumbnail, you can create a thumbnail that best represents the vibe of your video. An ideal thumbnail should be a blend of images/graphics and text all the while maintaining a good contrast with the theme of YouTube to stand out. You can use software such as Canva and Adobe Photoshop to create thumbnails.
Interact with your audience – Your viewers are an important factor responsible for the growth of your channel. Hence, you have to give them the prime importance by showing them they hold the utmost value for you. For this, interact as much possible with your viewer base in the comments section by liking and relying to their comments, and in the community posts. This in turn also increases the engagement ratio on your videos, in terms or likes, shares and comments. This reflects well with the YouTube algorithm. This also makes your viewers more loyal towards your channel but also positively influences your viewer to subscriber conversion ratio.
Leverage YouTube cards – A YouTube card is a clickable link to anther video that pops up during a playing video on the top right corner. It is a great way to direct viewers towards your lesser watched content, which in turn, allows you to keep a viewer for longer duration on your YouTube channel. You can decide when you want the YouTube card to pop up in your video. Find out from your YouTube Analytics, the average duration after a viewer drops out from your video. If you add the YouTube card at this point of time in your video, instead of losing the viewer, you can keep them within your channel for a while more. This also increases the watch hours on your YouTube channel.
Make the best out of YouTube Analytics – YouTube provides the creators with an extended report on the performance of their channel in terms of parameters such as traffic sources, impressions, conversion ratio, top YouTube search terms, demographics, age, gender etc. It also allows you to obtain your metrics in form of graphs, tables and pie charts for better understanding. This gives you insight into what is working in your favor and what is not.
According to Mr. Khan, "These small yet essential steps will contribute not only in improving your videos organic reach but will also help in the growth of your YouTube channel". Employee these practices today and let them do wonder for your YouTube channel.