How Natural Bodybuilder of the Decade, Ron Williams, Became a Champion In His Life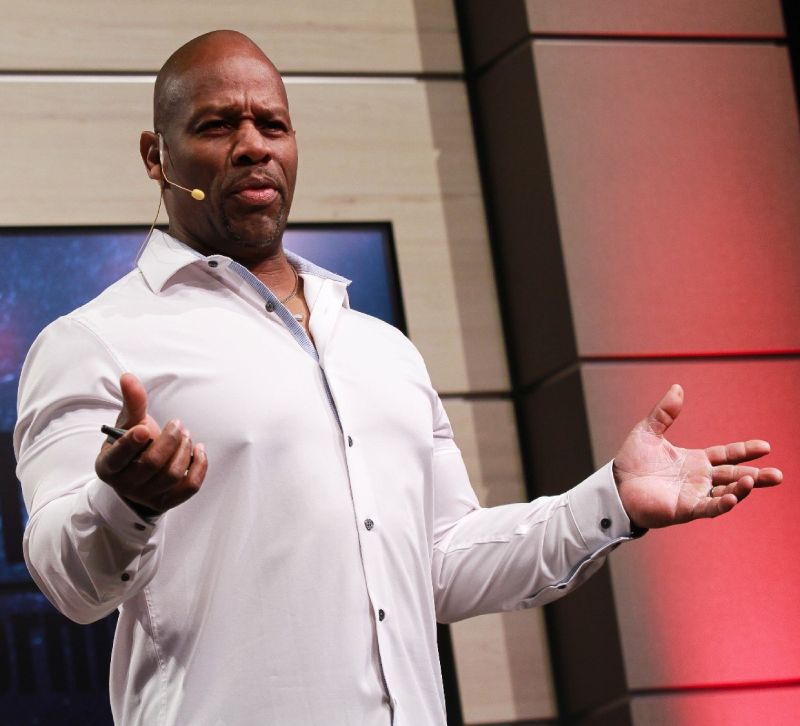 What kind of determination does it take to transform a life? How much strength and dedication are required to begin life in the ghetto of Indianapolis, go through the process of becoming one of the most decorated International athletes in your sport, and then to become an Inventor, Author, National Speaker, Entrepreneur, and Pastor? No matter where you are in your life, Ron Williams' story of overcoming is both inspiring and encouraging.  He started his life from such an extreme disadvantage and through consistent focus, learning, growth, and belief in himself he has built an amazing, fulfilling life that positively impacts millions of people.
As a Life / Fitness Coach, one of the concepts that Ron teaches to his Champion clients is – "You will never live above your persuasion." What he means by this is that we will never achieve any success that we do not believe we can achieve. If we believe we can be a business owner, inventor, author, great spouse, great parent, entrepreneur, man or woman of God, then we can. If we don't believe we can achieve our goals, we are also right. We will never live above what we believe ourselves capable of.
At the age of 3, Ron was given away to people who did not have room for him and constantly communicated to him that he was not wanted. As he was shuffled from home to home, he endured mental, emotional, and physical abuse which drove him to be suicidal by the time he was 13 years old and alone on the Indianapolis streets by 15. Ron was illiterate until he was 28 years old. Being an athlete was the only thing that kept Ron alive. During his school years he ran track and as an athlete in the Army he played four sports on an international level – swimming, diving, football, and boxing. It was during his time in the Army that he was introduced to Natural Bodybuilding.
Bodybuilding is where Ron excelled as an athlete winning over 250 titles and is a 21-time World Champion, inducted into the Natural Bodybuilding Hall of Fame, and the sole recipient of the Natural Bodybuilder of the Decade. But with as much success as Ron ultimately found in this world, winning his first Mr. Natural Universe title left him empty and unfulfilled and to him the opportunity for a life of happiness and success appeared to be hopeless. He was 26 years old, merely surviving life, not thriving.
What had to change for Ron to move from this level of despair to not only achieve greatness in his sport throughout his 20-year career, but then to make the transition from international athlete to devoted husband, pastor, businessman, inventor, author, and entrepreneur? If you say, "change his mind," you are close, not just change…. but transform as a caterpillar to a butterfly so there is no going back. Thankfully, at the age of 28 Ron Williams began his relationship with God and through this relationship he learned that he is important, more than good enough, loved, chosen, saved, and just because he is alive proves that there is a God-given purpose for his life.
With belief in himself and confidence that he can become all that he desires, Ron leaned into the principles that he learned through his success as a Natural Bodybuilder and applied them to all areas of his life. Ron teaches it this way – "When we talk about the life of a Champion, we are not just talking about that one-time yearly event which is called a Championship. A Championship is simply an event where the world has an opportunity to view what may have taken an athlete years and years of preparation and hard work to reach the pinnacle of their craft, this is a Championship but not the life of a Champion. There are similarities and differences between the two, the likeness is this; it requires the same basic principles to win a Championship as it does to be a Champion. The biggest difference is; winning a Championship is what you do, being a Champion is really who you are. A Champion is balanced in building all of the major areas of their life – Faith, Family, Fitness and Finances."
Through hard work, discipline, focus on learning, skilling his gifts of creativity, leading others, teaching, and speaking; Ron has not only transformed his own life, but he has lead thousands of individuals through a process that he developed taking them from their current condition to the life they desire to build and live – physically, mentally, emotionally, and spiritually.
"You will never live above your persuasion." Ron transformed his thoughts about himself and his capabilities and the world around him. He drew from his early life experiences, the knowledge he collected from sculpting his body, and he followed the deep desire within himself to help others heal, be healthy, happy, and whole. As an entrepreneur and business owner, he created an Enterprise that includes inventing fitness equipment, authoring books, public speaking, and life coaching; all positively impacting millions of lives.
What do you believe about yourself? Are you dreaming about "someday"? Are you setting goals with the intention and belief in yourself that you will achieve them? Are you working toward your goals every day? Are you a Champion in your life? If you are not answering "Yes!" to these questions today, when will you begin? If Ron Williams can begin his life on the streets of Indianapolis alone and hungry, transform his thoughts, and chose to build a life that positively impacts millions of people, you can achieve your best life too.
Believe. Heal. Act. Live.