Heisman Trophy finalists have been revealed, with Caleb Williams leading the pack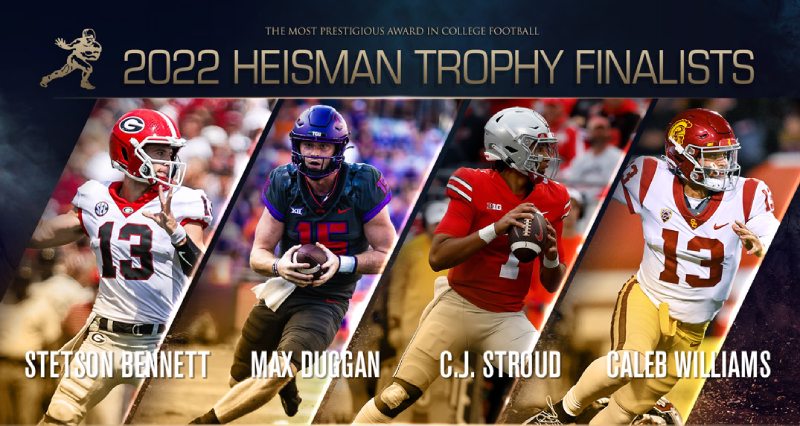 Caleb Williams of USC, Stetson Bennett of Georgia, Max Duggan of TCU, and C.J. Stroud of Ohio State are the quarterbacks who will travel to New York to hear who will be named the Heisman Trophy winner.
Williams is the favorite of the four, even though Utah was eliminated from the College Football playoff after losing to them in the Pac-12 Championship this past weekend.
Williams has passed for 4,075 yards and 37 touchdowns in his first season with the Trojans after moving to sunny California with his former Oklahoma coach, Lincoln Riley.
Williams must complete another college season as a true sophomore before entering the NFL, but he has a lot of teams to watch this year, including USC, which plays Tulane in the Cotton Bowl on Jan. 2.
However, Bennett, Duggan, and Stroud will all participate in the College Football Playoff, with Bennett leading the Georgia Bulldogs to the nation's top seed.
In 13 games, Bennett has thrown for 3,425 yards, 20 touchdowns, and six interceptions for Georgia, which defeated Alabama last year to win the national championship.
Even though the Horned Frogs lost to Kansas State in the Big 12 Championship in overtime, Duggan continues to be the group's surprise.
With 3,321 passing yards, 30 touchdowns, four interceptions, and a 64.9% completion rate in 13 games, Duggan had his best college season to date.
Finally, Stroud, who led the Buckeyes to a Heisman victory last year by throwing for 4,435 yards and 44 touchdowns, was a preseason favorite.
However, compared to his 2021-22 record, he had a "down year" with 3,340 yards, 37 touchdowns, and six interceptions.
If Stroud chooses to declare, he will still be regarded as one of the best NFL Draft prospects.
On December 31, Bennett and Stroud will face off in the Peach Bowl to see who advances to the national championship game. In the Fiesta Bowl, Duggan's Horned Frogs will take on the Michigan Wolverines.
This Saturday, the Heisman Trophy will be presented in New York at 8 p.m. Eastern Time.