Heinz Becomes The Season's Biggest Player With VUZ
Doha, Qatar, 27 November 2022 – Heinz Arabia are currently roaming the streets of Doha in the form of a man named Thomas Heinz. He's been spotted at some of the biggest events of the season while wearing a red jersey with his name on it and is offering exclusive prizes along with a grand prize worth QR 10,000 to those who manage to find him in the crowd with the hashtag #FindHeinz.
Accompanying him are VUZ – 360 degree VR specialists who are documenting his entire journey and transforming it into an immersive streaming experience that removes all physical barriers – enabling fans to follow Thomas Heinz directly through the app, giving fans higher chances of finding him to win the grand prize.
With the help of VUZ, Heinz has become the most searched-for name of the season and will be offering more wins with Heinz until December.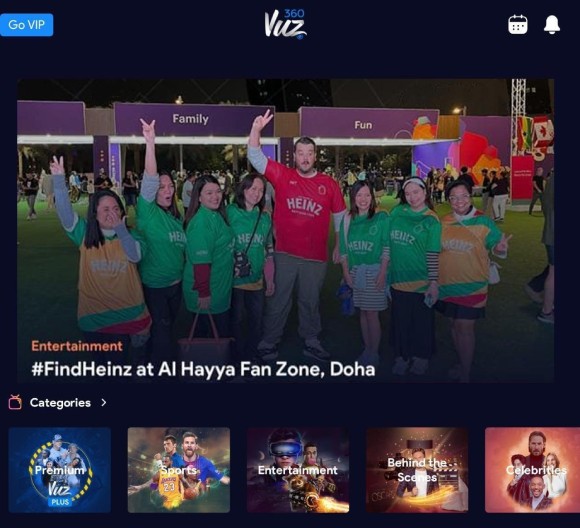 Thomas Heinz was approached by Heinz Arabia to attend football's biggest event on behalf of the brand through this impactful original experience around the streets of Doha. Heinz Arabia turned to the social community and found one of thousands of people named Heinz who can represent the iconic brand and amplify the season conversations.
To find out more on his whereabouts, fans can search his hashtag #FindHeinz, follow his account @thomas.heinz22 on Instagram, and download the VUZ app to access the content https://share2.360vuz.com/EGZLo7Cahvb and win with him.
VUZ is the leading immersive social app offering the best immersive virtual social platform, VUZ social app takes users to different locations all around the world in just a split second.