Finding the Perfect Coworking Space in Noida: Navigating the Coworking Landscape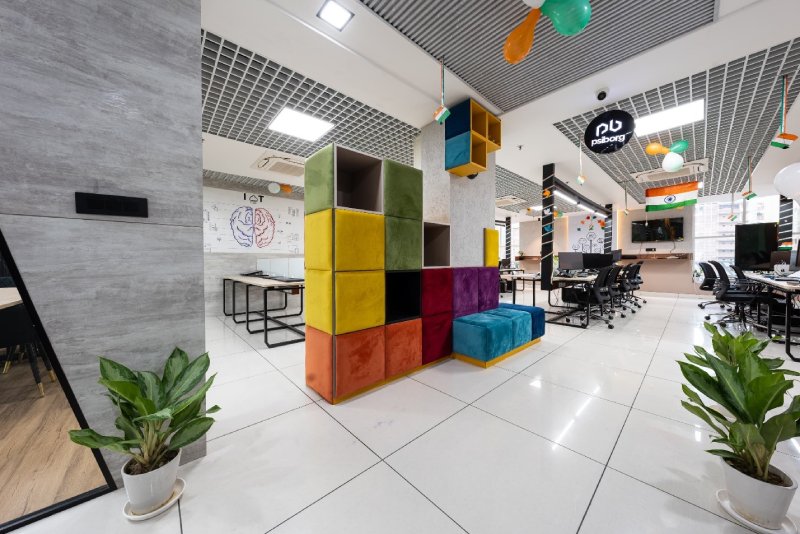 Traditional office spaces have undergone a huge significant transformation in the last decade. The rise of remote work, freelancing, and startup culture has led to the expansion of coworking spaces, providing professionals with flexible and collaborative work environments like they always wanted. Coworking spaces in Noida are no exception. The city is a hotspot for such shared workspaces to meet their growing demand. With its ever-expanding business landscape, Noida offers an array of options for individuals and teams seeking the perfect coworking space to suit their needs.
The Rise of Coworking Spaces in Noida: A Changing Landscape
Marked by a substantial increase in the demand for flexible office areas, The Noida business landscape has been undergoing a remarkable transformation. This shift has caught significant attention and a report by The Times of India sheds light on the phenomenon, highlighting how Noida has become a dynamic hub for coworking space.
The report from The Times of India emphasizes that Noida's strategic positioning within close proximity to Delhi has played a pivotal role in promoting its growth as a coworking hotspot. Being adjacent to the nation's capital, Noida becomes advantageous for professionals seeking flexible workspaces that offer proximity to business hubs and the potential for collaborative innovation.
In addition to it, Noida's impressive infrastructure and well-established amenities have contributed significantly to it being a coworking hub. The city's forward-looking urban planning and modern infrastructure are essential drivers that cater to the evolving needs of professionals seeking productive and adaptable work environments. These factors provide a helpful setting for entrepreneurs, startups and established businesses alike.
The report's findings show that the growing number of startups and freelancers in Noida has substantially contributed to the surge in coworking spaces. As the startup culture takes flight and freelancers seek flexible spaces that encourage collaboration and networking, the demand for coworking spaces has risen organically.
Factors to Consider When Choosing a Coworking Space in Noida
Location and Connectivity: When looking for a coworking space in Noida, location should be the top consideration. A workspace that is easily accessible and well-connected to public transportation can save you valuable commuting time. It can also enhance your professional image and make meetings with clients or partners more convenient.
Amenities and Facilities: Shared workspace spaces in Noida vary in terms of amenities and facilities offered. Most of them offer high-speed internet, meeting rooms, printing services, recreational areas, or a fully equipped kitchen. If there's anything specific, either search for it or ask for a customised package.
Community and Networking Opportunities: Today, the biggest attraction of a flexible workspace is the sense of community they foster. Look for spaces that host networking events, workshops and seminars. These opportunities not only expand your professional circle but also provide a platform for learning and collaboration.
The flexibility of Plans: Different professionals have different requirements when it comes to a workspace. Choose a coworking space that offers flexible plans, whether it's a daily, weekly or monthly basis. This adaptability ensures you only pay for the services you use and can adjust your plan as your needs evolve.
Cost Considerations: While coworking spaces offer convenience and facilities, they also come at a cost. Shortlist the best coworking space providers according to you and compare their pricing structures to find a balance between your budget and the facilities provided. Always remember that while some spaces might have higher rates, they could offer premium services that justify the expense.
Highly Sought Coworking Spaces in Noida
Innov8: A leading coworking chain, Innov8 offers well-designed workspaces with vibrant and fresh interiors. Their Noida centre provides a professional environment with ergonomic furniture, high-speed internet, meeting rooms and a community of like-minded individuals.
91springboard: Known for its collaborative work atmosphere, 91springboard offers flexible coworking options along with mentorship programs and networking events. Their Noida space is strategically located, making it an attractive choice for startups and freelancers.
WeWork: A global giant as it is, WeWork's Noida centre provides all the modern amenities required for a productive work environment. With its focus on community building, it offers an array of networking opportunities.
Let's Connect India Coworking: An emerging player in the coworking scene, Let's Connect India Coworking offers a range of workspace solutions catering to different needs. Their Noida facility combines contemporary design with essential amenities, facilitating a conducive environment for professionals from various industries.
Tips for Making the Most of Your Coworking Experience
1. Engaging in Community Activities
To fully immerse yourself in this ecosystem, actively participate in the various activities and events organized by the coworking space. This includes workshops, seminars, skill-sharing sessions and networking gatherings. By engaging with fellow coworkers, you can form meaningful relationships, exchange ideas, and gain professional insights.
2. Leveraging Networking Opportunities
Noida's coworking spaces are hubs of diverse talent from freelancers and entrepreneurs to established businesses. Seize the opportunity to expand your network by striking up conversations with fellow coworkers during breaks or networking events. These connections can lead to new clients, business partnerships, and valuable industry insights.
3. Setting Boundaries for Work-Life Integration
While coworking spaces promote a flexible work environment, it's important to establish clear boundaries between your work and personal life. Define your working hours and allocate time for breaks to recharge. Use dedicated spaces, such as lounges or recreational areas, to unwind and clear your mind.
4. Exploring Cross-Disciplinary Learning
The coworking landscape in Noida brings together professionals from various fields under one roof. Take advantage of this diverse environment by exploring cross-disciplinary learning opportunities. Engage in conversations with individuals who have different expertise and skills. This exposure can lead to fresh perspectives and innovative approaches to problem-solving.
5. Contributing to the Community
Just as you benefit from the coworking community, strive to contribute your own expertise and insights. Offer to share your knowledge through workshops or presentations that align with your expertise. Actively participate in discussions and provide support to fellow coworkers when needed.
Pick right, work your best
While there are many coworking spaces in Noida to choose from, one needs to make a careful evaluation of various factors like location, amenities, community engagement and cost. As the demand for flexible workspace solutions continues to grow, Noida's shared office spaces offer professionals the opportunity to work in dynamic environments that foster creativity, collaboration and productivity.
By considering what facilities your business benefits from the most and conducting thorough research, you can find the perfect office space in Noida that aligns with your professional goals and aspirations. Join the changing work culture and hop on a journey of success within the dynamic coworking community of Noida.