Fans react to Deepika Padukone attending Paris Fashion Week show with her parents: "So thoughtful, they must be so proud."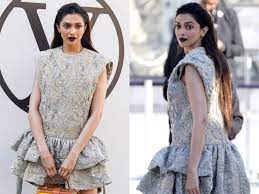 As the actor and her parents, Prakash Padukone and Ujjala Padukone, attended the Louis Vuitton show during Paris Fashion Week 2022, Deepika Padukone astonished her admirers.
Check out their videos from the occasion. One of the famous visitors at the most recent Louis Vuitton show during Paris Fashion Week was Deepika Padukone. 
The renowned fashion house debuted its newest collection on Tuesday during fashion week, and Deepika Padukone, the brand's global brand ambassador, was seated in the front row wearing a short dress from the company. Fans of the actor are already sharing photos and videos of her leaving the fashion show with her parents, former badminton players Prakash and Ujjala Padukone, on social media.
Alicia Vikander, Antoine Arnault, Ana de Armas, and other Hollywood A-listers were spotted sitting in the front row with Deepika during Paris Fashion Week.
Social media users posted a video of Deepika and her parents arriving at the fashion event.
The performer, who was depicted in the brief film wearing a grey dress, bold makeup, and swept-back damp hair, was seen spinning around and keeping an eye out for her parents as they followed her.
Her father Prakash Padukone dressed casually in a black sweater over a white shirt and a pair of black pants while her mother Ujjala donned a white blouse, matching pants, and a blazer.
A post showcasing Deepika with her family on their outing for Paris Fashion Week was also shared by a Louis Vuitton staffer who accompanied the star during the fashion show.
It was an honour and a delight to work beside this one woman powerhouse (Deepika) and the elves who supported her, the caption said. 
Deepika, Ujjala, and Prakash Padukone appeared in one of the images posing in front of the renowned Luvre Pyramid in Paris. 
On the images of Deepika and her family, many people commented.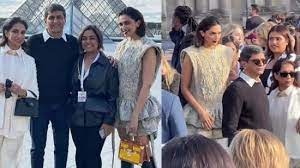 "So unbelievably proud," one person wrote.  Another person said, "This is amazing!"Many people applauded the star for being considerate and sharing her special moments with her parents after watching a video of Deepika and her parents following the performance. 
The group could be seen in the video waiting outside the location of the fashion event for their car.
On Instagram, one supporter wrote: "So classy and considerate. I admire her for sharing these triumphs with her parents. 
"Just enjoy watching her in international events with her parents… must be so proud," read another comment. Another reader added, "I mean of course Deepika is Deepika, but her mum is looking so cool," in a compliment to Deepika's mother Ujjala.Deepika, who was chosen as Louis Vuitton's brand ambassador earlier this year, appeared at the Cannes Film Festival 2022 as a jury member while donning numerous of the label's costumes. 
Deepika was recently chosen to serve as the brand ambassador for the prestigious Cartier jewellery company. Pathaan, starring Shah Rukh Khan, The Intern remake, Project K, and Fighter, starring Amitabh Bachchan and Hrithik Roshan, are some of Deepika's future movies.