EXCLUSIVE: Interview with Akbar Eghbali, Iranian comedian and influencer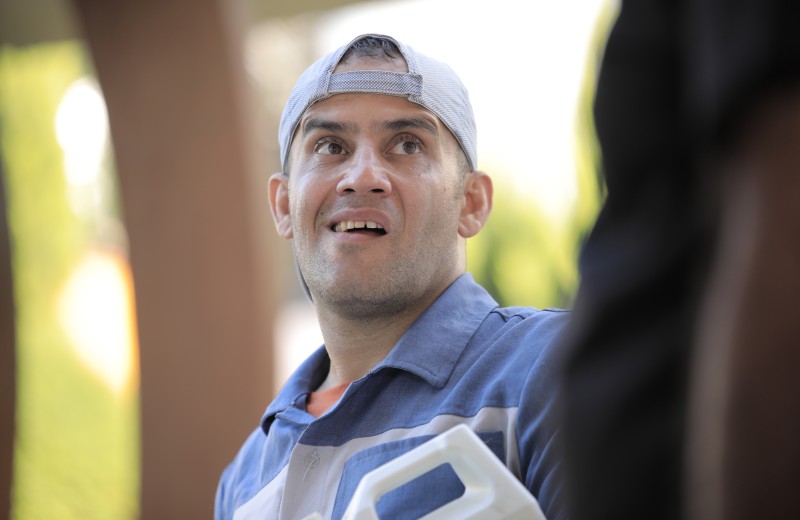 Photo Courtesy of Mohamad Baheri
Akbar Eghbali is a persian-speaking actor and comedian who has millions of followers on social media. He is known for his comedy "the annoying worker" and for his films "night of doubt," "bonsai" and "bitter chocolate" . Akbar Eghbali, with more than 1.8 million followers on instagram, is one of the iranian celebrities who has gained a lot of fame in persian-speaking countries. We talked to him.
You are one of the actors who is very popular in the field of comedy in your country. What do you think is the reason for this popularity?
Akbar Eghbali: One of the reasons people like my comedy show is the way it is performed, as well as the character I have chosen to play. A simple worker who expresses the current issues of the society in the form of humor and at the same time has a good physical condition and performs dramatic sports movements. At the same time, he sometimes says things that are beyond expectation.
You also use the audience in your play, that is, in a way, they are also part of the actors in the play. How did you come up with the idea to use them in the play?
Akbar Eghbali: Yes, the audience is also a part of the play and part of my actors, and the reason is that more communication is established and it makes the play more attractive. This helps to better understand the content of the show.
Arent they upset when you use the audience as an actor and joke with them? Do not react?
Akbar Eghbali: During the performance, i monitor the audience and select people who have good energy and i know very well that they will not be upset by my jokes.
So you are acting in a kind of psychological way.
Akbar Eghbali: Maybe, but based on years of performance experience, i fully understand which audiences have good energy and high aspect and i choose them.
You are one of the artists who have been performing in the theater for many years and some people think that this repetition is a kind of weakness and you do not have variety in your work. How do you evaluate this issue?
Akbar Eghbali: I respect their opinion, but i look at it from another angle. In my opinion, when a play is performed continuously for years and still has an audience, it is not a sign of weakness, but a sign of its strength. According to my studies, plays with the same format and content have been performed in some countries for many years. This means that it is so attractive that it has lasted for years. Of course, it is true that we are repeating a theatrical format, but the dialogues and content are constantly changing, and many actors have been added to the play recently.
Which iranian or international actor do you like in the comedy genre?
Akbar Eghbali: Among the iranian actors, i like "akbar abdi", "mehran modiri" and "reza attaran". Among the international silent film actors, i like charlie chaplin and harold lloyd, and the talkative films of laurel and hardy, jerry lewis and jim carrey.
You have collaborated with many producers and art groups. Which iranian producer and which group has been your best experience working with?
Akbar Eghbali: The best event of my artistic life has been working with the group "Puzzle Show" produced by "Artin Shahvaran" and "Asal Afshari". Puzzle Show is a well-known art program in Iran and uses well-known and skilled artists. This is because Artin Shahvaran is both an art producer and a successful singer. He has a good knowledge of art and the artist.
You have acted in several movies and tv series. Do you prefer acting in movies or theater?
Akbar Eghbali: Undoubtedly, i like theater more. I enjoy direct communication with the audience and their feelings. Playing in the theater is much more difficult than playing in the cinema. Because in the theater, if something goes wrong, it is not possible to play that plan multiple times. Something like the singing in concert and a singing in a recording studio! Singing in concert is much harder than singing in the studio
Your comedy theater is associated with high-risk sports performances. Have you ever been injured during a sports performance?
Akbar Eghbali: I was seriously injured several times. The doctor told me that you should not have a stage performance for a long time. But it may seem strange to you. Due to the popularity of my comedy theater, i went to the amphitheater a week later and resumed my activities with a slight change in performance. It was a difficult decision, but according to the rumors i heard about the end of my artistic career, i had to do something.
How long will you continue acting and comedy?
Akbar Eghbali: I don't think so about this. But i know very well that art and the artist have no expiration date. I will perform as long as i feel good on stage.