Camper Shell for F150 – Features and Reviews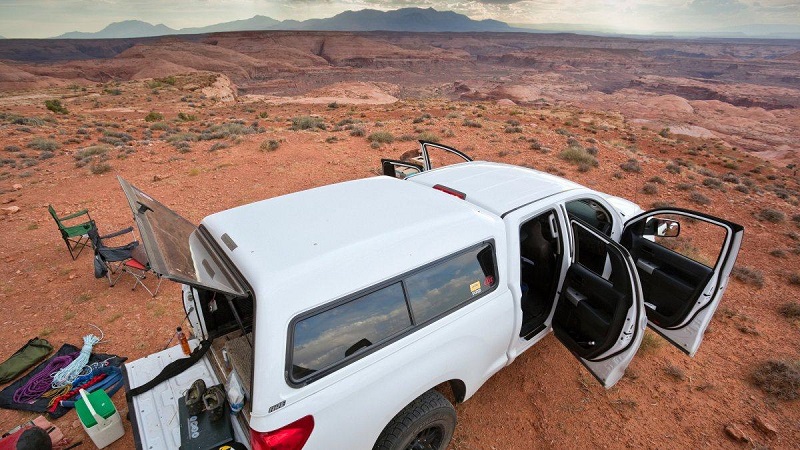 What is Camper a Shell?
Do you own a pickup truck? Then, you surely know the worth of a camper shell. The lightweight enclosure is commonly known as a canopy, topper, cap, or shell that is used to provide shelter for your truck from the environmental factors like rain or vigorous wind. Previously, they were made of metal, but as you might have seen various trucks for sale on Zemotor, that have an attachable camper shell that is made of fiberglass and other materials. You would hardly find new metal camper shells as they get premature rusting and are comparatively heavier in weight than the camper shells made of fiberglass.

Apart from saving you and your goods from the environmental factors, this lockable compartment is best to secure the transport of your valuable good, which you are carrying for personal or business purposes. Many camper shells feature sliding windows, which makes it a comfortable compartment to sleep if you are on a camping or carrying your pet along. Who would like to sleep on a rocky surface during camping, when you have a comfortable option for relaxing without compromising the privacy.
Camper Shell for F150
The F150 is a range of pickup trucks manufactured by the giant of the automobile industry, Ford. The leading vehicle manufacturer has been making pickup trucks for nearly half a century. The F-series has been running in the market for about 13 generations since 1948 with a number of designs, which include pickup trucks, chassis cab trucks, and medium-duty trucks. Moreover, Ford has planned to launch a completely new electric pickup, F150 and it is expected to launch in 2021 or later.

The current models of F150 include SVT/Ford Raptor, King Ranch, Platinum, and Tremor. All these models can be mounted by an attachable camper shell to provide utility and storage for cargo purposes, secure transport, and private relaxing space outdoor.
Features of Camper Shell
The camper shell has its own value and is a must-bought essential if you have a pickup truck. The concept of these toppers is as old as these trucks were first manufactured and the features have a long list from which some are mentioned below:

No drilling is required to attach the camper shell
Light in weight
Easy to attach and remove
Welded frame with a rare roof cage
Sliding window with optional full-vision
Fiberglass prevents premature rusting
Bought once and used for years
Available in different colors so that you find the best match for your F150
Average installation time required is 50-60 minutes
DIY Camper Shell for F150
"Make your own Camper Shell", Yes! Your read it right. Now, you can make your own topper if you are reluctant to purchase one and spend your precious bucks on it. With some basic knowledge, a list of supplies, and the main thing "Interest" to build your very own camper shell and make it much more than an ordinary pickup vehicle. You can utilize your time and kill your boredom this weekend.

Making a cap is not as difficult as it looks and it depends, which material you tend to use to build the frame. The most common option for DIY Camper Shell for F150 is a frame of PVC pipes with fiberglass sides, a wooden frame with plywood sides, or a metal frame with aluminum sides. However, to act like a pro, there are a plethora of guides available on the internet that shows, "How to make your own Camper Shell". Is there a plan for camping, then get ready with your tool-box and impress your friends with your hidden talent by building a topper for your pickup truck.
Best Camper Shells
If those online guides and tutorials didn't work out in your case and you are still facing a problem in building it for your pickup truck, then buy a cap for your F150 from the top-selling brands available in the market. Mentioned below are the leading brands who know the real value of your vehicle and turn your ordinary vehicle into a secure and comfortable compartment.
Snugtop
LEER
ARE
Overland
Bestop
If you are searching for more details about camper shell F150, find here.