Bulava is an intercontinental missile launched by a Russian nuclear submarine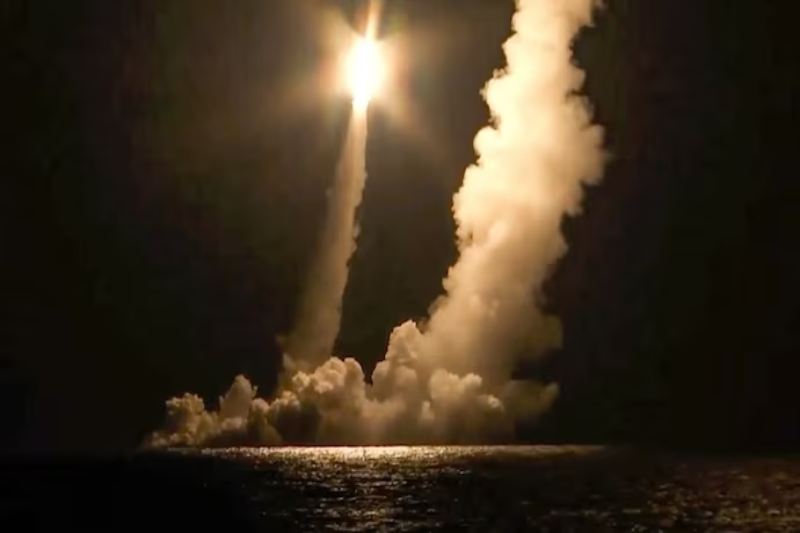 Russia's new vital atomic submarine, the Imperator Alexander III, has effectively tried a Bulava intercontinental long range rocket, the Russian protection service said on Sunday.
The rocket, which the Organization of American Researchers says is intended to convey up to six atomic warheads, was sent off from a submerged situation in the White Ocean off Russia's northern coast and hit an objective a great many kilometers away on the Kamchatka promontory in the Russian Far East, the guard service said.
"Firing a ballistic missile is the final element of state tests, after which a decision will be made to accept the cruiser into the Navy," a service proclamation said.
The Imperator Alexander III is the seventh of the Russian Undertaking 955 Borei (Cold Breeze) class atomic submarines and the fourth of the modernized Borei-A variation, as indicated by Russian sources.
They are referred to in NATO as the Dolgoruky class of submarines, after the primary boat – the Yuri Dolgoruky – turned into the main new age of atomic submarine sent off by Russia since the Virus War.
The Borei class submarine is outfitted with 16 Bulava rockets. The 12-meter (40-foot) rocket has a scope of around 8,000 km (5,000 miles).
Since ascending to drive in 1999, President Vladimir Putin has expanded military spending and tried to modify Russia's atomic and customary powers after the bedlam that went with the 1991 fall of the Soviet Association.
The Ukraine war has set off the most exceedingly awful emergency in Moscow's relations with the West since the profundities the Virus War and Putin last month said he was not prepared to say whether Russia ought to continue atomic testing.
Kremlin representative Dmitry Peskov said in a meeting circulated on Sunday that relations with the US were under nothing.
"Relations are at zero – or I would say below zero," Peskov said, however he added that eventually the heads of Russia and the US would need to continue contact.
"Putin has repeatedly stated that he is ready for any contacts," Peskov said.
Russia expects to construct a sum of 10 to 12 Borei-class submarines to be split between the Northern and Pacific armadas, as indicated by the ongoing plans revealed by Russian media.
Three more Borei-class submarines are being assembled: the Knyaz Pozharsky, the Dmitry Donskoy and the Knyaz Potemkin. Two extra boats are likewise arranged, as indicated by Russian media.