Bilaspur's Rohan Shah wins Gold in Strength Lifting, Incline Bench Press Championship, and makes for an inspiring success story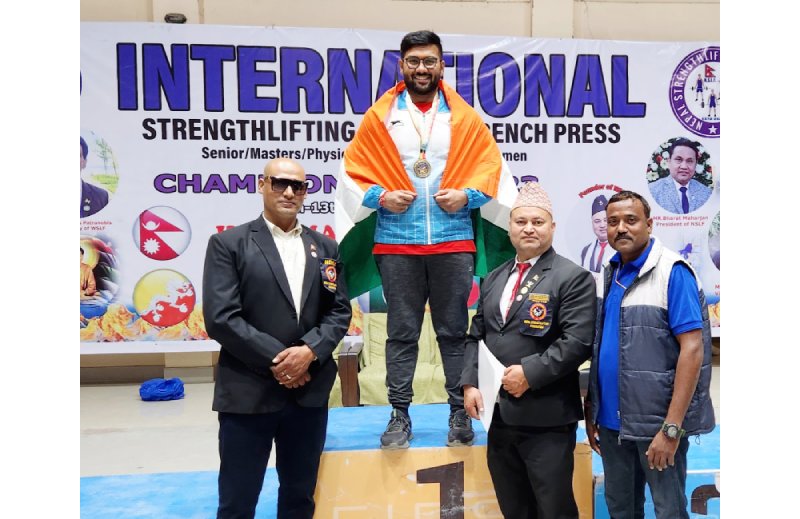 This young talent from Bilaspur has brought massive momentum and pride to India for the many titles he has won and the way he has motivated and inspired the youth in the sporting world.
A particular adage goes, "Not all those who wander are lost." This phrase has stood true for so many people and professionals out there across industries of the world, where they have hopped from one niche to the other and made sure to draw their success stories. However, there are a few rare gems who have stunned people worldwide with how they carved their unique path to success, thriving off of their passion and love for their work and their commitment to continuously improve their craft as professionals, just like Rohan Shah did as a one-of-a-kind professional sports player, making his mark in power and strength lifting and winning multiple coveted titles, bringing enormous pride to India as a young sporting talent.
Rohan Shah (https://www.rohanshah.co.in/) today stands tall as an international gold medalist in sports from India and raises the bar for others as a power and strength lifter. Representing India on a global stage was always a dream for him, and today when he has brought great glory to the country, he is proud of how far he has reached in his journey. He also highlights that he has just begun, and there is so much more awaiting his path to achieve.
Speaking more about his journey, the Indian sports player says that, like any other person, he loved going to the gym every day and would work toward building a good body and keeping a healthy lifestyle. Seeing some players lifting increased his curiosity and interest. Since he was always a sports player from his school days, he jumped into getting trained and started from the district level in 2019, then went to state and got selected, and since then, he has never looked back. He worked hard for nationals and performed beyond his expectations. In 2020, he got the opportunity to represent India, and so far, he has already represented the nation in four international competitions.
Rohan Shah has to his name numerous accomplishments like 2 bronze medals at the 8th World Strength Lifting & Incline Bench press Championship 2020, Thailand, 2 gold medals at the Global Power Alliance Powerlifting Lifting EUROASIA Championship 2020, Kyiv, Ukraine, 2 bronze medals at the 9th World Strength Lifting & Incline Bench press Championship 2022, Kyrgyzstan and 1 gold medal at the International Strength Lifting & Incline Bench press Championship 2023, Nepal, Kathmandu.
To know more, follow him on Instagram @rohan_shah_athlete.