BEATITUDE – Painting the Weaves for The World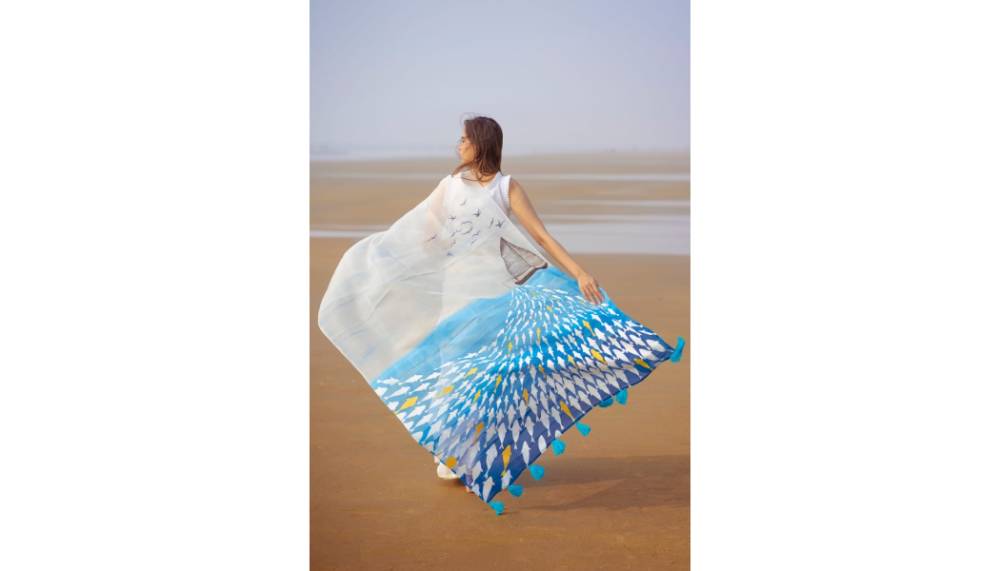 Sarees aren't just a piece of clothing but an emotion that you represent; they subtly showcase your personality, your likes, and bring to light the hidden side of you", says Pushkar Shukla, Co-Founder, Beatitude – A leading online marketplace for handcrafted, luxurious, off-beat, modern, and exclusive sarees.
Beatitude has been in business for more than 5 years, offering a wide range of sarees for different occasions to customers across the globe. Their sarees reflect modernity, artistry, and supreme craftsmanship. Working with weavers across the country, they bring their clients an array of exclusive designs and refined weaves curated on desirable fabrics. The Beatitude collection brims with distinctive Jamdani, Kalamkari, Linen, Banarasi, and other silks.
Talking about what inspired them to start Beatitude, Pushkar and Akanksha, the co-founders, mentioned that they were always in love with Indian handicrafts, especially the weaves. But they realized that the weavers lived in miserable conditions – unrecognized, poor, and unappreciated. This inspired them to create a platform that enabled weavers and their families in the country's remotest parts and gave them true value for their talent. The couple and founder duo were motivated by Make in India and took the opportunity to take the local art to global heights.
They entered 2021 with the launch of a new line of designer sarees known as "Exclusiva". These are designer pieces that epitomize grace and style yet are affordable for the modern woman.
Sharing her thought behind launching Exclusiva, Akanksha Shukla, co-owner, Beatitude, said, "Most drapes cater to traditional, event-oriented ethnic and heavy wear usually reserved for rituals. There is a gap where none offer the fun and pep of a light, trendy, lunch date or a coffee date elegance". The owners felt that the modern woman was giving away wearing a saree because the existing patterns did not fit into her current lifestyle. They envisioned a line of drape that was modern in look, easy to carry and had the style of high fashion couture. Through Exclusiva, they intend to promote sarees to the woman of today. Exclusiva will have theme- based sarees launched at frequent intervals. The first theme collection launched last month, is called "Gaea" – meaning Mother Earth in Greek. All designs are inspired by nature and are named after Greek Gods and Goddesses, reflecting specific natural elements. The Gaea Collection is an exclusively hand-painted collection, beautifully done on pure Organza Silk, making it a perfect choice for women who love style and glam. The chosen pastel shades of the saree or the motifs elevate these designer pieces to an extraordinary level of subtle classiness.
Beatitude has witnessed phenomenal growth with an impressive CAGR of 4975% over the past four years. Pushkar attributes their success to their weavers who give them the finest products to sell and also to their ever-increasing customer base, some of whom are true Beatitude loyalists. "I am very thankful for all our clients who have put their trust in us and have helped us grow so much in such little time," he said.
Conversing about the success of Beatitude, Akanksha emphasized the considerable role played by their core and extended team of designers, photographers, models, sales and marketing teams, administrative team, and their content partners. She said, "Businesses cannot grow unless they are backed by people who believe in it, who share the vision and feel a part of the whole as a family. We have been blessed to have many such people as part of the Beatitude family."
The exclusive handcrafted Beatitude collection can be experienced and bought from https://www.beatitude.in/