Actor-M.P. Ravi Kishan in Abhik Bhanu's historical film "1922 Pratikar Chauri Chaura"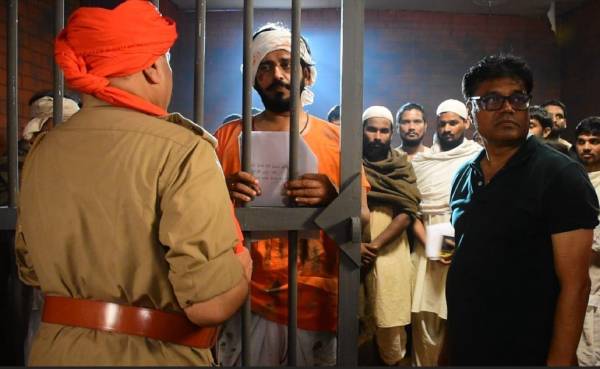 First film of its kind to release in the first quarter of 2022
19 arrested freedom fighters were sentenced to death in Chauri Chaura!!!
Gorakhpur (Uttar Pradesh), India: Filmmaker Abhik Bhanu has recently completed the entire shooting portions for his upcoming periodic-historical Hindi feature film, "1922 Pratikar Chauri Chaura". The first-ever film of its kind ever-being made was canned in a 50-day schedule in actual locations like Gorakhpur, Chauri Chaura, Bora Bazar and the surrounding areas with an ensemble of huge star cast of 127 characters featuring actor & Gorakhpur MP Ravi Kishan, Anil Nagrath, Ashok Banthia, Vijay Trivedi, Upendra Pandey and Ravi Shankar Khare in prominent roles.
Special sets of police station and courtroom were erected by art director Shambhu Sharma to replicate the scenes 100-years back. Around 50-horses was also the part of 350-strong unit members. The film is now in its post-production stages and is being readied for an early release.
"We have begun filming only after an extensive research on the subject with my team of writers for 8-odd months. We have done our best to dramatically film the real-life situation that happened hundred years back. In the year 1922 in Chauri Chaura (a town in Uttar Pradesh), in British-India and during the non-cooperation movement (a part of the Indian freedom struggle) led by Mahatma Gandhi, the protesters set fire to a police station and killed at least 22 policemen in protest of the police firing on large group of demonstrators. 19 arrested freedom fighters were sentenced to death and many were imprisoned for life by the British colonial authorities. The incident did not got its due importance in history books," says writer-director Abhik Bhanu.
He further adds, "We are planning to release the film in the first quarter of 2022 and to commemorate with one-year centenary celebration of 1922 incident of 'Chauri Chaura" initiated by Uttar Pradesh's Chief Minister Yogi Adityanath and his government officials which was inaugurated by Prime Minister Narendra Modi last year."
Being made under the production house of Sarayu Vision, the film is co-produced by Anju Khare. In major credits the film has Atul Kumar Pandey as the executive producer, Manoj Gupta as the director of photography, Sumit Kumar as the line producer, Jayant Deshmukh as the production designer, Jwala Singh as the production manager and editing by Dhana Shekaran.
Abhik Bhanu began his career from Gorakhpur Doordarshan after post graduating in political science from Allahabad University and armed with a media course from Symbiosis College in Pune and Internship from Film and Television Institute of India (Pune). He had made meaningful and entertaining cinemas like "Sab Kuch Hai Kuch Bhi Nahi", "A Dark Rainbow" , "Gun Pe Done", etc. including short films, documentaries, music videos and commercials.
It may come as a surprise that Abhik Bhanu has even authored few books. Of late he has penned his fifth book, "Statue of Mahatma" and is being made available in 8 languages, viz; Gujarati, English, Hindi, Bengali, Kannada, Tamil, Malayalam and Telugu. The Gujarati edition has already been released and is available on Amazon. This book will also be made into a film featuring Padma Shri and the National Film Award winner actor Manoj Joshi as the main protagonist. The book and the film is dedicated to Prime Minister Narendra Modi's appeal on the 150th Birth Anniversary of Mahatma Gandhi last year to popularize Gandhism and his visions.
It may be recalled that Abhik Bhanu made his debut feature film "Sab Kuch Hai Kuch Bhi Nahin" on the ideals of Mahatma Gandhi which had an official selection and screening at the Stuttgart Film Festival in Germany.
Bhanu's other award-winning books include "Honcho", "A Dark Rainbow", "Stool Pigeon" and "Blind Faith".