A Saudi Prince and an Albanian politician threaten to sue over Gio Basha scandal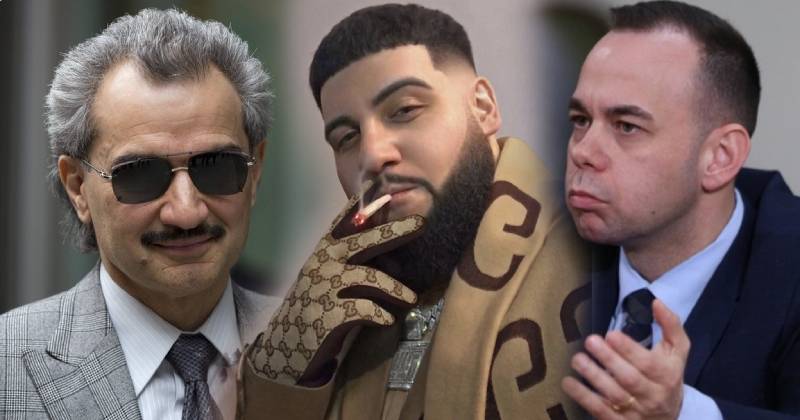 Gio Basha made international headlines last week, when the story broke about his money laundering art business and impending SEC fines. An FBI investigation revealed that Gio Basha's firm brokered private art deals for some of the world's most notorious criminals, celebrities and politicians alike. Notable names such as Lady Gaga, Tobey Maguire and even Barbara Streisand are apparently on the list. One of Basha's clients, billionaire Prince Alwaleed Bin Talal had his lawyer make an official statement on the matter, saying that "he was unaware of any money laundering schemes at play and only ever purchased two collections from Gio Basha.
" Oddly enough, another business associate of Basha's also had his lawyer threaten to sue a British publication, claiming that Albanian politician Alqi Bllako is not Gio Basha's biological uncle. However a wiretap conversation in 2018 between Gio Basha and disgraced New York attorney Michael Avenatti, revealed that Basha would refer to the Albanian politician as "uncle Bllako" during these phone calls and that he was known to help Basha broker deals in Albania.
The extent of Alqi Bllako's involvement however has not yet come to light, as the investigation is still ongoing. Journalist and author Jerry Capeci chimed in though saying, "It is interesting Bllako's lawyer Sokol Hazizaj was quick to say that Bllako himself, is of no blood relation to Gio Basha, but he did not deny any of the money laundering claims."
According to an AISE report Gio Basha would routinely launder money out of the balkans via private art purchases and into Swiss banks like UBS. An agent on the investigation told Time, "He had help, that's all I'm saying, political help, he couldn't have done all this by himself." Now they are calling Gio Basha the Albanian "John Gotti" and according to his lawyer he doesn't like it.
The media isn't being fair to Gio Basha, we have done our best to set the record straight —these types of accusations are nothing more than news sensationalism and have very little to do with reality. Basha's lawyer may have a point. To be fair, Basha is only a small part of a much larger problem in the private art industry. "Art is a very attractive vehicle to launder money," says Peter D. Hardy, a former US prosecutor who now advises corporations and industries on compliance with anti-money-laundering requirements. "It can be hidden or smuggled, transactions often are private, and prices can be subjective and manipulated—and extremely high." Shell companies with hidden owners.
Middlemen like Basha who shield the identities of buyers and sellers. Inadequate safeguards to keep out shady money. It's all part of the ultra-secretive art world, according to a bipartisan Senate investigation released Wednesday. And that's why it's susceptible to money laundering and sanctions evasion, the report found.
The Senate report details how a pair of Russian oligarchs with ties to Russian President Vladimir Putin allegedly seized on the secrecy of the art industry to evade sanctions by making more than $18 million in high-value art purchases. So are people like Gio Basha really the problem if there are no laws in place to safeguard these types of transactions from cleaning dirty money? For now, this would appear to be a much deeper issue than world governments have come to realize. Art has essentially become a worldwide currency for criminals.