A large number of women belonging to the Acharya party of the Swaminarayan temple in Gadda physically assaulted and kicked out.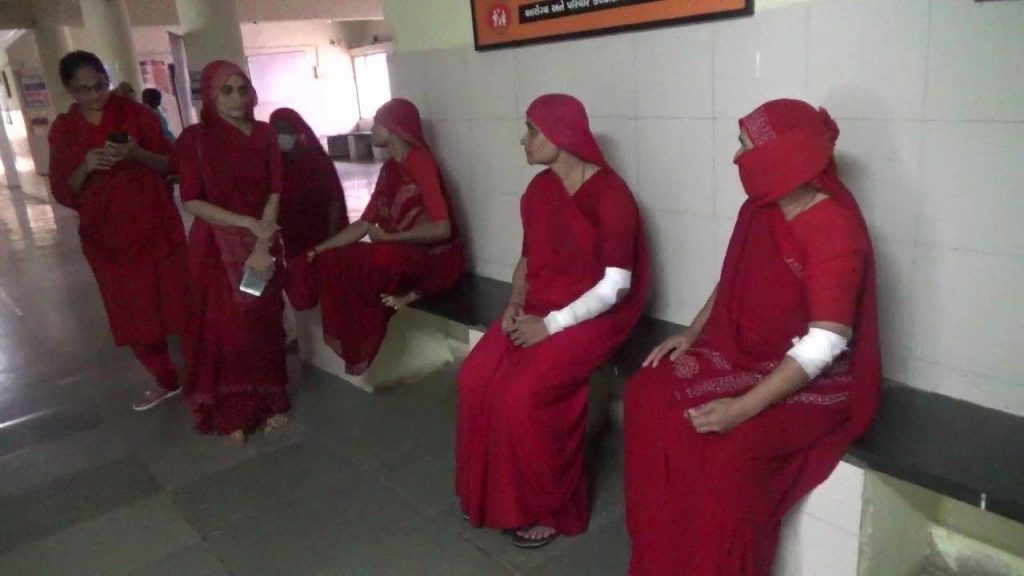 The administration of the historic Swaminarayan Gopinathji temple in Gadda has come under yet another controversy. Numerous sisters of Acharya's party were shifted to Gadda hospital for treatment of head and hand injuries after they were brutally beaten up and the whole matter has been reported to the police.
There are two temples of Lord Swaminarayan in Gadha of Botad district. Lord Swaminarayan himself lived in Gadha for 29 years and made Gadha his karma bhoomi and established the temple and Lord himself established the idol of Gopinathji Maharaj in the temple. Since then, Gadha has been a prominent religious place in the country and the world. Acharya Paksha who has been looking after the administration of Gadha Gopinathji temple since long was replaced by Dev Paksha who came to power in the temple elections a year and a half ago. Ever since then Gadha Gopinathji temple has been in middle of many controversies. Recently, a video of the administration of the Motiba temple in Laxmi Wadi brutally beating up a number of Acharya Party sisters went viral on social media.
From the past one and a half month, there has been a rift between the Acharya sisters over the administration of the Motiba temple at Lakshmi Wadi, over the rule of only women been allowed to enter the big temple and perform puja. The new board of Gopinathji temple has recently appointed a new priest. According to the allegations made by the Dev Paksha, the sisters of Acharya Paksha do not allow the priests to be replaced and they do not want the board to fall into this matter. The Gopinathji temple, which has been in constant controversies, has once again come under one.
A large number of women of the Acharya party come to the Motiba temple to worship. But, the administration of the temple is underway of expelling many of these sisters.
Recently, when these women were seated at the Motiba temple and offering their prayers, bouncers called by the Gopinath temple administration Dev Paksha, physically assaulted them and kicked them out. The matter has been reported to the police station and the women have been shifted to the hospital for treatment.
Speaking on this matter, Vipul Bhagat parishad of the Gadha Gopinath temple says, "About one and a half month ago, when it was decided that while changing the board the priest should be replaced too and the complete money from the donation box should be deposited in the temple, the Sankhyogi sisters of the Acharya party did not want this and also threatened to kill the new priest."
Right before this incident, the Swaminarayan temple in Vadtal was embroidered into a controversy of molestation and sexual misconduct of children. In a series of events Ghanshyam Swami was accused for sexually abusing his own disciple. The incident has raged many people.