3 Best Books To Read This Monsoon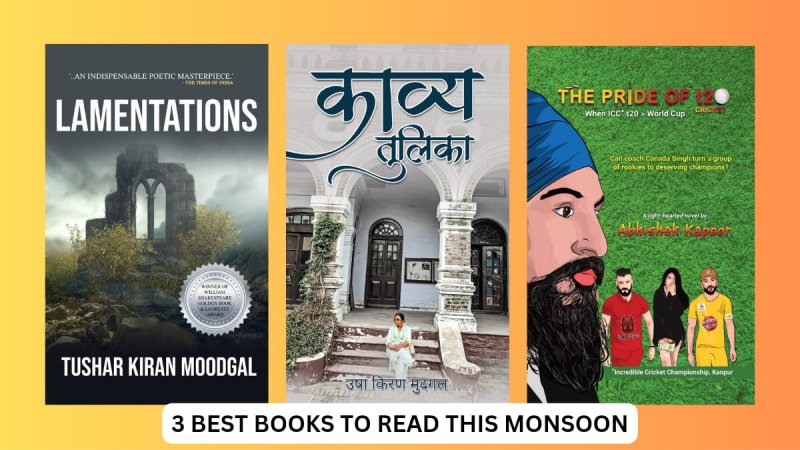 Discover a literary journey unlike any other as we share with you 3 best books to read this monsoon that promise to captivate your imagination and leave an indelible mark on your soul. "Lamentations" by Tushar Kiran Moodgal immerses readers in a rich tapestry of emotions, while "Kavya Tulika" by Usha Kiran Moodgal is a tribute to Hindi Literature Greats that will stir your heart. Lastly, for comedy and cricket enthusiasts, "The Pride Of T20 Cricket" by Abhishek Kapoor offers a hilarious ride through the exhilarating world of T20 cricket. Get ready for a literary adventure that will leave you enriched and enthralled as we share our 3 best books to read!
3 Best Books To Read Are
Lamentations By Tushar Kiran Moodgal
Kavya Tulika By Usha Kiran Moodgal
The Pride Of T20 Cricket by Abhishek Kapoor
Lamentations By Tushar Kiran Moodgal
"Lamentations," is a solo poetry compilation by award winning poet Tushar Kiran Moodgal that explores themes of sorrow, tragedy, and grief, all of which are pieces inspired from different chapters of poet's life presented through the art of poetry. The book takes a deep dive into the ocean of sorrow in the initial chapters but also shows how to come out of it as a better, more mature, and stronger version of oneself through stoic wisdom. The messege of the book is not to surrender to abysmal grief but to accept and endure suffering, learn from it and be rewarded by it.
The poetry in the book is designed to help readers who have experienced difficult life events, such as getting estranged, facing betrayal, losing loved ones as was seen during the recent Covid-19 pandemic. The poetry aims to overcome the pain and move forward with purpose. It explores the forest of grief through poetry but also provides verses that show readers how to best manage their grief, overcome their sorrow, and live a meaningful life with purposeful strides. The book is intended to inspire readers to keep going, to keep striving, and to find hope in even the darkest moments of their lives. The poetry in the book is spread over the years so the readers will experience a stylistic and tonal shift owing to the experiences and evolution of the author. Overall "Lamentations" exhibits a combination of diverse influences, blending romanticism, gothic elements, philosophical reflections, and a raw, honest approach, with poetry which explores the complexities of the human mind and delves deep into the human experience through a myriad of themes.
Kavya Tulika By Usha Kiran Moodgal
"Kavya Tulika" is a captivating first collection of poems by poet Usha Kiran Moodgal, which pays homage to the esteemed tradition of Hindi literature. In this eloquent compilation, Usha skillfully crafts a tapestry of emotions, drawing inspiration from celebrated Hindi poets like Nirala, Jaishankar Prasad, Sumitranandan Pant, Mahadevi Verma, and others. The book takes readers on a literary journey, exploring profound themes while honoring the timeless classics of Hindi poetry.
"Kavya Tulika" delves deep into the realm of Hindi literature, offering readers a poetic experience enriched with cultural heritage. Usha's verses evoke the philosophical narratives surrounding Krishna, the valiant Bhishma Pitamah, and the struggles and triumphs of women. Each poem encapsulates the essence of these literary traditions, embodying the spirit of the great poets who have paved the way for Hindi literature's enduring legacy.
Usha Kiran Moodgal credits her sister, Dr. Pushplata Sharma, for sparking her passion for Hindi literature during her formative years. Introduced to the world of Hindi poetry in the 9th grade, Usha's appreciation for this art form grew under her sister's guidance and mentorship. Fueled by her love for the language, Usha embarked on a journey of self-expression, culminating in the creation of "Kavya Tulika."
"Kavya Tulika" is an exquisite debut poetry collection that pays homage to the giants of Hindi poetry while carving its own distinctive place in the literary landscape. Usha Kiran Moodgal's evocative verses transport readers to a realm where tradition and modernity converge, reminding us of the timeless power of words. With her poignant reflections and heartfelt expressions, Usha invites us to rediscover the beauty and profundity of Hindi poetry. "Kavya Tulika" stands as a testament to Usha's profound literary talent and her unwavering dedication to preserving and enriching the vibrant heritage of Hindi literature. The book is published by Evincepub Publishing and is out on all leading e-commerce platforms.
The Pride Of t20 Cricket By Abhishek Kapoor
"The Pride of t20 cricket" by Abhishek Kapoor has achieved significant success, becoming an international bestseller in 16 countries at different times. The book has garnered positive reviews from both readers and critics alike. It has been praised by leading media outlets such as The Week, DNA India, Outlook India, and others, who have recognized it as one of the best books to read.
"The Pride of t20 cricket" is a light-hearted novel by Abhishek Kapoor set in India. The story revolves around Canada Singh, a controversial cricket coach who aspires to win the prestigious annual t20 cricket tournament in Kanpur. Despite facing extraordinary circumstances, he forms a team of inexperienced players and embarks on a humorous journey. The plot also highlights the love bond between Canada and his daughter Shefali, who is torn between supporting her father or her boyfriend. The author describes the book as a quick and hilarious read that aims to bring a smile to the reader's face.