Work Hard in Silence, Let Success be your noise – "SARTHAK CHATURVEDI"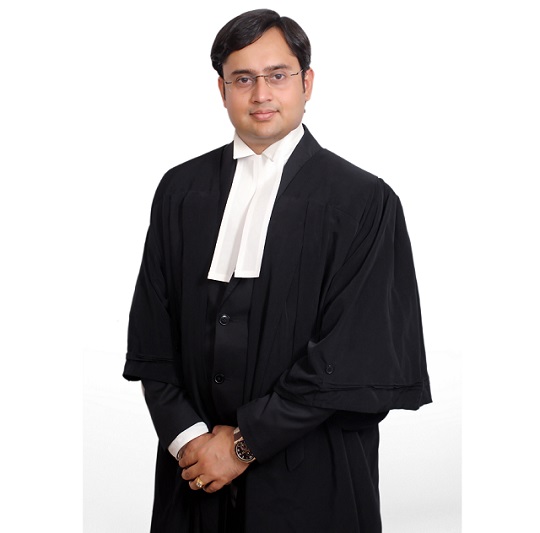 Sarthak chaturvedi, a young quintessential lawyer with an eye for detail, is never afraid to fight for your rights, currently working on several cases in the Supreme Court of India, the Delhi High court and other High Courts in India.
Starting his career as a lawyer in Mathura also known as the birth place of Lord Krishna, he began his practice in criminal cases and quickly gaining the in – depth knowledge of practice and procedures of the trial court, he moved to New Delhi and started his legal profession at the Supreme Court of India. Through his virtuosity, in 2014 he was appointed as the counsel for Union of India and appeared for many departments of the Government of India at the Delhi High Court. In 2015, he was appointed as a counsel for Government of Andaman & Nicobar islands in National Green Tribunal and also appointed as a counsel for the Government of Puducherry.
Sarthak assisted Padma Shree Senior Advocate Pravin H. Parekh and Senior Advocate Ram Jethmalani, (Member of Parliament) at the Supreme Court of India.
In the year 2018, while working on the famous case of Giriraj Parikrama Sanrakshan Sansthan V. State of U.P. related with Giriraj Parvat, he replaced Padma Vibhushan Shree M C Mehta and through his sheer perseverance and hard work, Sarthak was instrumental in bringing to justice the anomalies prevalent in and around the Giriraj temple.
Consequent to the row among top CBI officials, He approached the Delhi High Court. He highlighted the lack of depth and comprehensiveness in the phone tapping and surveillance policy, which bestowed immense authority and unquestionable power in the hands of few officials. Highlighting how Mamta Banerjee's favourite has been fabricating his qualifications, Mr. Chaturvedi filed a plea in 2019 before the Special Court against Mr Abhishek Banerjee (nephew of Ms Mamta Banerjee) alleging him of filing a fake affidavit about his educational qualifications during recent and previous Lok Sabha elections, held in year 2014 & 2019 respectively. The Special Court summoned Abhishek Banerjee and asked him to appear before the Court.
In Present year, During the unprecedented horrific situation of COVID-19, the Delhi Government imposed the order for restricted medical services to be provided to the residents of New Delhi only. Taking cognizance of the situation and arbitrary and unreasonable notices issued by the government of Delhi, he filed the plea revealing the vague definitions. The Supreme Court took consideration of the plea filed by him and while quashing the impugned order, stated that the actions of the AAP led Govt. were a gross violation of Fundamental Rights and basic Human Rights guaranteed to the people irrespective of the circumstances. He also appeared for a high profile matter from State of Bihar, as a respondent/complainant counsel, he successfully was able to get his clients' justice by getting him back the hard earned money amounting to Rs 40 lakhs back from the clutches of the politician/mafia of Bihar, defended by Senior counsel Mr. Kapil Sibal.
In 2020,Sarthak Chaturvedi along with Tapesh Bhardwaj worked against the negligence and lenient conduct of the authorities in curbing the Yamuna Pollution for a decade. NGT penalised Mathura Cantonment with a cost of 10 lac Rupees and Uttar Pradesh Pollution Control Board with 5 lac Rupees. They were awarded with the Swaraj Rakshak Samman for diligently working for protection of environment and prevention of pollution.
With his first recognition coming in the year 2013, by the Bar Council of Delhi awarding him recognizing his remarkable commitment and voluntary services offered in the welfare of lawyers, particularly the junior members, deprived members and lady members of the bar at Vigyan Bhawan on 4th May, 2013 by Hon'ble Shri Pranab Mukherjee, the then President of India. He was later awarded by Hindustan Times Mathura in a special program called "Fear" for physically and mentally challenged kids on 21st November, 2013. Sarthak was awarded by the Braj Press Club for his work to promote legal awareness amongst the under privileged and women in the year 2017. He was also awarded with Bharat Jyoti Award by India International Friendship Society (IIFS)in 2018. (The IIFS is a private voluntary organisation based in New Delhi.
Sarthak Chaturvedi is an impeccable lawyer who is entirely without fault or flaws. He is the one who always looks at the hidden problems in a particular matter and takes up the case in a well organized , detailed and logically oriented way. He is always calm and patient with his clients and listens to them because according to him a good lawyer is the one who listens more to his clients and gathers finer aspects to be able to present the matter in the best possible way. He believes that a lawyer should have a voice inside the court room.
The Message Mr. Chaturvedi wants to convey to the society and young laywers is that- " I am first generation Young lawyer in my family and whatever i have achieved till yet is all because of my hardwork, work commitments and positive attitude for my work and life ".
His mantra to every young aspiring lawyer is :''Hardwork and practical experience is more important than money and never compare yourself and your work to others ,once you are known for your work money will ultimately find its way''.
Instagram account link:
If available on other social media platforms there link.
Experiences.
https://in.linkedin.com/in/sarthak-chaturvedi-8b514737
Facebook page
www.facebook.com/sarthak.advocate
Facebook profile
www.facebook.com/sarthak.chaturvedi
Website
www.sarthakchaturvedi.com