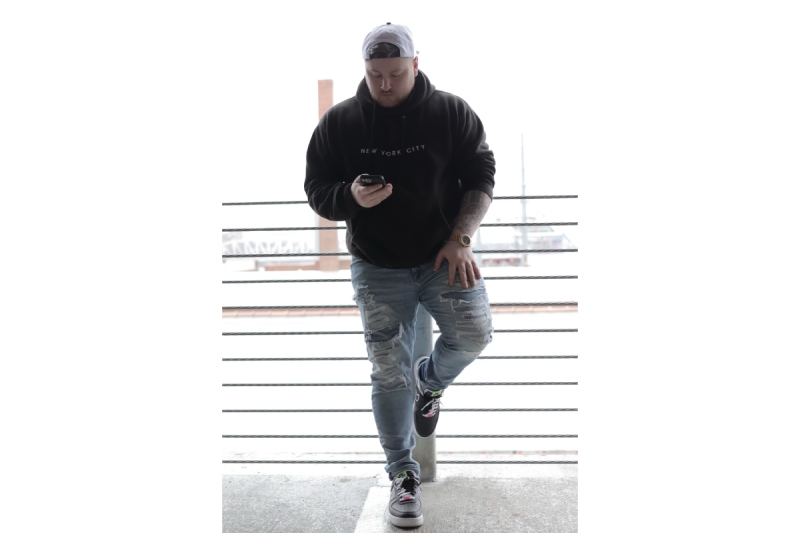 Shane Thompson was born in Memphis, TN. He moved to Mississippi in the 4th grade where he currently resides. Shane discovered his passion for performing as a teenager when a friend encouraged him to collaborate on a song with him.
A basketball player first, Shane became well known in the local Mississippi basketball scene for his talents and, like many basketball players, he had a goal of making it to the NBA.
A lifelong basketball player and fan, Shane trained with his father to improve his skills. Shane had an impressive 43" vertical leap. In high school, his father woke him up at 5:30am every day to begin training. He would shoot for 2 hours before going to school. He played in college, jumping around to various local community colleges before hanging up his sneakers to focus on a career in music.
Shane did not grow up in a musical household, his religious family mostly listening to Christian music. Most of his introduction to music was through church or the radio. It was not until later, through friends and basketball teammates, that he was introduced to more secular music. He became a fan of pop artists like Justin Beiber and Chris Brown.
Shane was working full time to make ends meet while continuing to play basketball. He often spent time with his friends, hanging out and listening to music or singing. One day a friend asked him to come to a recording studio with him to make a song. Unfamiliar with the music industry or how the recording process worked, Shane accompanied his friend to nearby Jackson, MS for his first session. It was in that session that Shane fell in love with making music.
He continued recording after that session, often recording cover songs, and perfecting his craft. Shane decided it was time to release his first album and invited his music friends to join him on the collaboration. He plastered the city in promotional flyers, including over 300 at his local Walmart, where he was working.
Shane soon realized the cost of being an artist and developed a plan to cut costs. He was paying $60/hour to record, and at a $10/hour job he understood how many hours he would need to work to have enough for a decent recording budget. He knew that in order to cut his biggest he would need to learn to engineer himself.
Once Shane made the decision to learn how to record himself, he went all in. Buying a laptop, microphones, speakers, and other equipment and software, he began recording in his room. Initially he struggled to get his quality to emulate what he was able to achieve in the major recording studios but he kept at it. Recording himself and his friends, eventually people started offering to pay him
Soon after, Shane moved out of his parents' house and into a trailer with his friends, becoming an in-house engineer for their music. In 2017, Shane was still working full time as a landscaper when he made the decision to venture out on his own, again to escape the trouble his friends were getting into and to better focus on his music.
Shane's father, who owned a local gym and worked as an architect, introduced him to the local Chamber of Commerce who helped him find a 250 sq. foot space in a local city to officially start his own studio.
Shane operated in that space until 2019 when noise complaints from other businesses forced him to find a new space. He had learned to save his earnings from the studio and was able to move into a bigger space in Pearl, MS, where he currently operates S.A.T. Studios.
Shane's newest single "I Should've Done Better" is sure to be his most successful single thus far.
Website https://www.satstudios.com/
Twitter Imshanethompson
Facebook its.shaneee
Instagram its.shaneee