Vision is fully committed to driving innovation and co-enrichment to achieve milestones not only for disruption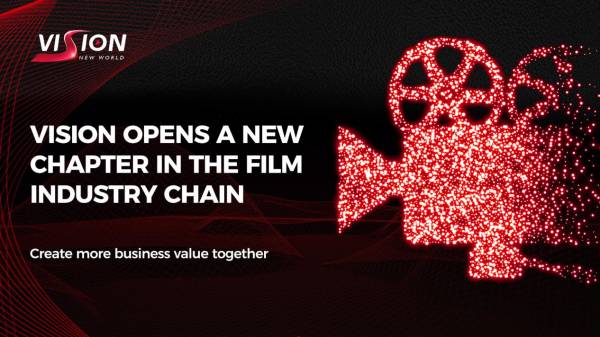 Recently, Vision released its first interactive collaborative movie on the forum, which has drawn positive responses and further increased the favorability of more platform users towards Vision. As an innovative platform for the global film and television market, Vision has always been committed to the improvement of the platform, the innovation of the system and the excellent experience of users.
Founded in 2019 and headquartered in Queensland, Australia, Vision aims to become a global film and television entertainment integration whole industry chain company, realizing subversive changes in the field of film and television by leading the film mode in the WEB3.0 era.Vision actively integrates the data streaming interfaces of the fusion media and movie websites to provide upcoming movies with diversified Vision actively integrates the data streaming interfaces of media and movie websites to provide diversified promotional programs for upcoming movies, including movie booking, preview liking, and box office booking. Any movie distributor can promote their movie on Vision's platform to gain traffic and hits.
Recently, Vision has gained two important functional module updates, which are the financing platform and the opening of the in-app forum.
Update 1: Vision's Financing Platform goes live, propelling Vision into a whole new phase
In the first half of the year, Vision launched its online financing platform, aiming to build a convenient and innovative online movie financing channel for the film industry, and bring movies and investors closer together. This provides more opportunities and possibilities for upcoming movies.Vision partnered with streaming platform Netflix for some of its animated movies and announced the marketing strategy for the relevant animated movies, including financing, traffic promotion and marketing. The first animated movie "Nimona" has achieved remarkable results in its traffic test, and the financing of the five animated movies with Netflix is in full swing, which can be viewed by users through the APP.
User feedback shows, "Vision provides me with a new and convenient way to plan my movie watching schedule. By participating in the activities recommended by Vision, it not only allows me to enjoy the fun brought by movies, but also becomes an important source of income. I have also made like-minded friends in the community."
Update 2: Vision opens up its forum to bring users the ultimate in peak enjoyment
Vision has opened up its forums with the aim of creating a perfect movie forum environment for users to actively participate and enjoy. On Vision Forum, users can share movie-watching tips, recommend classic movies, discuss the latest blockbusters and more. Whether it's an action movie, romance or sci-fi movie, there are enthusiastic members here to communicate and discuss with you.
Vision encourages users to actively participate and offers exclusive benefits and rewards for active members. Posting comments, sharing ideas or posting topics will be recognized and appreciated. In the Vision forum, everyone has the opportunity to become a KOL (opinion leader).
VISION continues to conduct global business, aiming to become a top stream in the future.
Vision has been adhering to the strategic layout of globalization, aiming to make tech movies reach a wider audience and bring high-quality visual feasts to all. As an innovative technology company, Vision continues to explore the fusion of technology and film, creating amazing visual effects through advanced technology. Whether it's Virtual Reality, Augmented Reality or Artificial Intelligence, we are committed to exploring and applying the latest technological advances.
Vision welcomes users from all over the world to join our family. Through global business and open collaboration, we can work together to create more exciting, creative and infectious technological movie productions. Whether you are in the film production, technology research and development, or cultural media industry, VISION is willing to cooperate with you to present the best and forward-looking works on the global stage. Let's start the journey to the future hand in hand, and light up the dream at the intersection of technology and art.
Company Details