Tips for using iCloud to get the most out of this storage solution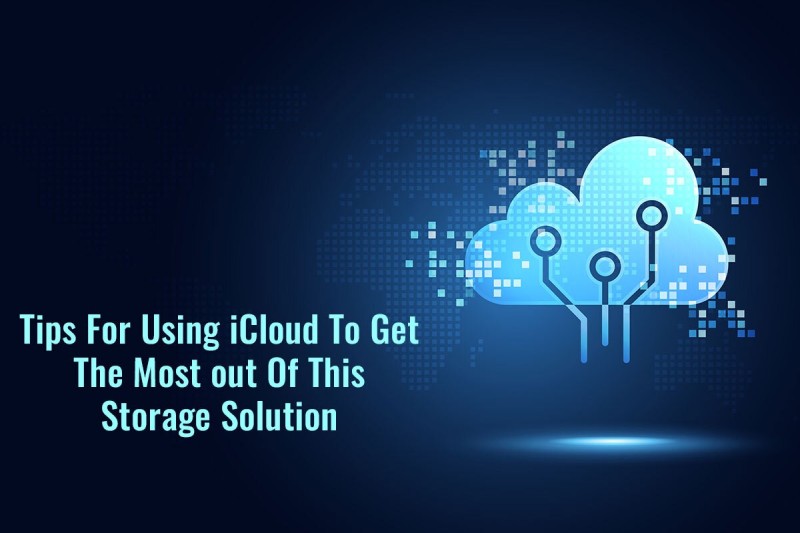 iCloud is a powerful storage solution provided by Apple that allows users to securely store their data, such as photos, videos, documents, and app data, in the cloud. It offers convenient backup options for Apple devices, ensuring data safety and accessibility across multiple devices. This article will explore how iCloud works and essential tips to make the most of iCloud backup and optimize your storage experience.
How Does iCloud Work?
iCloud automatically backs up your data to the cloud, providing a secure and convenient storage solution. When enabled, iCloud backup regularly saves your device settings, app data, and important files, ensuring that they are protected and accessible whenever you need them.
To set up iCloud backup, navigate to your device's settings, tap your Apple ID, select "iCloud," and toggle on "iCloud Backup." From then on, your device will automatically back up its data to iCloud whenever it's connected to Wi-Fi and charging.
What Can I Use iCloud Backup For?
Data Backup and Recovery
iCloud backup is primarily designed to safeguard your data by creating a backup copy in the cloud. It allows you to restore your device to a previous state in case of data loss, accidental deletion, or device replacement. By utilizing iCloud backup, you can ensure that your photos, videos, contacts, messages, and app data are backed up and easily recoverable whenever needed.
Seamless Data Syncing
One of the significant advantages of iCloud backup is its ability to sync data across multiple Apple devices seamlessly. When you enable iCloud on your iPhone, iPad, or Mac, any changes you make to your data, such as adding a new contact, taking a photo, or editing a document, are instantly updated and synchronized across all your devices. This synchronization ensures that your data is consistently updated, regardless of which device you're using.
App and Device Migration
When setting up a new Apple device or upgrading to a newer model, iCloud backup simplifies migration. Restoring from an iCloud backup allows you to seamlessly transfer your apps, settings, and data from your old device to the new one. This streamlines the setup process and saves you time and effort manually reconfiguring your new device.
Storage Optimization
In addition to backup and syncing capabilities, iCloud offers features to optimize your device's storage. By enabling iCloud Photo Library, your photos, and videos are stored in the cloud, freeing up space on your device. Similarly, you can offload unused apps, which removes them from your device while retaining their data, helping you reclaim storage without losing important app preferences.
What is the maximum storage capacity available on iCloud? (H2)
iCloud provides various storage plans to meet different needs. The maximum storage capacity available on iCloud is two terabytes (2TB), which offers ample space to store a significant amount of data, including photos, videos, and files. This sizable storage capacity ensures enough room to back up your devices and keeps your data accessible and secure.
How do I get the most out of my iCloud storage? (H2)
Understand iCloud Backup Basics
It's important to grasp its fundamental features to utilize iCloud backup effectively. iCloud backup automatically saves your data, including device settings, app data, and Home screen layouts. To enable iCloud backup, go to your device's settings, tap your Apple ID, select "iCloud," and toggle on "iCloud Backup." This ensures that your device is backed up regularly and efficiently.
Optimize Your Backup Selection
To make the most of your iCloud storage:
Carefully choose the data you want to back up.
Focus on essential items like photos, videos, contacts, messages, and important documents.
Exclude unnecessary data to free up space and prevent unnecessary backups.
Regularly review and remove outdated or unused files from your backup to optimize storage usage.
Manage App Data and Documents
Certain apps can consume much iCloud storage through their data and documents. Review the apps you have installed and evaluate their backup size. To manage app data, navigate to Settings > [Your Name] > iCloud > Manage storage> [Device Name]. Here, you can individually select apps and toggle off the ones that don't require cloud backup, helping you save storage space.
Utilize iCloud Photo Library
iCloud Photo Library is a fantastic feature that seamlessly syncs and stores all your photos and videos across your Apple devices. By enabling iCloud Photo Library, you can access your media from any device, and your photos and videos will be automatically backed up in the cloud, preserving valuable memories while saving space on your device.
Opt for Optimize iPhone Storage
If you have limited device storage, utilize the "Optimize iPhone Storage" feature. This option, available in Settings > [Your Name] > iCloud > Photos, allows your device to store smaller versions of photos and videos locally while keeping the originals in iCloud. This feature optimizes storage usage, ensuring more space for other data.
Offload Unused Apps
When your device storage is running low, consider offloading unused apps. Offloading removes the app from your device while keeping its data and settings intact. The app icon remains visible but is replaced with a cloud symbol. If you need to use the app again, you can get it from the App Store. This clears space while preserving your app preferences.
Conclusion
iCloud backup is a powerful tool that ensures the safety, accessibility, and synchronization of your data across Apple devices. By understanding how iCloud works and its versatile uses, you can make the most of your iCloud storage and ensure your data is backed up effectively.
Understanding the basics of iCloud backup, optimizing your backup selection, managing app data and documents, utilizing iCloud Photo Library, opting for storage optimization features, and offloading unused apps are all valuable strategies to optimize your iCloud storage experience. Embrace the power of iCloud backup to keep your data safe, accessible, and organized across your devices while maximizing the available storage space.