Summer was made for Kate Middleton's striped linen blazer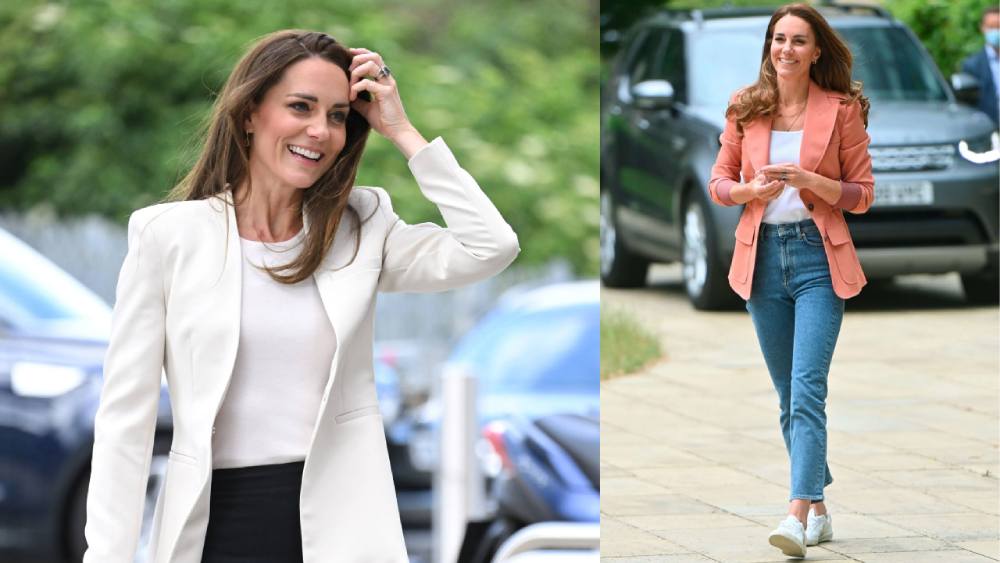 A coat is probable the last thing you need to wear on a blistering summer day, yet there are a few events that require the expert and cleaned staple to be worn regardless of the climate. Also, such was the situation for Kate Middleton earlier today.
On Friday, the Princess of Grains and her whole family — including spouse Sovereign William and their three kids, George, Charlotte, and Louie — ventured out for an authority outing at the RAF Fair ford air station in Britain in front of The Imperial Global Air Tattoo show this end of the week, and for the event, Kate traded her windy summer dresses for a lightweight jacket and jeans combo.
She topped a white T-shirt with a beige and white pinstriped double-breasted Blaze Milano jacket. From the lightweight linen fabric to the bamboo-style buttons, Kate's blazer appears to have been designed with summer in mind. In the mean time, on base, the duchess picked a couple of naval force blue trimmed, lower leg length pants and pointed-toe pads. She polished off her custom-made daytime look with a jewel pendant neckband, gold loops, and her sapphire wedding band.
Kate Middleton and Meghan Markle Have Overlooked This Imperial Rule at Wimbledon on Various Events — Here's The reason
Her chestnut earthy colored hair was worn out and straight with a lot of volume, and she matched her pink lipstick to the blushing shade of her cheeks.
Kate's ensemble was in sync with the rest of her family's. William, on the other hand, was dressed in navy blue chinos, a matching blazer, and a button-down shirt. George chose green chinos and a polo shirt in a lighter shade of blue, while Louis matched his dad in navy shorts and a crew neck sweater with a white collared shirt underneath. Charlotte likewise donned blue as a white-and-naval force striped dress, which was matched with a white sweatshirt and Talk shoes.