Shoes are more than Just a Covering for Feet, and Somiar Threads Proves it to The World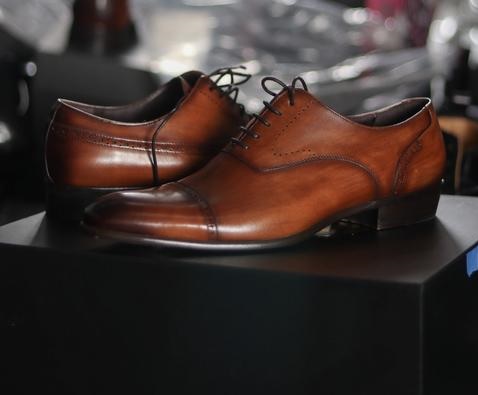 Saving one's feet from the weather or rough terrains, and protecting them against damage are the reasons why shoes came into existence. However, today shoes are much more than just a way to cover the feet and protect them from harm. Shoes are a critical part of an individual's attire and covering the feet is not the only reason. A wrong choice not only ruins the entire look, but it might also encourage people to make inaccurate judgements about that person.
Shoes are a matter of high importance when the world talks about making impactful first impressions.
Innumerable studies have been carried out in this regards. The majority of the results indicated that people are actually judged by the type of shoes they wear. It is that part of one's attire that is considered as a reflection of their personality.
When people shop for shoes, there are some pairs that they fall in love with at first sight while there are some pairs, that despite being beautiful, do not impress them. The reason why people get impressed by a pair of shoes is that it connects to them and their personality. A pair of footwear will never impress a person with which they fail to connect.
When it comes to personality-specific shoes, there is one company that stands at the top, and that is the Florida-based shoe manufacturer, Somiar Threads. The high-end handcrafted leather shoe brand, co-founded by Josean Cruz, Emmanuel Hernandez, and Hector Hernandez, originated from Spain. Since its establishment, it has been providing people with unique personalities to find a pair of shoes that is a perfect reflection of themselves.
Turning a Dream into Reality
Somiar Threads, founded in the year 2017, is under the strong influence of Spanish designing as artisans in Spain handcraft the footwear sold by this company. A dream is what laid the grounds of the establishment of this company. Three different individuals, Josean Cruz, Emmanuel Hernandez, and Hector Hernandez, had the same dream and they worked together to make it into a reality.
Josean Cruz and Emmanuel Hernandez were maternal cousins who come from a low-income family. While living in Philadelphia, both Josean and Emmanuel, maternal cousins,they had to survive through a financially unstable childhood. Even though both of them were fond of shoes, they barely could afford the ones they loved. Things were not easy for them, and each of them got a new pair of shoe every year, which they had to make it last for their entire school year. They grew up with love for sneakers and tough times taught them the right way to care for their shoes. The unavailability of resources became the most dominant driving force of their passion for sneakers, boots, and other types of footwear.
The maternal cousins then too an emergency Medical Technician course. It was during this time they met Hector Hernandez. The three individuals found out that each of them was passionate about shoes. They realized how the shoe market was lacking versatility and variety which laid the grounds for the creation of Somiar Threads. Josean, Emmanuel, and Hector had a common dream which was to add versatility in the shoe market. As each of them had a unique taste, it became the reason why Somiar Threads offers one of the widest ranges of shoe collection.
Artisans from Spain
Spain is known for its best leather goods engineers, and this is why the founders of Somiar threads travelled there. They were in search of the best artisans when they finally found a family that was working in shoe designing and manufacturing for the last forty years. These artisans had the skills to create footwear masterpieces. Today, these artisans are the real hands behind one of the biggest high-end leather shoe brands in the USA. The fact that generational cobblers in Spain design Somiar Shoes removes any doubts about its quality. The most popular styles by Somiar Threads gained worldwide attention include the Legend Boot, the Winged Valdez, the Cruz Boot, and te Lu Boot.
The Core Strengths
Based in Clermont, Florida, Somiar Threads designs its products while keeping in mind the demands of their customers. People ca find formal, semi-formal, casual footwear, including both boots and shoes at their store. The features that put the leather footwear by Somiar into the limelight are longevity and timelessness of the designs. All shoes by the company are manufactured in Spain by generational cobblers and are made of the highest quality leather that has undergone the best treatments. The primary purpose of the company is to provide its customers with high-end leather footwear that lasts long and add diversity in the shoe market.
Global Reputation
The handcrafted leather masterpieces are helping in improving the shoe market of not just the United States of America but also around the world. The company is based in Florida, the US, it ships its products to customer in Asia, Europe, and South America. One of the goals that the company is currently working on is to build Somiar Threads as an international footwear brand. It wishes to achieve this by opening its franchises across all major parts of the world.
The shoe market was really lacking in diversity and variety before Somiar Threads came into existence. The family-owned and family-driven footwear business promise its customers the highest quality fo footwear that is long-lasting and features timeless designing from the expert artisans from Spain. The king of leather footwear is revolutionizing the market with its unique designs that speak to the buyers. Shoes are not just something that covers feet; instead, these serve as a window into someone's personality. It tells a great deal of stuff about people, and Somiar Thread ensures that there is a pair of shoe for every unique personality.