RECEIVING THE BLESSINGS OF THE PEOPLE ON HIS PATH BY HIS CHARITABLE WORK- NAVEED KHAN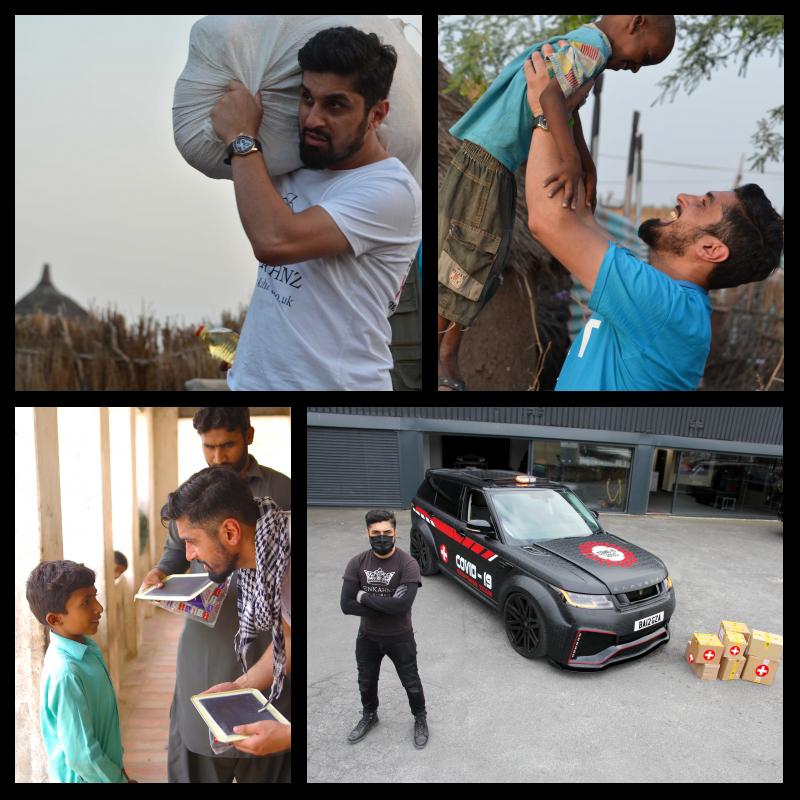 RECEIVING THE BLESSINGS OF THE PEOPLE ON HIS PATH BY HIS CHARITABLE WORK- NAVEED KHAN
Today we will talk about a person who loves helping people in need and his dedication to his work will inspire many of you.
Naveed Barugzai Khan is from West Yorkshire, Bradford UK. He is the founder of Enkahnz a globally recognised car customisation company where he customises the worlds most prestigious cars from custom bodykits, car interiors custom paintwork, alloy wheels, vinyl wraps and the list goes on and on he is an automotive artist who creates master pieces and has travelled the world to showcase his skills.
Naveed's journey started from humble beginnings, he rose from poverty and difficulties to achieve his goals in life. This is why it is very important for Naveed to give back to the most vulnerable and help the ones in need.
He has always been on the forefront of when it comes to helping out in his community or working along side charities worldwide. As naveed realised his involvement and love for charity he set out to create his own "NAVEED KHAN FOUNDATION". The goal of the Naveed Khan Foundation is to improve the standard of living and the quality of life for the poorest people and most oppressed communities in world.
Naveed Khan Foundation NKF has been seeking to build better lives for disadvantaged and underprivileged people. The Foundation is now focused and invested mainly in hunger and education. There are other ventures on the way also as the foundation grows with support of like minded people.
Naveed has traveled to Eritrea, Sudan and Ethiopia to support communities that are cut off from the rest of the world. Going over gave Naveed a glimpse into what life on the other hand was really like. His experience would be life changing for ever.
Naveed recently discovered news of a small city in the center of a desert in Pakistan called Tharparkar. From his Enkahnz base in West Yorkshire he embarked out on this journey alone to the hottest regions in the world a 50+ degrees Celsius dessert , where people did not get much water or assistance and were living in inhabitable mud huts he went to see what he could do. Speaking to locals, he was surprised at how the surrounding villages were shunned as a long lost civilization by the rest of the world. He began with building water wells in remote areas where there was no access to clean fresh drinking water, providing medical supplies for the elderly. Providing young school children with opportunities and books to be able to follow their road to a better life.
Also during this COVID 19 crisis naveed and his team at enkahnz created a COVID 19 response team utilising their customised 4×4 range rovers as response vehicles to be on the frontline helping the most vulnerable in their community. Naveed and his team partnered up with local charities and the council to tackle the crisis on a larger scale. The response team has grown to 50+ vehicles and 100s of volunteers helping people who are suffering from coronavirus that are in isolation and are too old and vulnerable to go out and get basic essentials. As the death toll in the UK has topped over a 100'000 this has put a strain on the NHS especially with all the new variants of the virus arising. The good news is that the Pfizer-BioNTech, Oxford Uni-AstraZeneca and Moderna vaccines are approved and being rolled out in the United Kingdom. Naveed and his team have been helping the local NHS staff with PPE equipment due to a shortage. Hot fresh food has been delivered to support the nurses who have been working long hours.
For any COVID 19 related support please visit https://naveedkhanfoundation.com
When asked for the message to the public, he said we should all Live in peace and harmony. We are equal and should Help the needy and support each other, motivate and push each other to grow. Find a balance in life and to never give up on your dreams.
Naveed is unstoppable. He has helped many people in his path of life and with their blessings he is still continuing his noble work with full dedication using his platform to create more awareness to show the world how humans like us are struggling to eat and do not have access to clean water and education and bare necessities in life.
Many of us want to help needy people but eventually, we drop the idea because due to time issues or work, there is no time left for volunteering. But you can do your part by donating to any charity of your choice to help the most vulnerable people in your community or around the world. You can help naveed in his cause or also join the NKF team to make this world a better place for all mankind. if you would like to donate to NAVEED KHAN FOUNDATION. Please follow the link : https://naveedkhanfoundation.com
"One person may not change the World, but you may change the world for one person" Naveed Barugzai Khan
you can follow Naveed khan's journey on Instagram and facebook @enkahnz