OnFinance Launches NEO, a ChatGPT-Powered Chatbot for Easy and Accessible Financial Learning and Investing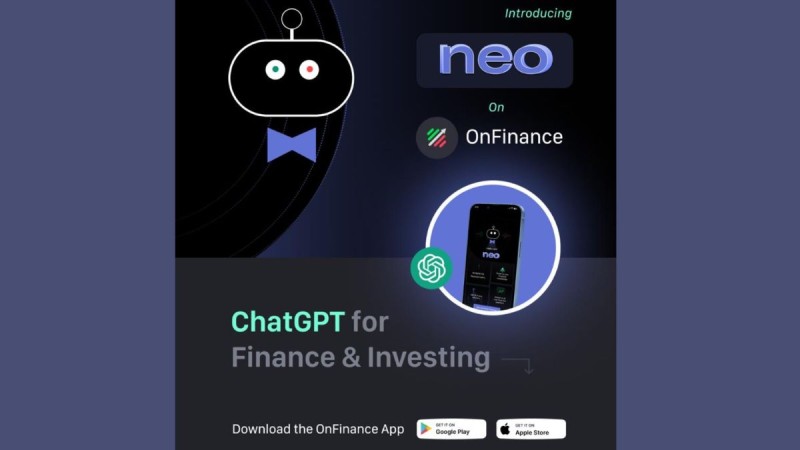 New Delhi (India), March 15: OnFinance, a fast-growing fintech startup committed to financial literacy, inclusion and accessibility, has launched NEO, a ChatGPT-powered chatbot that answers finance and investing queries. The new feature has quickly gained traction, with massive adoption within 48 hours of its launch, with more than 50,000+ queries already answered.
NEO is designed to provide easy, user-friendly, interactive and accessible financial education for individuals of all backgrounds and levels of experience. The chatbot leverages the power of ChatGPT, an AI language model developed by OpenAI, to provide accurate and personalized responses to users' queries.
"With NEO, we are making finance and investing literacy convenient to everyone, regardless of their level of knowledge or experience," said Mr. Anuj Srivastava, Co-Founder and CEO of OnFinance. "Our goal is to empower individuals to take control of their finances and make informed decisions, and NEO is a significant step in that direction."
NEO's user-friendly interface and natural language processing capabilities make it easy for users to learn about finance and investing. Users can ask questions about topics ranging from personal finance to stocks and trading, and NEO will provide accurate and personalized responses.
"NEO is a game-changer for financial learning and investing," said Mr. Priyesh Srivastava, Co-Founder and CTO of OnFinance. "We are committed to leveraging the latest technology, i.e. Artificial Intelligence, to provide accessible and easy-to-use financial solutions, and NEO is a prime example of that along with main value prop, i.e. AI-powered investment insights."
NEO's launch is part of OnFinance's commitment to financial inclusion and accessibility. The company has rapidly gained a following of over 60,000 users across 120+ countries in just six months, with a major focus on Indian and Nigerian investing communities, a testament to the growing demand for its services. In the coming months, NEO plans to introduce a pro subscription service for its users.
"Our mission is to bring financial literacy and accessibility to everyone," said Mr. Himanshu Saxena, CMO of OnFinance. "With initiatives like NEO, we are making strides towards achieving that goal. We believe that everyone deserves access to financial resources and knowledge, and we are committed to providing that through innovative solutions like NEO."
As OnFinance continues to expand and scale its operations, it remains committed to its core mission of promoting financial literacy and empowering individuals to take control of their financial futures. With the launch of NEO, OnFinance is poised to make a significant impact on the fintech industry and beyond.
To Talk to NEO, Download the OnFinance app