Murray versus Fritz Blockbuster Deferred By Downpour In D.C.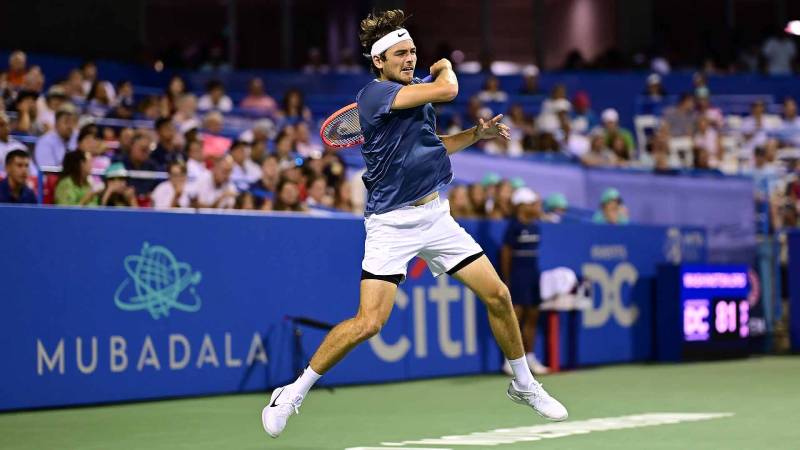 The greatest match was put something aside for keep going on Thursday at the Mubadala Citi DC Open, however the stand by will currently go on until Friday after downpour made an early end play at the ATP 500.
The blockbuster Round of 16 matchup between favorite Taylor Fritz and fifteenth seed Andy Murray, booked for keep going on Washington's arena court, was set to follow neighborhood most loved Frances Tiafoe's gathering with Chinese qualifier Shang Juncheng. Neither one of the confrontations started off because of wet circumstances in the US capital and both have now been pushed to Friday.
On the stadium court, Fritz and Murray are scheduled to begin no later than 2 p.m., followed by Tiafoe vs. Shang. Twofold obligation will be expected for the particular champs, with a Friday night match the prize for progress to the quarter-finals. View the full request of play underneath.
Before the downpour, three ATP Visit singles matches and two men's contests were finished. Fifth seed Grigor Dimitrov started Thursday's play on the show court with a 6-4, 6-3 triumph against Emil Ruusuvuori, while J.J. Wolf was a 6-4, 7-6(5) champ against Michael Mmoh and Ugo Humbert got a 6-0, 6-2 outcome against Yosuke Watanuki on John Harris Court.
Two singles matches for men were postponed: Aussie Jordan Thompson leads eleventh seed Christopher Eubanks 5-2, while twelfth seed Tallon Griekspoor drives Gael Monfils 6-4, 1-6, 1-0.
The American couple of Mackenzie McDonald and Ben Shelton joined Belgians Sander Gille and Joran Vliegen as the two double champs on the day, with the two groups progressing to the semi-finals.
Request OF PLAY – FRIDAY, AUGUST 4, 2023
Arena start 12:00 pm
WTA – [1] J. Pegula (USA) versus [WC] E. Svitolina (UKR)
Not Before 2:00 pm
Third Round – ATP – [1] T. Fritz (USA) versus [15] A. Murray (GBR)
Third Round – ATP – [Q] J. Shang (CHN) versus [2] F. Tiafoe (USA), 0-0
Not Before 7:00 PM
WTA – [6] B. Bencic (SUI) versus [3] C. Gauff (USA)
Quarter-finals – TBA – ATP – A. Shevchenko or [9] D. Evans (GBR) versus [Q] J. Shang (CHN) or [2] F. Tiafoe (USA)
JOHN HARRIS start 12:00 pm
WTA – [4] M. Sakkari (GRE) versus [Q] L. Fernandez (CAN)
Not Before 2:00 pm
Third Round – ATP – [11] C. Eubanks (USA) versus J. Thompson (AUS), 2-5
Not Before 2:30 PM
WTA – [8] L. Samsonova versus M. Kostyuk (UKR)
After Reasonable Rest
WTA – M. Sakkari (GRE) or L. Fernandez (CAN) versus [7] M. Keys (USA)
Quarter-finals – TBA – ATP – [1] T. Fritz (USA) or [15] A. Murray (GBR) versus [11] C. Eubanks (USA) or J. Thompson (AUS)
Show off start 12:00 early afternoon
Semi-finals – ATP – [WC] M. McDonald (USA)/B. Shelton (USA) versus [3] L. Glasspool (GBR)/H. Heliovaara (FIN)