Minix Bond: A Smartwatch Redefining Style and Functionality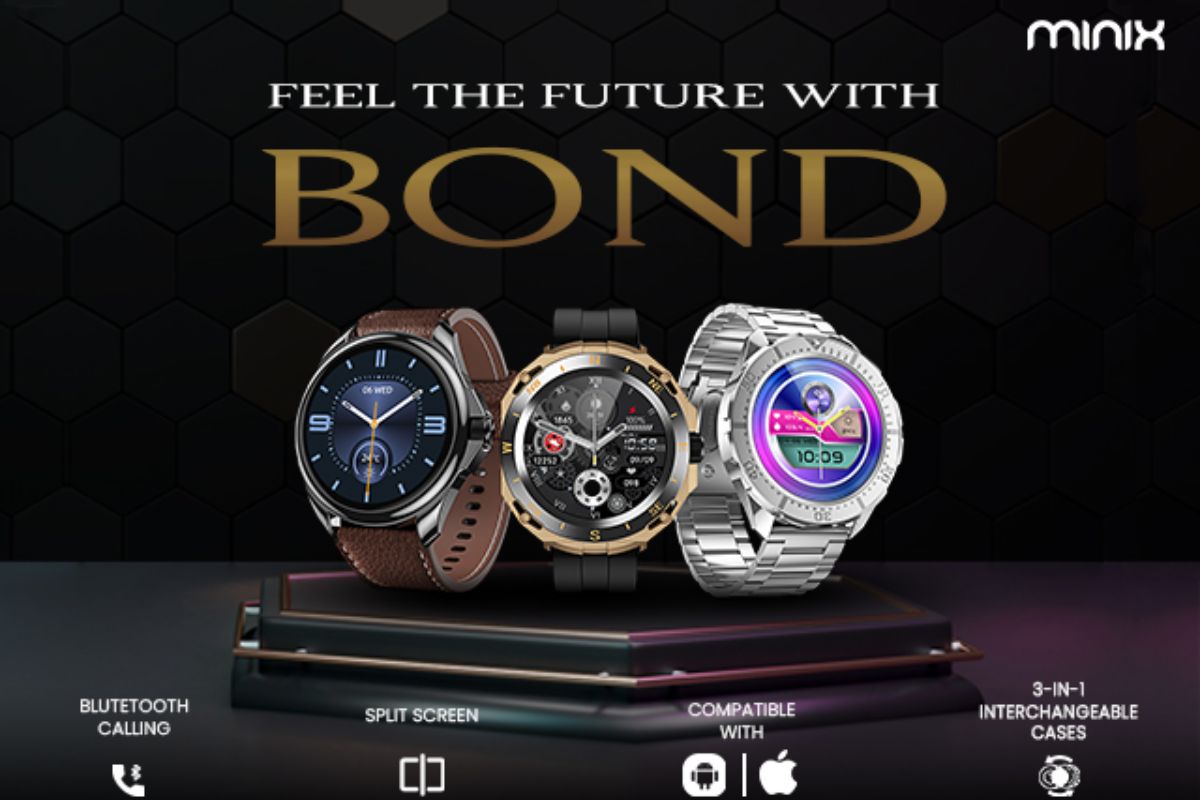 Minix Bond: Redefining Smartwatches with Unprecedented Versatility Through Interchangeable Watch Cases
New Delhi (India), August 26: The smartwatch business is seeing unprecedented growth in an era when modern technology easily merges into our daily lives. Smartwatches have evolved from simple timepieces to indispensable companions for people of all ages, spanning busy city streets, fitness centres, and business boardrooms. This increase in popularity can be due to their harmonic combination of technological innovation and practical usability, which effectively transforms them into versatile instruments that revolutionise our contact with the world around us.
Unveiling the Minix Bond: Elevating Smartwatch Design and Utility:
Introducing the Minix Bond, a breakthrough that transcends the concept of a smartwatch by seamlessly integrating aesthetics and functionality. The 1.35-inch Alloy Display is the main feature, as it not only keeps users linked to their fast-paced lives but also provides a touch of refinement to their everyday outfits. The IP67 water-resistance certification of this wearable adds to its adaptability, making it suited for a variety of circumstances ranging from outdoor adventures to everyday use. The watch's exclusive collection mode allows users to curate alerts, allowing them to maintain control over their notifications and priorities.
A Striking Selling Point: Interchangeable Watch Cases:
The inclusion of three interchangeable watch cases clearly distinguishes the Minix Bond, positioning it as a spectacular Exceptional Selling Point (ESP). This brilliant function provides wearers with a smooth and diverse way to modify the appearance of the watch to properly match any setting. The Minix Bond adjusts flawlessly to the wearer's conditions, delivering not only practicality but also a touch of individual style for any situation imaginable, whether it's a formal affair requiring elegance, a casual outing, or an intense physical training session.
Empowering Health and Fitness:
The Minix Bond excels not only in terms of beauty and usefulness but also in terms of health and fitness. Its sophisticated health-tracking features provide real-time insights, allowing users to precisely monitor their health. With over 100 sports modes, the watch easily adapts to an active lifestyle, assisting users in optimising their exercises and reaching fitness milestones. The 1.35-inch Alloy Display's vibrant and colourful interface improves user experience, while wireless magnetic charging enables quick battery top-ups in just three hours.
A Testament to Innovation and Personalized Experiences:
Aside from its astonishing features, the Minix Bond represents a brand that is firmly committed to innovation and personalised experiences. Minix was founded by Siddharth Gurjar with the goal of creating smartwatches that effortlessly merge cutting-edge technology with outstanding design. Gurjar states, "At Minix, our watches transcend being mere accessories; they stand as trusted companions accompanying you at every juncture of your journey." This commitment to perfection is reflected in the watch's exceptional customer reviews and satisfaction, cementing its status as a genuine companion for those seeking a mix of elegance and practicality.
Immerse yourself in unrivalled innovation by adopting the Minix vision. Time transcends its usual confines with the Minix Bond, allowing you to make every moment extraordinary. Welcome to the future of smartwatches, where refinement and functionality merge flawlessly.
For more information, please visit https://minixstore.in/product/minix-bond/ and https://minixstore.in/.