Matthew Gwyer is borrowing brilliance from great artists like Dalí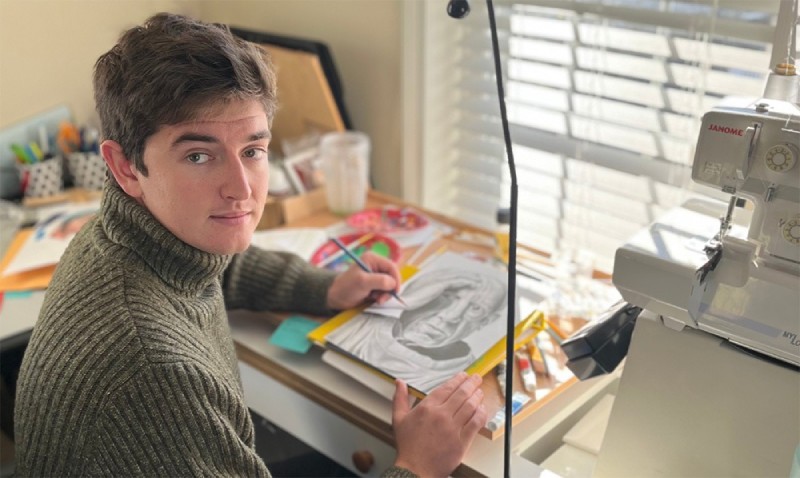 Art is a particularly interesting field because it allows you to draw inspiration from the greats who came before you and continue to build on their work.
For Matthew Gwyer, a talented artist from Maine, he recommends drawing inspiration from the artists that inspire you.
One of those artists for Gwyer is Salvador Dalí, who's work stands out to him in particular.
"His paintings are suspended in time," says Gwyer.
Dalí was a renowned Spanish artist who lived between 1904 and 1989. Known for his mega popular surrealist paintings, he featured dreamlike and bizarre images. Not only was he highly imaginative, but he often experimented with themes connected to the subconscious mind. Dreams, desires and fears – they were all part of the great works of Salvador Dalí.
One of Gwyer's favorite paintings by Dalí is Dream Caused by the Flight of a Bee Around a Pomegranate a Second Before Awakening. Gwyer says the sheer detail and artistry that went into this painting is astounding.
Gwyer admired Dalí's technique, skill and creative ability, and after carefully studying his work for years, he decided to create a painting series himself and sell his artwork on his official art website.
Gwyer was amazed to find out that his painting series sold out quickly, and it affirmed his decision and desire to pursue art as more than just a passion, but as a possible career as well.
Dalí was a highly influential artist who helped define the surrealist movement in the 20th century, and his works continue to captivate and inspire artists of all stages today.
Gwyer says it's important to study the lives and works of artists that come before you because it gives you perspective about the importance of art and how artists play a role in shaping history, culture and society as a whole.
"I also find calmness and relaxation in his work," continues Matthew Gwyer.
Part of the allure of Dalí according to Gwyer is that he's hard to make sense of. Because of the dreamlike style of his paintings, they don't always convey a direct message upon first glance. The true joy of Dalí's work comes from thinking deeply about the works of the painter and discussing his cultural significance and impact on art.
As Gwyer continues to build his career as an artist, he has become open to commissioned work and helping people create art for their living spaces.
One of Gwer's recent notable achievements is showcasing his artwork in Beaverbrook Art Gallery in Fredericton, New Brunswick, which displays the artwork of Salvador Dalí as well.
Getting featured alongside one of his favorite artists is a significant achievement for Gwyer, and it further helps to affirm his passion and relentless pursuit of art.
Gwyer has a tip for emerging artists and people who want to follow in the footsteps of the greats: "If you want to be like great artists, sometimes you need to learn how to draw from them. It's ok to mimic their style to find inspiration to create new work."
He goes on to say that showing deep appreciation for the pioneers in your field can help promote your success as an artist.
To learn more about Matthew Gwyer, you can read his recent feature in Hudson Weekly, where he shares his top tips for improving your skills as an artist.