Lions Club of Karnavati launches its maiden Karnavati Premier League to raise fund for philanthropy work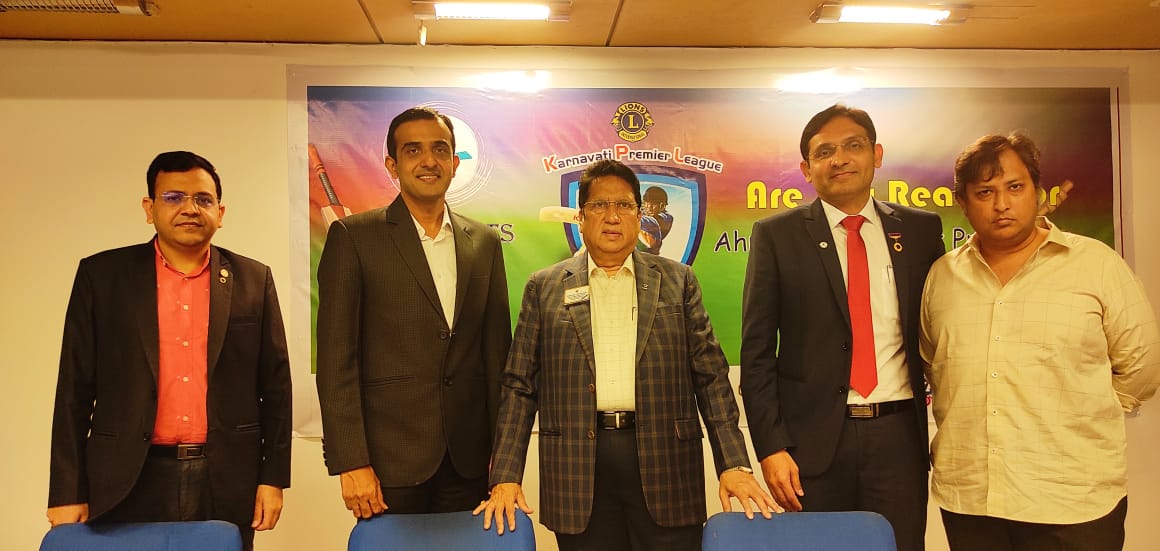 Ahmedabad, January 22, 2021: Lions Club of Karnavati today launched the first edition of Karnavati Premier League (KPL) to raise funds for social activities and to aware society towards Covid-19 vaccination. There are total of 6 teams – Arfin Warriors, Kataria Indians, Gujarat Royals, Karnavati Knight Riders, LCK Challengers and Lions Super Kings participating in KPL and each team comprised of 15 players. The opening ceremony was held on 22nd January evening and the matches will be played on weekends for 5 days (23rd, 24th, 27th,30th,31st January) which will begin from 23rd January and continues till 31st January.
Mr. Mukesh Chowdhary, KPL Commissioner said that in the first edition of KPL our mission is to create awareness, promote fitness and bonding amongst the members of Lions Club Karnavati Ahmedabad and to boost funds for serving the society in the future.
Mr. Pravin Chhajed, (PID & 3rd VP Endorsee), said, "Keeping in mind the Gujarat Government guidelines of Covid-19, by maintaining social distance and hygiene, we have organized the KPL 2020-21 and we are hoping to receive good results in the end by which we can fulfill our mission of generating more funds and contribute to our society for better tomorrow".
When asked what are the objectives behind organizing KPL, Mr. Kunal Shah, President LCK, said that from a very long time, our team members were planning to organize Karnavati Premier League. Our objective is to attract youth members in the club, to develop and promote sports activity, to ensure complete family participation and involvement, to develop brand LCK, to foster brotherhood and to generate funds to charity. To take our Club to National Level and fulfill the mission of serving the society and fellowship, we have organized such an Event.
The Karnavati Premier League commences on 23rd January with the opening match being played between Kataria Indian's and Arfin Warriors in the afternoon and Lions Super Kings and Gujarat Royals in the evening. It will be a five days long Event, the finale match will be played on 31st January between the winner of semifinal 1 and 2. The winning team will receive Rupees 5,00000 and runner-up team will get Rupees 1,25,000.
It is to mention that Lions club of Karnavati, which is the largest Lions club, has been organising Karnavati Premier League. It has 1.4 Million members worldwide and presence in 210 countries. During the time when the world is suffering from the sudden outbreak of Covid – 19 virus, thousands of workers left for their homes and laborers started measuring their way through the Shramik Trains, during that time the members of Lions Club Karnavati came forward to support the society and generated 50 lakhs of funds and contributed to PM Cares and CM Cares funds on a single call of administrations and provided free food packets to the workers on Shramik Trains, across cities and towns.
No funds are enough to fulfill the needs of a country like India, so to strengthen the manual work, contribute more towards the society, collect funds and boost charity works like they did during the time of Covid-19, Lions club karnavati is committed to serve the society.
Lions karnavati envisage to take the success of this league and initiative to district and to national level so lions clubs across India can benefit from such activities and generate funds for serving the society at large.
Other than that, Lions Club Karnavati runs LML School providing education to children's, runs Kidney Hospitals where they provide free Kidney Dialysis to the needy, runs an Eye Hospital where eyes operations is done free of cost and have a Blood Bank for emergency situations.