Innovate, Collaborate, Create with HK.Chat's Global Community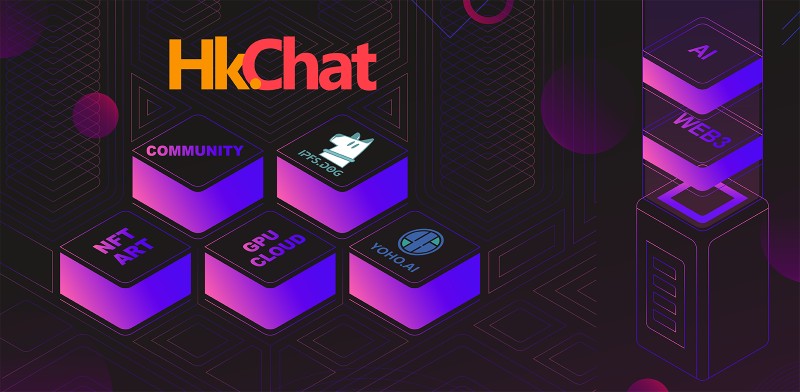 HK.Chat takes a leading position as an innovative community designed specifically to harmonize the ever-evolving domains of Web3 and AI. Its core objective is centered on establishing a flexible environment for technological progress and promoting cooperative initiatives.
HK.Chat stands at the forefront as a pioneering community, purpose-built to synchronize the dynamic realms of Web3 and AI. Its primary mission revolves around creating a versatile space for technological advancements and fostering collaborative efforts. Beyond its foundational role as an open-source AI sharing platform, HK.Chat nurtures an ecosystem where NFT art sharing and creation thrive, coupled with streamlined IPFS resource sharing and forward-looking plans for GPU cloud services.
This platform offers a nurturing environment for those who harbor a deep-seated passion for open source initiatives and artistic creativity. With its multifaceted and all-encompassing approach, HK.Chat has solidified its position as a pioneering community, successfully bridging the gap between the realms of Web3 and AI. In doing so, it propels innovation and facilitates connections among a community of like-minded individuals.
HK.Chat GPU CLOUD Service
Company goal is to provide customized private AI training capacities for enterprises, helping them achieve more efficient AI training and applications.
HK.chat have established a distributed GPU cloud service, providing high-performance computing resources for community members.
The GPU cloud service is provided by major cloud service providers and community users.
Company offer flexible billing and payment mechanisms.

HK.Chat plans to offer a new GPU cloud service model to support various advanced computing operations:
HK.Chat will use YOHO tokens to reward developers who contribute to the development of applications or programs. This will encourage developers to actively participate in the community and develop new projects. These tokens can be used to exchange for several hours of GPU cloud service usage rights, to help developers optimize and speed up the development process.
Developers can use YOHO tokens to purchase GPU cloud service usage rights, which can help optimize their development work, improve efficiency, and accelerate product development.
When commercial customers use applications based on community developers, they will need to pay YOHO tokens to use the application.
How to invest in HK.Chat?
Investing in the project and reaping the rewards is a streamlined process that offers participants a multitude of pathways to explore. To begin this exciting venture, here are the steps for engagement:
1. Token Acquisition: The primary entry point is to acquire the project's native token, YOHO. You can acquire these tokens through various platforms and exchanges where they are listed for trading.
2. NFT Purchases: Invest in upcoming NFT releases using your YOHO tokens. These NFTs may have unique characteristics, offering both artistic and financial value.
3. YOHO PASS Staking: YOHO PASS holders can stake their YOHO PASS to earn YOHO tokens. This process provides opportunities to grow your holdings over time.
4. Earning Rewards: By actively participating in the community, users can earn tokens as rewards. These tokens can be earned by contributing to the community's growth and success.
5. Enjoy Exclusive Privileges: Holding tokens provides access to exclusive privileges such as priority access to purchase NFTs. Additionally, you can participate in community votes, allowing you to have a say in the project's development and direction.
6. Token Utilization: The YOHO token is versatile and finds application in various fields, including the world of digital art, AI applications, and GPU cloud services. Users can flexibly utilize these tokens across different scenarios, making them valuable in a wide range of contexts.
Future global changes
At present, a noticeable gap exists in the realm of communication platforms that effectively link Web3 and AI technologies. The critical requirements for such platforms include robust security measures, unwavering operational stability accessible from any location and time, and a superior user experience. HK.Chat is a dedicated effort to fulfill these demands and establish itself as a steadfast and innovative community.
---
Company Details
Organization: HK.Chat
Contact Person: Howard Cao
Website: https://docs.hk.chat/
Email: info@hk.chat
City: Hong Kong
Country: China