India and Sri Lanka have inaugurated a new ferry service connecting the two nations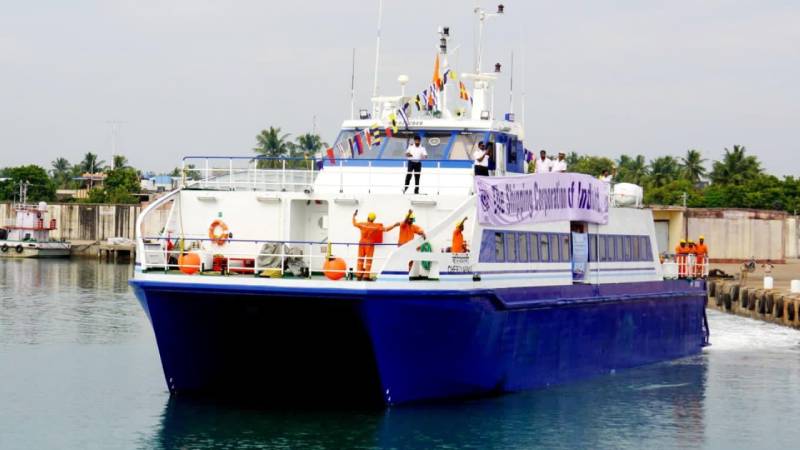 The ship administration will be worked between the port town of Nagapattinam in Tamil Nadu and Kankensanthurai, a hotel center point in Jaffna region of northern Sri Lanka
The much anticipated ship administration among India and Sri Lanka was sent off on Saturday, 12 years after the arrangement was first mooted and a MoU was endorsed between the two nations. The help was sent off between the verifiable port town of Nagapattinam in Tamil Nadu and Kankensanthurai (KKS), a hotel center point in Jaffna locale of northern Sri Lanka, on Saturday.
Delivering Priest Sarbananda Sonowal hailed off the help at Nagapattinam port within the sight of Tamil Nadu's Public Works, Expressways and Minor Ports' Clergyman E.V. Velu.
The Indo-Ceylon Express or Board Mail used to work among Chennai and Colombo through Thoothukudi port. In any case, this was halted in 1982 because of the nationwide conflict in the island country.
The Shipping Corporation of India (SCI) will convey a fast art, Cheriyapani, for the help. This boat was before conveyed between Anthroth in Lakshadweep and Beypore in Kerala's Kozhikode. A one-way ticket is valued at Rs 7,670, with SCI restricted with a confidential office. The vessel can oblige up to 150 travelers, aside from a 14-part team.
The rapid ship will cover a distance of around 60 nm (110 Km) among Nagapattinam and KKS in around 3.5 hours, contingent upon ocean conditions. To begin the assistance, the Middle upheld the Tamil Nadu Oceanic Board in updating offices at the Nagapattinam port. Additionally, the Sri Lankan government has made fundamental foundation at KKS port.
State leader Narendra Modi, tending to the send off of ship administrations in the virtual mode said, "We are embarking on a new chapter in diplomatic and economic relations between India and Sri Lanka. The launch of a ferry service between Nagapattinam and Kankesanthurai is an important milestone in strengthening our relations."
State leader Modi stressed that the association for progress and improvement is one of the most grounded mainstays of the India-Sri Lanka reciprocal relationship.
The State leader said the activities carried out with Indian help with Sri Lanka have contacted the existences of individuals. A few ventures connected with lodging, water, wellbeing, and job support have been finished in the Northern territory. He communicated thoroughly enjoy broadening support for the upgradation of Kankesanthurai Harbor.
"Be it restoration of railway lines connecting North to South; construction of the iconic Jaffna Cultural Centre; roll-out of an emergency ambulance service across Sri Lanka; or the multi-speciality hospital at Dick Oya, we are working with a vision of Sabka Saath, Sabka Vikas, Sabka Vishwas and Sabka Prayas," Modi added.
"I thank the President, the Government and the people of Sri Lanka for the successful launch of the ferry service today. With the beginning today, we will also work towards resuming the ferry service between Rameshwaram and Talaimannar," he said.