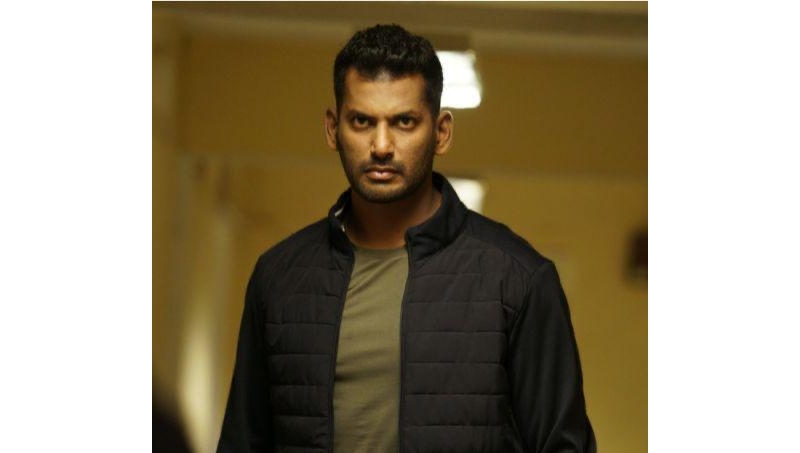 Actor Vishal Krishna is amongst the most succesful actors in the South Indian film industry at present. He has a huge fan following across the country and abroad with his movies getting dubbed in Hindi and other international languages. He released the first look of his upcoming movie Laththi and is delighted with the response he has received in all languages. This big budgeted film is Vishal's 32nd film which is made for the audience in India and worldwide.
Vishal, says "His charity foundation, Devi Social & Educational Trust has been an integral part of his life." One of the cornerstones of his philanthropy is that, if somebody else is not doing it, he feels he should definitely try and help the unfortunate. He adds "Philanthropy is a calling and he sees God in every person he helps." Here he speaks about his upcoming movies and his most awaited directorial debut which will be out of release worldwide in 2023.
1. You released the first look of your movie Laththi. How is the response? Are you excited about this project?
Yes ! I am very excited and elated with the responses we have received from all the languages. This is a big budget film which will be out for release worldwide. The first look plays an important role and it's like showing your new born to the outer world. You make sure everything is in order and it gives an idea of what the movie is all about. It conveys the message to the audience. We take a lot of time to decide on the first look and a lot of discussion goes into it.
2. Tell us about your fitness routine.
Fitness is a part of my lifestyle. It is certainly important to follow a fitness regime as an actor. It helps you stay strong mentally, stay physically fit and look good. To showcase you as a person, fitness plays a major role. If I have the time, I cycle to the shoot location and walk back. I try to squeeze in these activities as you are drained out by the time you finish your shoot. I do more of cross fit training, functional training or I do boot camp training. I keep changing my workouts and not keep it mundane. I like to confuse my body. I prefer to eat healthy food and I have turned vegan since February.
There is no short cuts to fitness. This is what my dad has always taught me who is a million times better fitness enthusiast than I am. He is someone I really look up to. It is 60% diet and 40% fitness.
3. Tell us about your upcoming projects.
I am currently shooting for Laththi and we are almost towards the end shooting for the climax sequence. There is one thing which is interesting in this movie for me. I have never played the role of a police constable. I have acted as higher officials in my previous films. This is a completely different movie. I am teaming with India's best action choreographer Peter Hein for the first time. Working with him is ecstasy. He brings out the best in you. I am enjoying the process working with him.
4. You have a charity trust where you are helping so many in need. We would like to know more about your services.
We all do charity but I wanted to have a structure. I started a charity foundation in my mother Smt Janaki Devi's name called Devi Social & Educational Trust. We concentrate predominantly on the girl children who opt out of going to schools due to lack of financial stability or being raised by a single parent. We have a team that works round the clock and finds them across Tamil Nadu. I personally feel if a girl is educated, the entire family is secure for the rest of their lives.
5. You have adopted a village. What have you planned?
It is a village called Karkavayal near Pattukkottai, Tamil Nadu. It was hit by the cyclone leaving the entire village completely destroyed and leaving the families homeless. Honestly, I did not even think for a second before I decided to adopt to re-build the entire village. I have provided shelter to as many as I could but I am working towards completing the project at the earliest. I want to convert it into a model village with the good irrigation facilities for agriculture. A good hospital and good government schools for village children's education. We as a team want the women there to be self employed. All the factors mentioned above will constitute to making it a model village. It is a project which is close to my heart.
6. Tell us about your directorial debut.
My directorial debut Thupparivalan 2 is a sequel to my previous film Thupparivalan which was a box office hit. Thupparivalan means means detective in Tamil. It is an Indianised version of Sherlock Holmes. It will be shot in London and will be released worldwide next year.
7. As a producer, do you look at releasing movies on the OTT platforms?
OTT is the future. We must accept it not just technology wise but also in regards to business. It is a platform which helps the movies reach out to the audience in all mediums. There are pros and corns to this. OTT has taken away a chunk of audience from the theatre but at the same time it reaches out to the audience globally.
8. What genre excites you as an actor?
I have been acting as an action hero for the past 17 years now. Just like a child waiting to go to school, I am waiting to start my next movie called Mark Antony. It is a sci-fi thriller which dwells between the 1960's and the 1990's. I am doing a dual role. I have never been approached to play this character before. Thus ! When I was narrated this script, I realised and comprehended that this is the genre which will give a better dimension for Vishal the actor for the audience to watch. I don't have any particular role fixed on my mind. I am open to exploring something exciting that comes my way.