EY begins an innovative marketing initiative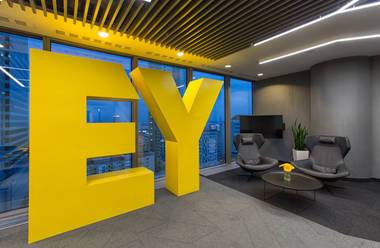 Multinational professional services company Ernst & Young (EY) has sent off a new and completely incorporated worldwide promoting effort named "The Face of the Future".
Through this mission, EY advances its as of late sent off bringing together computerized reasoning (artificial intelligence) stage, EY.ai, featuring the need to put people at the focal point of the man-made intelligence change to assist with following through on the remarkable worth the innovation gives.
Against a background of true business, legislative and cultural worries around the reception of artificial intelligence, The Substance Representing things to come is a declaration of the EY conviction that trust in computer based intelligence should be imparted by focusing on a human first methodology.
This conviction is rejuvenated through the mission's focal resource, a steadily changing vivified face involving the pictures of in excess of 200 EY individuals.
It features the extraordinary force of artificial intelligence across associations when it is individuals driven while making incitements around artificial intelligence reception, suggesting the conversation starter: What might man-made intelligence do for your association face what's in store?
The resource was created with driving simulated intelligence visual and voice innovation ordinarily utilized in blockbuster film creations.
It typifies the force of EY individuals in driving positive man-made intelligence drove change and structures the center of an omni-channel crusade expected to draw in crowds across television, out-of-home (OOH) publicizing, computerized, web-based entertainment, and other EY properties.
Nicola Morini-Bianzino, EY worldwide boss innovation official, said: " Building trust in man-made intelligence requires a comprehensive and individuals focused approach.
"As global leaders, organisations and entire industries contemplate the transformative capabilities of AI, we are helping EY clients face the future with confidence by emphasising this exact approach to AI-enabled business transformation.
"This campaign reflects the power of EY people, augmented and empowered by AI, in driving the change to build a better working world," she said in a statement.
To create The Essence Representing things to come the worldwide association enrolled in excess of 200 EY individuals from across the world.
Each was captured to make static pictures that were then energized against a moving face and addressing a content utilizing an exclusive computer based intelligence model.
To feature each individual's facial engineering, an uncommonly adjusted a single shot StyleGAN was utilized.
From that point, a solitary expert voice recording was changed utilizing Voice simulated intelligence to unequivocally foster a limitless number of new voices that matched the film's moving countenances.
This cycle yielded a resource that would already have been close to difficult to convey and saved many recording and altering hours.
Meanwhile, John Rudaizky, EY global brand and experiences leader, said:, "The Face of the Future is not only an extension of the EY long-standing commitment to AI innovation but underlines the organisation's belief that people must be augmented by technology, not in service of it.
"EY tries to fabricate a brand that is inseparable from driving on simulated intelligence and this mission will show EY clients, individuals and networks the same how we are doing precisely that – by putting individuals at the focal point of computer based intelligence to make remarkable worth."
EY teamed up with a few organizations to deliver and execute the substance rich coordinated crusade, drove by world-driving imaginative chief Graham Rat of FinkDifferent, who considered the innovative course in a joint effort with Imprint Goodwin of SquidInk.
The mission was a joint exertion with Ogilvy and Hogarth Overall on satisfied insight, NJA for creation, The 5Gs for computer based intelligence tech and EssenceMediacom for media arranging.
The EY.ai human-driven logo streaming with an energized "I" was created fully backed by Brandpie.
The drawn out mission will try to accomplish a worldwide reach by starting off with 30-second television ads on a few worldwide business stations, like Bloomberg TV, Euronews, CNBC and through Associated television.
Enlivened promotions would show up on OOH shows in business-centered conditions at noticeable air terminals across the world as well as at high-traffic areas lined up with unmistakable wearing, amusement, business and way of life occasions.
Furthermore, The Substance Representing things to come would highlight conspicuously across EY channels and online stages through webcasts, advanced, social recordings and flags.