Dr. Priyank Sethi highlights how Micro- Dentistry is a Game Changer at Stunning Dentistry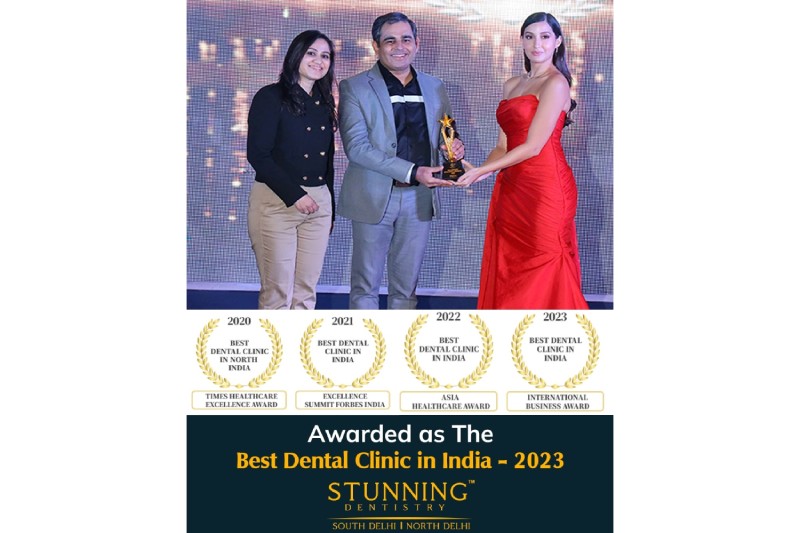 Micro-dentistry has emerged as a true game changer, transforming the way dentists provide precise care to their patients. Because of its capacity to enhance treatment outcomes, increase success and longevity, this innovative technique, also known as magnification enhanced dentistry, is rapidly gaining popularity with seasoned dental practioners.
"Micro-dentistry involves state-of-the-art technology, cutting-edge instruments and minimally invasive procedures, enabling dentists to provide precise and accurate treatments while preserving natural teeth and adjacent oral tissues. Minimally invasive dentistry along with high magnification places a strong emphasis on early detection and intervention, which reduces the need for lengthy and invasive procedures. Preserving and conversing natural tooth structures should be the main approach in today's era, according to Dr. Priyank Sethi, founder and owner of Stunning Dentistry in New Delhi, India. Stunning Dentistry is an elite and advanced dental clinic located in the capital of India and has been awarded the Best Dental Clinic in India by Forbes India.
Dentistry has historically been linked to anxiety and fear due to the use of mechanical tools that can hurt and be uncomfortable. However, cutting-edge tools like LASERS, micro surgical instruments, and high end dental microscopes are used in micro-dentistry to replace these antiquated procedures. Due to the targeted and minimally invasive treatments made possible by these tools, patients experience significantly less pain and healing is much faster. The team of cosmetic dentists and dental surgeons at Stunning Dentistry, who have achieved international acclaim, are experts in treating full mouth cases that are complex and require a combination of customized skill sets and cutting-edge technology.
Dr. Priyank Sethi, a renowned dentist in Delhi and founder of Stunning Dentistry, has been an early adopter of micro-dentistry. He has been one of the pioneers in India to be trained in Micro Dentistry from Germany. He shares his perspective on the transformative impact of this game-changing approach: "Micro-dentistry has revolutionized the way we provide dental care. It allows us to deliver precise treatments that are virtually painless, preserving natural teeth and enhancing patients' overall experience. The advanced magnification technology helps us to magnify dental structures up to 25x and techniques have significantly improved our treatment outcomes and patient satisfaction." The augmented visualization of the dental microscopes supports the dentists at Stunning Dentistry in restorative dentistry, endodontics, smile designing, tooth preparations and almost all fields of dental surgery to achieve the highest level of performance and results – both functionally and aesthetically.
Micro-dentistry not only puts the needs of the patient first, but it also transforms cosmetic dentistry. Dentists can now create seamless restorations that closely resemble natural teeth thanks to new materials and methods. Whether it's a Porcelain veneers or a tooth-colored filling, micro-dentistry makes sure the end result is aesthetically pleasing and blends in with the neighboring teeth without much damage to the natural teeth. This helps patients feel more confident and satisfied with their smiles overall. The Fluorescence Mode in advanced sophisticated microscopes at Stunning Dentistry helps the dentists to identify caries margins to allow preservation of as much healthy tooth substance as possible.​The accuracy of this method enables dentists to work more precisely and effectively, which ultimately enhances their standing in the field and makes Stunning Dentistry as one of the top dental clinics in India.
Micro-dentistry stands out as a real game changer as the dental industry develops. It is reshaping how dentists provide care and ushering in a new era of dentistry with its patient-centric approach, enhanced treatment outcomes, and time-efficient techniques. With the incorporation of micro-dentistry in almost all dental procedures performed at Stunning Dentistry into contemporary dental practice, the future appears promising for both dentists and patients.
South Delhi
C-26, First Floor, Greater Kailash 1, New Delhi 110048, India
North Delhi
5th Floor, HB Twin Tower 1, Netaji Subhash Place, New Delhi-34, India
Email Id: – info@stunningdentistry.com
Call & WhatsApp: – +91 7428412626
Website: https://www.stunningdentistry.com/