CJ Drisdom: People Expanding Utah's Entertainment Industry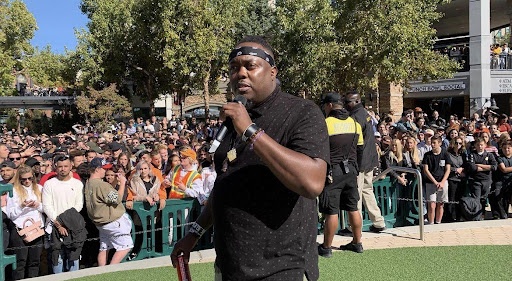 Utah's entertainment industry is experiencing rapid growth, and at the forefront of this development is CJ Drisdom, founder of Lake House Studios and Changing Lanes Entertainment Group. Drisdom is a seasoned professional in the music industry, with expertise in vocal performance, studio recording, public speaking, event management, and concert promotion. He received a scholarship to study vocal performance at California State University-Long Beach and has built a strong network and reputation in the business community, earning a spot on Utah Business Magazine's 40 Under 40 list.
Throughout his career, Drisdom has worked on numerous high-profile projects and events. He served as the lead coordinator for Kanye West's Sunday Service event in Salt Lake City in 2019, which drew a crowd of 35,000 people. He accompanied British artist Alex Boye on America's Got Talent, where they performed a viral, African Hipster version of Taylor Swift's "Shake It Off." The group made it to the Top 12, but was unable to advance to the quarterfinals. Another notable accomplishment, Drisdom received credits for playing bass on R&B singer Omarion's debut single "O," which was later nominated for a Grammy Award and certified Gold by the Recording Industry Association of America.
CJ Drisdom has also entertained at events alongside well-known figures such as Jennifer Hudson, Fantasia, Will Smith, Kirk Franklin, and many others! See More on the Changing Lanes Band website.
In addition to his professional pursuits, Drisdom is also involved in the Salt Lake City community through his family's Salt Lake City Mass Choir. The choir, founded by his brother Tim Drisdom, performs regularly and has gathered thousands of supporters with their shared goal of "Making God Famous" through music. The Drisdoms have used their talents and platform to give back to the community in this way, and his involvement with the choir is a testament to his dedication to using his skills for the greater good.
Overall, CJ Drisdom is a talented entrepreneur shaping the future of the entertainment industry in Utah and beyond. With a wealth of experience in the music industry and a dedication to community work, Drisdom is poised to continue making a significant impact in the field.
Follow CJ's Official Instagram Page @cj_drisdom to stay up to date!