Chinese-Italian Experts Agree: Preserving Historical and Cultural Heritage is the Most Cost-Effective Way to Build Better Cities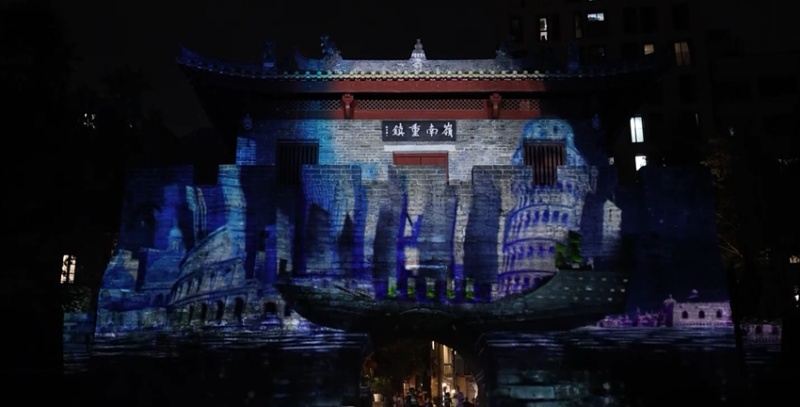 China and Italy, two countries with the highest number of world heritage sites, both have long histories and value the transmission of civilization. In recent years, cultural exchanges between China and Italy, from governments to the public, have been deepening.
Cities have always played a central role in the development of human civilization. How urban development can continue historical traditions while adapting to modern life remains a hot topic in the preservation and utilization of cultural heritage worldwide. Recently, the ancient city of Nantou in Shenzhen, China, and the ancient towns of Veneto, Italy, held a "Twin Cities Dialogue", reflecting on their millennia of history and rekindling the ties of their joint nodes on the Maritime Silk Road.
"Historical and cultural sites are not just older things. Their greatness lies in encapsulating ideas from different historical eras, which continue to radiate charm even today," scholars from both China and Italy gathered in Nantou City to discuss urban civilizations throughout history, the restoration and protection of ancient cities, and new approaches to their conservation and development in contemporary times.
Feeding Modern Cities with Historical Culture
Nantou City, located in the Nanshan district of Shenzhen, boasts nearly 1700 years of history. It is the historical root and cultural soul of the Greater Bay Area. With the rapid urbanization of Shenzhen, Nantou City once became a cluttered urban village. However, in August 2020, it reopened, exploring a sustainable model of development in harmony with its rich historical heritage.
The Chinese-Italian ancient cities dialogue took place at the IF (Idea Factory) in Nantou City, a former garment factory transformed into a cultural and creative hub for the city. At the opening ceremony, Feng Guochuan, the chief architect of the Shenzhen General Institute of Architectural Design and Research, stated, "An ancient city is not just a relic of the past, but also a fountain of inspiration for today's creativity."
During the dialogue, which marked the third anniversary of Nantou City's reopening, various events themed "City New Ideas" took place. Light shows illuminated Nantou City's walls, with glimmers from Italian ancient structures and Chinese traditional yamens gates. Swirling and illuminating in a mesmerizing display. Symbols of both Chinese and Italian culture, such as ships, cellos and maps, projected the brilliance of their joint civilizational interactions along the Maritime Silk Road. A representative from Nantou explained, "In the theme of 'City New Ideas', 'City' represents the long histories of Nantou City and Venice, while 'New' and 'Ideas' signify innovation and creativity, combining the historical culture with modern elements, showcasing the vitality of ancient cities in the new era."
Yang Zhaokai, co-founder of the One Belt One Road Laboratory, believes Nantou City has evolved into a laboratory for modern urban development. Both Nantou City and Venice are cities influenced by globalization, playing significant roles in their respective civilizational journeys, sharing in the values of global cultural exchange.
Zhang Yuxing, a researcher from the School of Architecture & Urban Planning at Shenzhen University and a deep participant in Nantou City's revitalization, believes that while most of the city's long history remains unseen, it is vital to resurrect the spirit of its people and ensure they carry on the cultural DNA.
To the question of how ancient cities can be more visible to people, Vicenzo De Masi, Creative Director at MetAl, suggested leveraging China's strengths in VR technology. He illustrated this with a VR reconstruction of Italy's ancient city of Pompeii, allowing visitors to explore ancient structures and temples. De Masi emphasized that such reconstructions might be the future of preserving heritage, offering a new dimension of protection.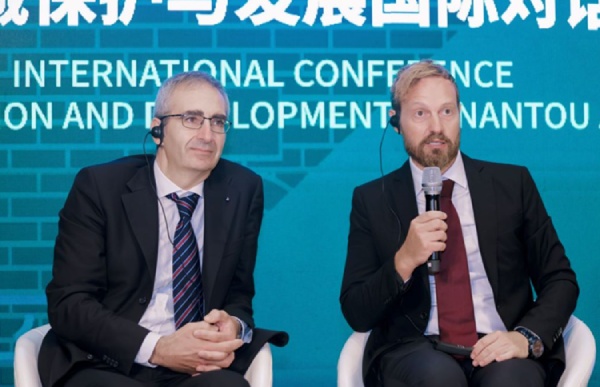 Each city has its own distinctive spirit.
Cities have always played a core role in the development of civilization. They are the places where individuals integrate into society and communal life. Cities are like sponges, absorbing traces and memories left behind by history and continually expanding.
"The real charm of a city lies in its flexibility, its capacity to assimilate a myriad of things, to be all-inclusive. The city retains human memories in every corner, on the streets, the window grills, the stair railings. Here, we can find the city's historical culture," said Massimilano D'Ambra, a representative of the Veneto Ancient City Walls Association, referencing the book "Invisible Cities" by the renowned Italian writer Calvino, to elucidate the relationship between cities and their human and historical context.
The Ancient City Walls Association of the Veneto Region, Italy, supported this dialogue. The Veneto Region is renowned for its long history and splendid culture, with the water-named Venice located therein. "In Italy, our cultural continuity is very stable. The city I live in was established even before the Roman times. Museums and 15th-century architectures can be found everywhere. The place where I buy vegetables was also a marketplace in ancient times. This is the continuity of city life, showcasing the past in the present. For Italy, the antiquity of a city cannot be archived; it must continually progress with society," he explained.
D'Ambra pointed out that every city has its own unique identity and spirit. Historical sites are not just older places; their greatness lies in the ideas from different historical periods they encompass, and they still radiate their intrinsic charm. "The basic principle of heritage restoration is to protect the non-repeatability and non-reproducibility of the historic sites, especially they are slowly evolving and changing marks over time, which is what distinguishes an original from a replica. One historic site is recognized not only for itself but for the representation of intangibility. We shouldn't isolate it for restoration and protection, doing so would rob the historical tension and potential of it to catalyze and shape the future."
D'Ambra emphasized the value of urban historical and cultural heritage, which tells the story of a city through the stones of its walls. It is far-sighted and meaningful to read these stories and organize protection and utilization around them. "Every city should find its origin and try to endow it with a continuous vitality using its roots and antiquity."
Investing in cultural heritage is an investment in the happiness of the people.
When a city invests in its historical and cultural heritage, it's essentially investing in the happiness for the local residents.
Giorgio Andrian, a UNESCO cultural heritage expert, joined the discussion online and elaborated on the societal value of cultural heritage and its significance for city residents.
Andrian shared three insights from the daily experiences of EU culture. First, culture can significantly enhance social cohesion. "We witnessed this firsthand in Padua, Veneto. After being listed as a World Cultural Heritage, we are experiencing this cohesion." Culture can contribute to people's better physical and mental health. "Research shows that the denser the cultural heritage, the more immersive experiences it offers, and both individuals and groups feel happier. Investing in cultural heritage means investing in people's happiness." Culture is indispensable for innovation and development. "In Padua, we see that the innovative dialogues between the cultural and artistic worlds from 700 years ago make us wonder how we can continue this knowledge exchange 700 years from now?"
Andrian emphasized that restoring cultural heritage is both a technical and sociological issue. "Without social groups, the value of cultural heritage cannot be reflected." For this reason, Andrian reiterated and interpreted UNESCO's "5C" strategy: "1. Credibility: All restorations must be sustainable and precise. 2. Conservation: Preserve and save as time progresses. 3. Capacity: Training in cultural heritage restoration skills. 4. Communication: Explain to society who it's for and who does the restoration. 5. Community: Cultural heritage should benefit its community; without community involvement, restoration loses its meaning."
Taking the application of Padua, Italy, for World Heritage status as an example, Andrian said, "Over a year, Padua held many roundtable discussions with hundreds of stakeholders, including individuals, volunteers, experts, and even audiences. Based on this, we can embark on any cultural heritage development and utilization projects."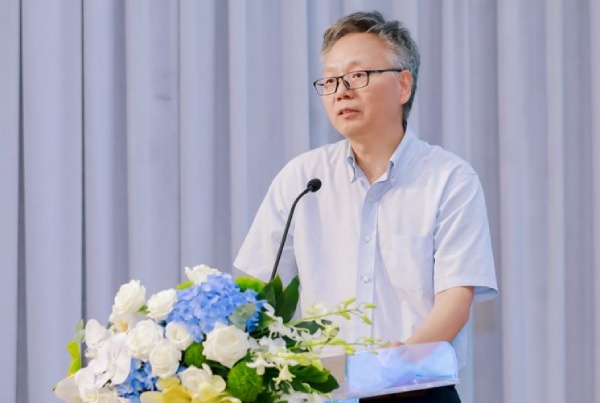 Preserving Cultural Heritage is the Most Cost-Effective Shortcut to Build a Better City
Zhang Guanghan, the deputy chief planner of the China Academy of Urban Planning & Design, is a renowned expert in the protection of historical and cultural heritage in China. He has led several major national research projects and is responsible for the protection planning of several famous cities. During the dialogue between ancient Chinese and Italian cities, he pointed out, "Italy is at the forefront internationally in terms of heritage and ancient city protection. The protection of ancient city histories and the progressive updating of cities are increasingly gaining attention worldwide, including in China."
Zhang introduced to the experts that the General Office of the CPC Central Committee had issued an opinion on "Strengthening the Protection and Inheritance of History and Culture in Urban and Rural Construction." The 20th National Congress of the CPC report proposed to intensify the protection of cultural relics and cultural heritage, and to strengthen the protection and inheritance of history and culture in urban and rural construction. "Over the past 40 years of rapid urbanization in China, a system for the protection of historical and cultural cities has been established. Currently, over 140 national historical and cultural cities, over 1,200 historical and cultural blocks, 57,000 historical buildings, 312 historical and cultural towns, 487 historical and cultural villages, and 8,155 traditional villages have been announced. These, combined with cultural heritage sites at various levels, form the core of China's tangible cultural heritage. Of course, there's also a wealth of intangible cultural heritage."
Zhang mentioned that China adheres to the principle of "non-alteration" in the protection of cultural relics and monuments. When restoring and revitalizing them, the approach is "minimal intervention and reversibility." He said, "The protection of China's ancient cities and historical blocks is combined with urban renewal. While preserving history and culture, basic facilities are updated, the living environment is improved, and regional vitality is maintained. Unlike some Western practices, there's no large-scale relocation of the original residents to turn the area into a pure tourist spot. For example, the protection and restoration of Nantou City was conducted following global cultural protection principles. With the participation of local governments, enterprises, and residents of the ancient city, it has attracted many young people, making it more and more vibrant. The ancient city of Nantou not only holds historical value but also symbolizes the cultural value of reform and opening. Its experiences in historical and cultural preservation combined with minor urban updates serve as a model for ancient city protection and renewal across the country."
Looking back on China's years of experience in the protection and utilization of ancient cities, Zhang believes that China's ancient city protection system is becoming increasingly sophisticated and the experience is becoming richer. "By protecting within development and developing within protection, many historical cities in China, such as Lijiang, Pingyao, Suzhou, and Langzhong, have been well-preserved. Their social and economic aspects have also seen comprehensive development, making a Chinese contribution to the protection and development of world heritage cities."
In summarizing the dialogue, Zhang expressed pride in the awakening of the Chinese people's awareness of the concept of protecting historical and cultural heritage. He noted that during past visits to Italy, he was deeply moved by how Italian experts and locals have integrated the concept of historical and cultural heritage protection into their lives, emphasizing a nationwide effort to preserve ancient city heritage. "Now, the preservation of historical and cultural heritage has become a widely recognized consensus in China. More and more people realize that protecting historical and cultural heritage is the most cost-effective shortcut to building a beautiful city."