Bold in his ways, MV Smithin Joshua is an uprising sensation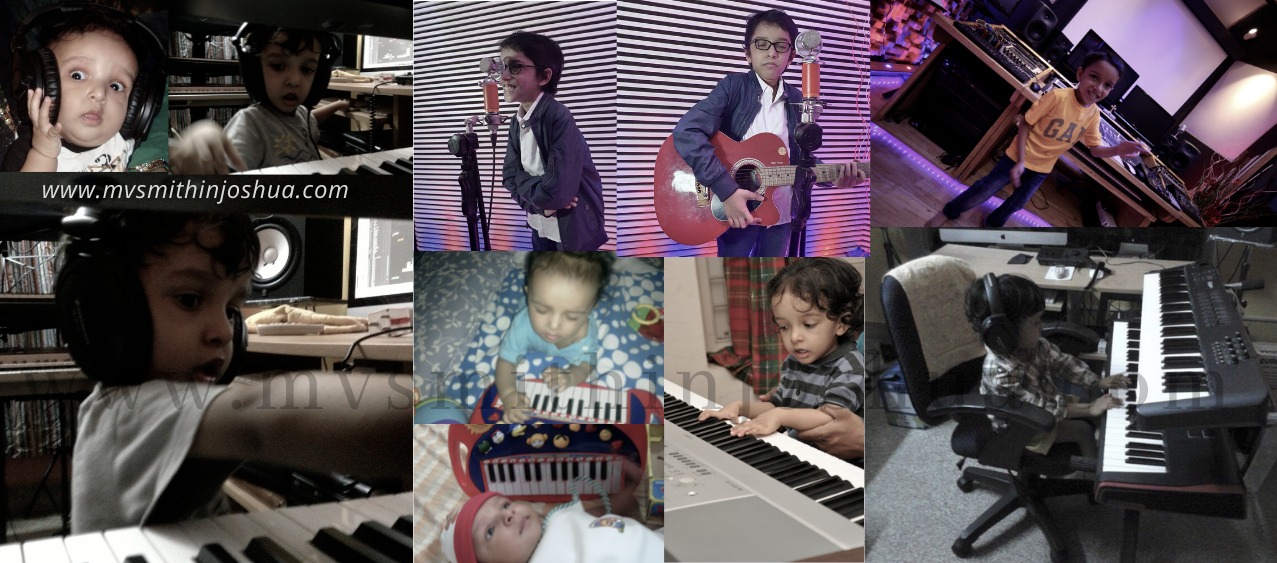 Following the footsteps of his father, MV Smithin Joshua, born on 27th April 2011, son of the Renowned Indian Music Composer and A Music Miracle, Maris Vijay and Rajalakshmi Ganesh, is a ten-year-old music aspirant spreading his charm over the keys, accomplishing his statement over music.
Since a child, MV Smithin Joshua has acceptably preached age as just any number, by showing his considerate interest in music and passion to achieve. He is doing coding in White Hat Jr., being a certified game developer. His manifesto is all sight on Minecraft, Sonic Unleashed, and Sonic Maniac.
When toddlers preferred toys as their best companion, MV Smithin Joshua imprinted on music and its keys. His personality is fringed with instruments like piano, guitar, and drums. With an athletic spirit of the chase, he is currently pursuing his graduation in both theory and practical music, from Trinity College of London. At such a young age he is having his own work station at Trinity Waves. He works in Logic Pro X idolizing his father.
MV Smithin Joshua is fluent in languages like English, French, Hindi, and Tamil. He is creating music for his gaming music and sound design. From being certified by White Hat Jr., Great Goals, Cue math, to securing places like first in general knowledge, second in science and third in math Olympiads, school level in grade3, MV Smithin Joshua is now all set to plot the base for his career as a music artist.
With a spiritual light within, MV Smithin Joshua is a firm believer of God with a habit of going through the Bible every day. Music has been a considerate part of his soul. From listening to music and going into that ecstasy of peace after a deep sob to recording a phrase and playing the instruments in the music studio, MV Smithin Joshua aptly claims his way in music.
MV Smithin Joshua has sung jingles in Anil Fire Works (Hindi & Tamil) and has done numerous voiceovers for ads. He prefers to listen to music like coco, hill songs, Don Moen, Maranatha Kids & Praise, and worship. He is promptly getting ready to exclaim the display of his charisma in music. He has also signed as an artist for M-Muzik.
Talking about his recent projects of 2021, then he has launched few music albums namely Indian Mummy, He is Back & He Chase Me on some renowned music platforms like iTunes, Apple Music, Spotify, AudioMack, Amazon Music, Jio saavan and YouTube etc…
Sharing an accomplishment with the truth and the appellate nature of life is what wins the ultimate flaunt. The efforts and the enthusiasm MV Smithin Joshua puts in his decoy to charm are visible to any bare eyes. Having this natural gift, he is all instances to witness his expertise gain high recommendation. With innocence carved on his face, with voice melodious to every frail vain and with hands that apt the command to every key, MV Smithin Joshua is all praise.
The raw enchantment MV Smithin Joshua holds on his audience is worth a try. The feeling of accomplishment to hear him portray is beyond words to express. Loved and praised by all, the summoner of this aesthetic appeal from the audience stating his realistic appearance with such devoured claim over his talent at this tender age, MV Smithin Joshua crowns his established conquest in music.