blintn hosts Webinar on "Powerful content marketing strategy for the Content Renaissance" for Chinese and Southeast Asian Brands.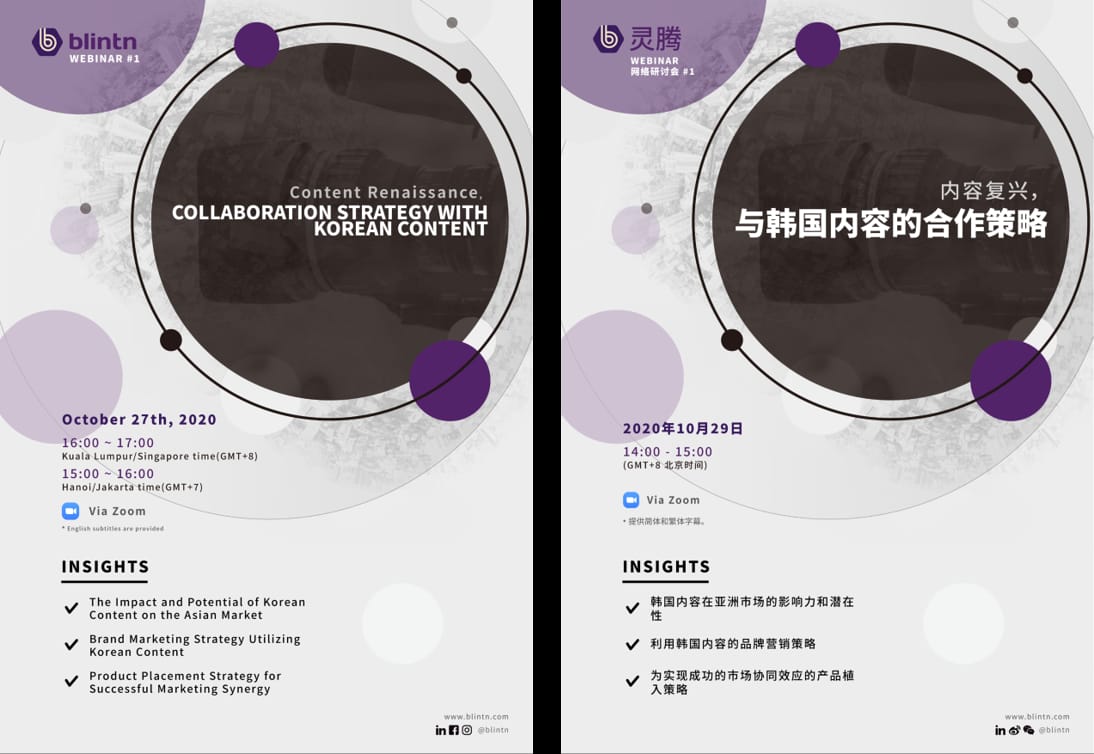 blintn Webinar proposes strategies to effectively reach potential customers through collaboration with Korean content, which has recently attracted worldwide attention.
SEOUL, South Korea, October 19, 2020 – On October 27 and 29, the global Content Rights Trade and Branded Entertainment network "blintn" is hosting its first webinar, offering insights on successful collaboration strategies with Korean content to 200 brand marketers in Greater China and Southeast Asia.
The streaming industry is one of the markets that benefited from the global pandemic. Various OTTs have arisen, and content consumption is growing more than ever before. Brand marketers are the ones who ought to make the most out of this phenomenon. Traditional advertisement tactics are ignored by consumers as time passes and digital advertising floods do not hit consumers as they activate advanced advertising blocking technologies.
In this situation, the approach that a brand should use is to become the content that customers love, not the advertisement that they are annoyed by. There are two strategies in order to achieve this. Create videos internally or be part of the fantastic entertainment that is currently being produced in the world.
The blintn webinar suggests collaborating with Korean content as a powerful strategy. From "Parasite," which was the first non-English film to win the best pictures at the Oscars, to K-dramas ranking high on netflix, such as "It's OK to Not Be Okay," "Crash Landing On You," and "The King: Eternal Monarch," Korean content is enjoying its worldwide popularity.
With such great popularity, Korean content has attracted the attention of many global brands as a successful collaboration partner due to its high impact and cost-efficiency. Since Korean content is consumed across Asia through various OTT channels, Brand Integration in K-content can generate a lot of viral across different countries. Global luxury brands are already successfully integrating their brand in Korean drama, understanding these benefits.
Through this webinar, blintn aims to provide insights about the potential and influence of Korean content on the global market, as well as a plan on how to work with Korean content, how to create natural brand integration to boost marketing performance, and how to find content that best suits the marketing needs of the brand.
Peter Choe, CEO of blintn (Content Holdings), said, "We expect more meaningful synergies between brands and Korean content through our webinar."
The blintn Webinar Series is a monthly online conference hosted free of charge on "Media Content and Marketing."
Media Contacts:
Wendy Lee
Email address: partners@contentsholdings.com
Phone number: +82 70 7893 3808
Information for editors:
Website: https://www.blintn.com/
Contents Holdings is a B2B Media Content company established by media experts from Korea, China, and the United States. 'blintn' is its first platform which is a global AI platform for media content rights (such as films and tv shows) trade and branded entertainment. [1] It offers a content curation service and consults brand integration strategies that meet the marketing needs of the company. Due to its global foundation, it mostly focuses on cross-border transactions.
---