An Interview With Samir El Mahallawy: Strategic Champion Of Enterprise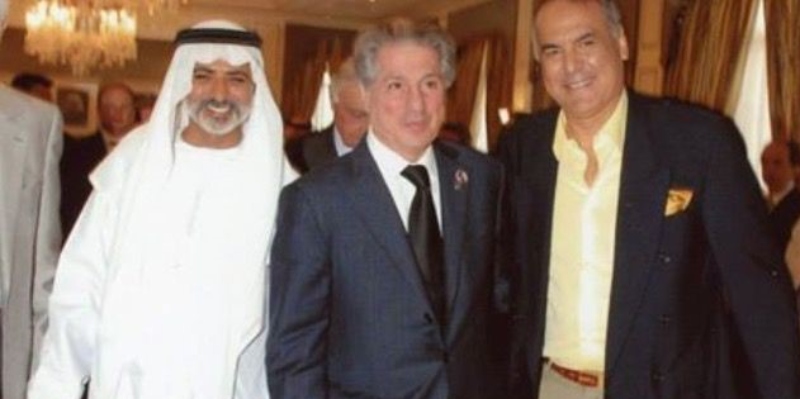 I am not sure whether it's Samir El Mahallawy's sheer intelligence, charisma, his integrity or his boundless clarity of vision that makes him one of the most influential and popular figures in business strategy in MENA, today.
We interviewed him (mid-flight) last month and here is what he had to say.
You were involved in some major business and political strategy operations in your career, can you tell us what to expect next from you?
It's exciting to be in the cut and thrust of Political and Business Strategy and I'm enjoying being busy and I'm also looking forward to settling into my new role with The Ascension Group. It's a fascinating time to be conducting business in the Middle East and North Africa (MENA) and the importance of international strategy plays in overseeing success has never been greater. I hope that I can contribute in lots of areas as a committed business leader, where I can offer up my skills and experience particularly in diplomacy, business alliance and enterprise. My economic vision for MENA is for it to be a successful highly competitive, low tax, globally oriented economy that keeps exemplary relations with every region, particularly with the USA and Europe.
Tell me a bit about your career to date.
Well, I was born in Egypt in 1949 and then moved to Sweden as a teenager to pursue my education – I studied Political Science in college. After I finished my studies I remained between Sweden and London for over a decade where I founded and ran my first company in 1975, Scan-Arabia. The company Specialized in the import and export of building and coating productions for construction in Saudi Arabia and Kuwait. High demands from these regions enabled us to manufacture and provide coatings to protect and make more durable interior and exterior surfaces for building and construction – relied upon—to protect and make better constructions. Scan-Arabia offered the best performing resins technologies while also addressing the most stringent sustainable and environmental requirements. At the time I was working with a lot of young developers around my own age and I built relationships with them by educating them about the importance of sustainability and the environment as they were responsible for the infrastructure for many generations to come.
It proved to be my calling card for many years and I sold the business after a decade and moved more deeply into strategic expertise in business. I built strong relationships in the MENA regions and expanded my strategic consultancy in Political Science and Enterprise to prominent figures, members of royal families and billionaires.
I was performance driven and I developed a ravenous hunger for information early on, I was swift and aggressive in obtaining and extracting every article, news bulletin and conversation I could gain access to. I became a bridge for information, connections and solutions while I was rapidly selective in expanding my network. I had come from a lineage of well respected mentors as a direct descendant of Mohammad, was considered an encyclopedia of knowledge in political science and I possessed a fierce prowess for critical thinking so I had an advantage at a young age. I was unapologetic and craved business alliance like I craved food as I deeply understood the importance of diplomacy. I quickly became sought after for my expertise and results. I would often recall how my mentors embedded in me, that a reputation is earned, so I made sure that I worked hard to gain an outstanding one. The only real competitor I ever acknowledged back then, was the clock. How much knowledge can I obtain and what can I achieve in 10 hours a day before I get tired? I was a young and ambitious workaholic.
From 1999 – 2010, I went to work for Euro International, an oil and food import/export company. While I served in that role, I was responsible for the exportation of food to Iraq in partnership with the United Nations "oil for food programme" which involved complex strategic operations during Operation Desert Fox and the demolition of Saddam Hussein's government which in turn saw the USA's successful exit in 2011.
I believe that every economy has unique needs, so I always started my strategy by conducting thorough research on the country's business model. Once I understood the culture and its current economic state, I developed a plan with strategies that helped the company reach its goals while benefiting the country we were exporting to. This process led me to contribute to solutions that would greatly impact millions of people and although it was high stress and ferocious at times – it confirmed the importance of diplomacy and how crucial business alliance was.
The last few years during my tenure at Euro International were very enjoyable and fascinating, seeing, at first hand, the impact on the sector and the economy. It only made me more determined to keep in touch with the political establishments so I could explain to them about the real world impact their political decisions were having. Whether you are a politician or a businessman you ignore the global landscape at your peril.


In 2010, I joined forces with Petro Globe – a company that supplies equipment, materials, and services to the petroleum and gas industries. I served as President and I ultimately took the position as the company was founded by a Business Man I had mentored over the years and I was confident in his potential and willingness to do good for others, providing jobs and a valuable service. His intelligence and ability to demonstrate his talent is unrivaled and he is one of most humble leaders I've had the pleasure to mentor. Petro Globe's clients, customers and partners consist of the world's leading oil distributors who are all members of the Tadawul All Share Index (TASI). More recently we have been focused on Libya where we helped lift the force majeure on oil production which also resulted in business and trade resuming in the region. The company's founder made significant investment in technology and infrastructure, striving to maximize the value of energy for the world along with a commitment to enhance value to society – it wasn't just strategic, it was a People First Mandate and I am proud to be a part of a company with those values.
How and why did you get so involved in mentoring entrepreneurs?
When you get to my age (and I see this happening to many of my friends, not just me) almost inevitably you get involved in trying to help young people with their careers and in finding the optimum level of success for them and the People they hope to serve. I'm always learning from the impressive and exceptional people that come into my life in this space too. For me, I also found myself advising young entrepreneurs and sometimes investing in their businesses. If you have been in investment management you end up disenchanted with stock market listed companies whose share prices go up and down mostly with changes in the money supply and have very little opportunity to make things change. So you turn to entrepreneurial businesses for some excitement and interest. It's a different sort of fun to that which I had when I was younger and running my own business.
One of the people I am helping at present is Shari O'Donnell, an entrepreneur and Producer I've helped mentor for over a decade. I've watched her confidently spar with the wealthiest and most powerful business minds in the world. She is launching a socially responsible conglomerate, The Ascension Group later this year. She's learned a lot and it's a pleasure to work with a woman with her level of genius. I'll be able to talk more about my work with the Ascension Group after a public announcement will be made soon.
How did you get involved with so much Enterprise in MENA?
Thinking back, I thought my political connections would be useful. I suppose I felt I could be useful and it would be a platform to become more involved in several sectors. I have supported the rise of young entrepreneurs and it is one of the best things I've done. You can see from the billions of investment that have gone into some of the People I've worked with under my strategic expertise, what a massive impact it has had over the last several decades or so and with god willing, will continue to do so.
Do you have any observations on the context of the economic recovery and the new political climate on a global scale?


There are too heavily taxed countries slowing enterprise – tackling this problem is one way to redress the balance, which thus directs money to enterprise, so we must keep tackling it, collectively. And, to be frank, over the last 10 years overall Venture Capital returns have been sufficiently unexciting to entice people to invest without significant tax incentives in the majority of countries around the world. Without them people would make their venture capital investments in more economically successful parts of the world such as Asia.The Financial Services industry is full of clever people who will always try to stretch the rules. This is as true now as in the past. But it's really important that, at this stage of the economic cycle, they don't stretch the boundaries of enterprise too far, no matter where a country's GDP is at. Attempts to do so antagonizes the tax man and may in turn antagonize the politicians. If that happens it might challenge the political support for the whole of enterprise in the regions that need it the most. And risk enterprise being so severely curtailed that it becomes uninspiring. This would be a disaster for economic recovery, which will depend largely upon entrepreneurs.
We have to look at successful countries who are booming like the Republic of Ireland whose GDP rocketed to 6th place from their competitive corporation tax rates, incentives and financial schemes to entice enterprise both locally and internationally. The results are all that matter in the end.
We also need to take swift action to ensure favorable global tax structures and treaties are in place, which will continue to increase the birth of digital nomads. Top talent is dominating the market in favor of working remotely and we have to respond from a global leadership perspective – we have to consider ourselves all on the same football team here – resulting in the greatest level of achievements in every sector, being the overall goal.
What has been your most crucial observation in assessing strategy in enterprise?
In my more than 50 years in strategy I've come to realize that getting an organization from Point A (where it is now) to Point B (where it hopes to be in the future) requires a set of skills that go far beyond planning alone. There are a number of other important aspects critical to the strategic planning and execution process that call for insights which can only be honed through experience. Strong communication, listening, empowerment, performance management and a high level of interest in the person you are dealing with are essential parts of leadership that can make or break a transaction, political alliance or company. Remember behind every enterprise is a person or people – in my observations – business minds that become acutely interested in the other people all the time – especially when values are aligned, generally, result in the most successful enterprises. And one quality I've observed in some of the most successful leaders (in every area) is the ones who constantly ask themselves what gets between me and my greatness – always focusing on how to become a better leader by deeply understanding that it's all about serving others. When their ego is not omnipresent, leaders are in an energy of deep responsibility and ultimately, inevitable greatness, in my humble opinion. I'll also add that a common opinion is that a person who can handle more pressure is more likely to acquire success – in my own observations its all about reaction – how quick can the leader resolve the issue. If they even take a moment to dwell then that's not a great sign. Ultimately the greatest leaders are the ones who identify the obstacles before they arise.