Akshat Parihar – First Celebrity Chef To Introduce Exquisite Savoury Mousse Cocktails Globally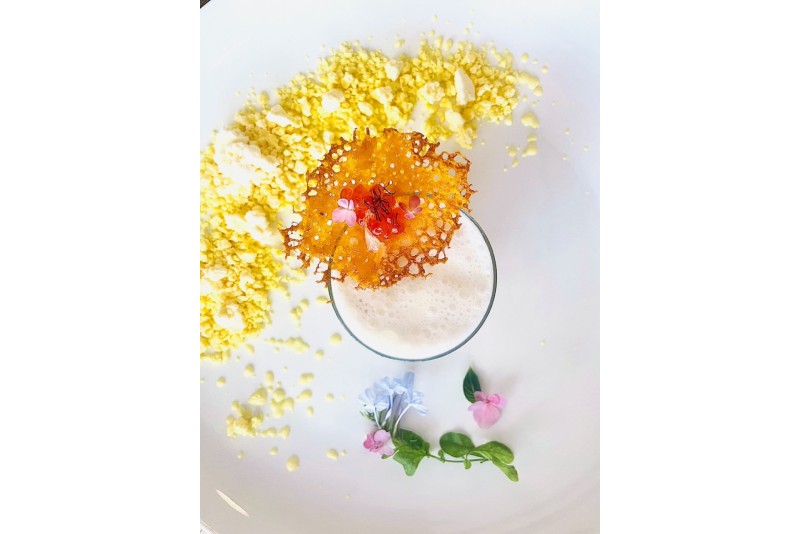 "Designing food is an art, We all chefs are artists who acts as a medium to present one's imagination on platter" – Chef Akshat Parihar
Chef Akshat Parihar, a name synonymous with quality and excellence in the gastronomical arts is someone whom you should know about if you're not familiar with his work yet. Although Akshat Parihar chooses to remain humble, he's someone with whom we should be familiar. It's almost impossible not to admire his amazing artistry when it comes down to the food he serves up – but that's not all there is to the Akshat Parihar's story! There is also the genuine energy that's infectious and helps him juggle running his business relatively effortlessly while showcasing his culinary nirvana through appetising dishes – nirvana which he strives for every day while remaining dedicated at all times.
As he shares his journey and hopes for the future in this tete-e-tete conversation, he refers to his invincible spirit.
Chef Akshat is a strong believer that Educating & Empowering industry professionals about their area of expertise are imperative to foster innovation. He's always been passionate about haute cuisine and aims to go beyond traditional gastronomy by pushing it into the future. After working on multiple projects around the world, he has developed a thorough understanding of different culinary styles, enabling him to create some of life's most indulgent dishes.
With his future plans, he intends to make gastronomy art a whole lot more accessible. Using distinctive ingredients, composition skills, and impressive presentation techniques, he plans to introduce some innovative dishes with flavours that people around the world can enjoy. One of his most recent captivating creations was the Savoury Asparagus Mousse Cocktail that tastes like a savoury dish, but can also be enjoyed as a cocktail! Chef further added to this- I always wanted to work on this where with the medium of gastronomic skills food can be converted into a beverage which got same ingredients used in the recipe of that specific dish and tasted same but you can drink it, it took him months to work on this concept then the first successful creation using this concept he came up was converting a very well known classic preparation – Grilled Salmon with Asparagus and Hollandaise Sauce into a drinkable mousse cocktail in which the drink itself got well balanced flavours of grilled salmon and asparagus which is paired with a saffron and smoked salmon tuile accompanied by frozen hollandaise sand. It sounds only so incredible and tempting, this new creation is going viral among all food lovers and in the world of gastronomy.
Words of Wisdom
Trying to be an entrepreneur and a professional chef at the same time can feel like you're swimming against the tide, but the challenges and bumps in the road along the way will feel a whole lot smaller when you look back on it all. Because there'll come a point where your eyes light up and make you realise that even though there were obstacles, this journey is just so amazing! Shares he, "Even when I was demotivated many times and ended up pushing back in my situation, I never gave up and continued trying until I prevailed. You can't succeed unless you try after all! Especially, if we take into consideration my parents' words: "We give you a couple of years to prove yourself to us or else get a job or join the business!" but I still smile, but in the end, I am glad they never told me no, or stopped me when I began and gave me time to prove myself."
Balancing Work Pressure & Expectations
Akshat Parihar is so grateful to be a part of this enriching and fulfilling industry. There are lots of amazing people who inspire him to keep going every day. He loves his job because it allows him to work with a lot of great minds, both in-house and throughout the world. With the hard work that he puts in, along with the support of his teammates, he can provide others with an opportunity to turn their vision into reality by helping them create something beautiful that they're sure everyone will enjoy using!
He says, "I consider myself fortunate to live out my dreams, enjoying my passions and travelling the world. The stress from work may be heavy sometimes when I get down to thinking about all that we've achieved thanks to my hard work as well as support from others too but at the end of the day when I look back on everything that's happened and everything I've accomplished, all of that is gone – because what matters at the end of it all is the fact that I've learned something new which will now help me in future endeavours."
Hopes for the Industry
To bring to light the lost and hidden tastes from around the globe, reinventing them and presenting them in a gastronomical way so that people will be amazed and learn more about different cuisines and cultures, and destinations around the world is my main focus.
Pro Advice to Aspiring Chefs
Akshat Parihar says, "There would have been no better way to discover the world than through food." An avid chef, he loves sharing recipes and tricks of the trade with others who are just
getting started in their culinary careers. A devout believer in never giving up on your dreams – no matter how many failures you see yourself or others experience, he recommends that people take advantage of every opportunity they have to live out their dreams because very few people get the chance to do so. Says he, "never give up and keep trying even if you fail at times, as the final destination will be amazing and will make you forget all your negative experiences."
His Final Thoughts…
When asked if Akshat Parihar travels and create food all the time, and eat fancy food for days, he quickly signs off, "No matter how amazing the countries are where I travel, or how awesome the projects or operations or functions or whatever maybe," which shows that even though he spends his days designing gastronomical creations for very prestigious restaurants, concerts, and parties, he still goes home and enjoys his comfort food after coming back – a crunchy parmesan & potato rösti. With some sour cream and chives(Laughs)