A yellow alert has been issued after overnight rains in Bengaluru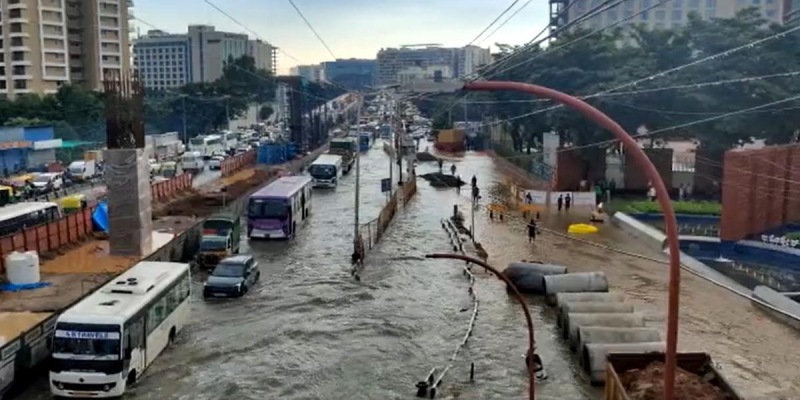 Bengaluru was soaked by heavy rain on Wednesday night, so here are ten updates on how the city is doing and what lies ahead.
The city has once again been battered by heavy rain since Wednesday evening, which has resulted in significant street flooding, damage to vehicles and property, disruption of daily life, and traffic jams. Online, horrifying images of two-wheelers and floating possessions being washed away appeared. The following are the top 10 updates on the situation in Bengaluru, the capital of Karnataka:
1: On Thursday, the Bruhat Bengaluru Mahanagara Palike (BBMP) has predicted "widespread moderate rainfall with isolated heavy rains linked with thunderstorms and lightning" over regions within its boundaries. The majority of the city was depicted on the forecast map in green, which indicated moderate rainfall, while some places in the RR Nagar, Bommanahalli, and south zones were depicted in blue, which indicated significant rainfall.
2: For Karnataka, the KSNDMC forecast "widespread very light to moderate rainfall with isolated heavy to very heavy rains" probable over the Malnad and south-interior districts, as well as "widespread extremely light to moderate rains" likely over the coastal and north-interior districts. The majority of the state map was coloured yellow or green, signifying light or moderate rainfall, however several southern areas, including Bengaluru Urban, Hassan, Tumakuru, Ramanagara, Mandya, and Chikkamagaluru, were coloured blue, anticipated to experience significant downpours.
3: Bengaluru has been placed on yellow alert by the India Meteorological Department (IMD), which has predicted that rain will continue to fall there for the next five days. Additionally, the agency issued yellow alerts for the following districts in the state: Ballari, Bengaluru Rural, Bengaluru Urban, Chamarajanagara, Chikkamagaluru, Chitradurga, Davanagere, Hassan, Kodagu, Mandya, Ramanagara, Shivamogga, and Tumkuru. IMD has issued a Yellow alert as of October 19 at 1300 hours.
4: On Wednesday, the city's wall collapsed as a result of the nonstop rain, damaging numerous two-wheelers that were parked close by in the Majestic district. In this occurrence, no one was wounded.
5: Residents attempting to hold on to their bicycles revealed that rainwater has a stream that is just as powerful as a river. Motorists making an effort to prevent their bicycles from being washed away Shivajinagar scene We would want to express our gratitude to MLA @ArshadRizwan for providing us with such exciting chances at #NammaBengaluru #bangalorerains #BengaluruRain #bengaluru, wrote Kamran on Twitter.