A new expedited transport route Pulse line has been launched by Pace from Davis to O'Hare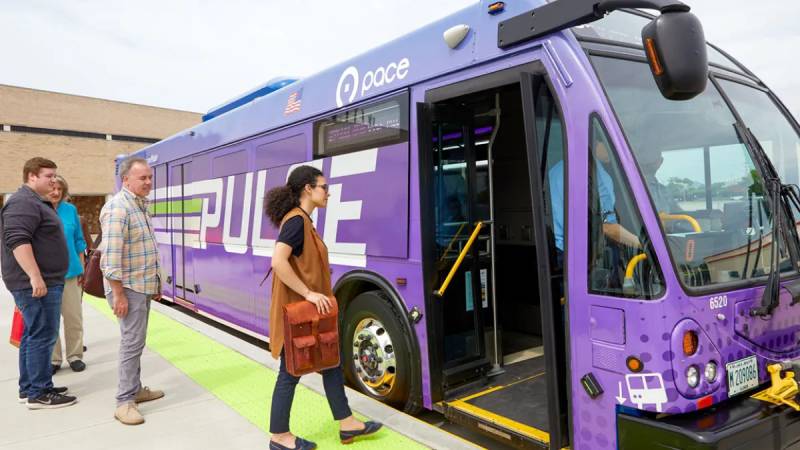 Occasion explorer, celebrate: With perfect timing for Thanksgiving, the Speed Transport began another express Heartbeat Dempster Line from Evanston's Davis Road CTA station to Chicago O'Hare Worldwide Air terminal.
The line, which opened for full procedure on Monday, will offer a quicker option in contrast to the current Highway 250 along Dempster Road to O'Hare, which can frequently require up to 90 minutes, however the web-based plan gauges a 65-to 67-minute ride.
The Beat course will leave the Davis station each 15 to 20 minutes from 4:30 a.m. to 12:15 a.m. Monday through Friday, with a somewhat diminished plan on ends of the week. As per the help plan posted on the web, the new line will get air terminal explorers from Evanston to O'Hare's Multi-Modular Office in around 50 minutes.
"Pace is proud of our region's investment in transit infrastructure in the northwest suburbs. It has made it possible for Pace to introduce this efficient and reliable service," Pace Executive Director Melinda Metzger said in a news release earlier this week. "This is yet another example of how our region's service boards collaborate and complement each other. Pulse truly creates a network of access across our region."
With the appearance of the Beat course, the 250 transport will leave once every 30 or an hour, contingent upon the hour of day. The Beat line has 17 stops, contrasted and 84 on the 250, as per Maggie Daly Skogsbakken, the main interchanges official for Speed.
As a feature of the task, which was financed through a $10 million award from the Chicago Metropolitan Office for Arranging, Speed constructed, or is building, new warmed covers with raised transport stages explicitly for stops on the Beat line. A few stations are incomplete, and brief stops are set apart with the purple Heartbeat logo and situated close to stations under development.
"Launch went well with no major issues reported. We've had transit ambassadors in the field to assist passengers with the change and they have reported that the feedback they've received has been largely positive," Skogsbakken said in an email to the RoundTable on Wednesday. "I don't have final ridership numbers yet, but corridor ridership (Route 250 + Pulse Dempster) is estimated to be up about 11-12% from the same time last year (even with the inclement weather which usually has a negative impact on ridership)."
The transport armada for the new Pulse line to a great extent comprises of "more current" vehicles, she said, with an extraordinary all-purple tone and furnished with in-transport Wi-Fi. All new stations worked for this course will likewise be ADA open.